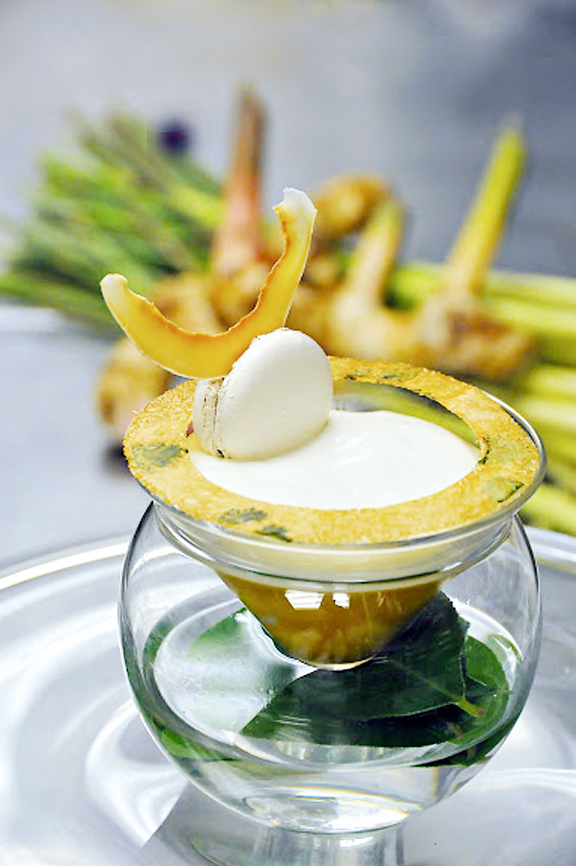 It has been a while since the last entry in our series featuring dishes from my esteemed guests that capture the essence of the three Tom Yam herbs, i.e. lemongrass, galangal, and kaffir lime, are featured. The series debuted with French macarons with the flavors of Tom Yam. That big hit was followed by another chart-topper, Baked Alaska infused with Tom Yam herbs. Not to be outdone, my third guest, Pastry Chef Grégoire Michaud of the Four Seasons, Hong Kong, has come up with another great creation exclusively for my readers: Kaffir Lime Mango with Smooth Coconut-Fromage Blanc Cream.
Fresh mango cubes, tossed in kaffir lime-infused fresh mango purée, nestle underneath a piece of génoise, or any kind of sponge cake, brushed with simple syrup infused with fresh galangal and lemongrass. A lightly-sweetened blend of coconut cream and fromage blanc goes on top, and we've got a dessert that brilliantly showcases not only the essence of our three herbs, but also the tropical flavors of fresh mango and coconut.
As if that wasn't enough, Chef Michaud baked up some sweet and buttery phyllo crisps, dotted with fresh cilantro leaves, to garnish the dessert. A macaron and a piece of coconut chip add to the finishing touch.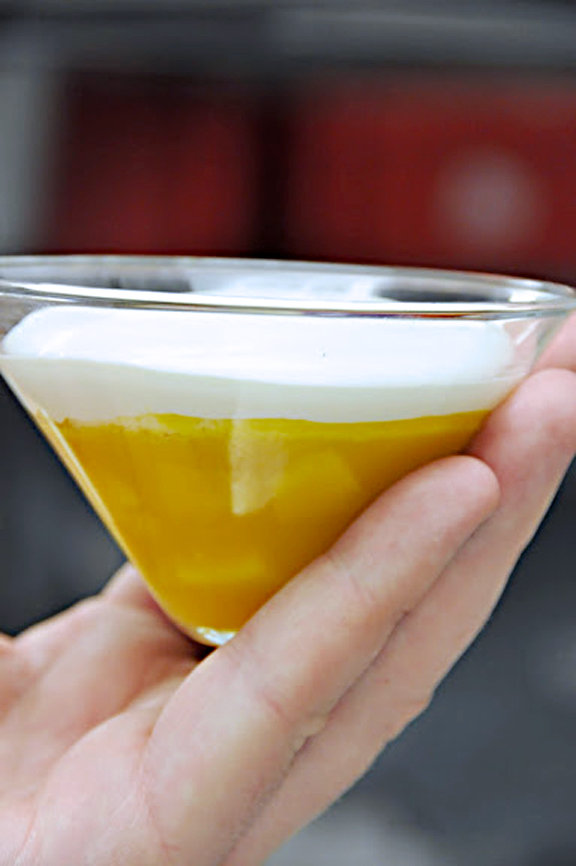 Chef Michaud is not only a talented pastry chef, he is also a teacher who is passionate about sharing what he knows with others through pastry workshops and his books. I am a big fan of the first two books, Artisan Bread and Never Skip Dessert. Having had great success with the recipes and techniques from his dessert book, I have been waiting with bated breath the arrival of his latest work, Got Cheese?, a book about the usage of cheeses in dessert making. The bilingual book has recently been released in Hong Kong and will be available worldwide through Amazon.com very soon.


Not only did I get the chef to create a dessert for my blog, I also made him answer these questions:
Your journey started from the Rhône Valley. Where has life taken you so far, geographically? How did you end up at the Four Seasons in Hong Kong?
Since a young age, I'd always wanted to discover other countries and cultures. Like most 20-something-year-old boys, I wanted to live the American dream, so I moved to the USA in 1998. This was a good experience, but I had the urge to chase a bigger dream. And so I ended up in Hong Kong, at the legendary Regent Hotel. This was my first encounter with Asia.
When the hotel was due to change ownership, I remained with the Four Seasons and moved to the Maldives where you live with nature and come closer to people. It's a great life experience. At that point, I thought I was still young enough to learn more, so I went back to school at École Hôtelière de Lausanne in Switzerland to get my degree in hotel management. When you're almost 30 year-old and you go back to school after 10 working years, it feels like your youth is renewed.
After school, I wanted to see and learn the other side of my job, so I joined the Four Seasons Hotel in Dublin, Ireland, as an assistant manager for their restaurants; a drastic change that brought me a very good insight on that part of the job. But true love kept knocking on the door and I was back in the pastry world in Switzerland to help out a friend in need at his pâtisserie.
After a year at home, the Four Seasons Hotel in Hong Kong was about to open and this is when I moved back here. That was 7 and a half years ago.

You've written three books in the last three years. What inspires you to write them?
The passion I have for food drives everything I do. I write books on topics I feel very confident with. I don't write books for the sake of writing books, but rather to share my knowledge and passion with people. As a matter of fact, my English is far from perfect; yet what matters is the genuineness put into the writing. Moreover, I've always loved to write, be it in French or English. I just enjoy it a lot!
How would you describe your pastry philosophy at the Four Seasons Hong Kong?
The quality of the ingredients is the foundation of everything we do. We follow the seasons and create our dishes upon seasonal ingredients. Luckily for us, Hong Kong is a great food hub and we can get a great variety of ingredients. Another aspect of our philosophy is quality: everything that is produced must be of perfect quality. Our previous experiences define our standard and our expectations. If one day a dessert is not done well for whatever reason, I'd rather replace it with something else. Maintaining consistency is also very important. Finally, the style we give to food is simple. It is honest food presented elegantly, in a non-pretentious way, but with style. The quality ingredients we use speak for themselves and so there is no need to go fancy or molecular to achieve great food.
You have incorporated some of the local Chinese ingredients, not necessarily meant for pastry, e.g. dried tangerine skin (陳皮), into some of your creations. Has it always been a successful venture? Have there been any incidents in which you've experimented with an unusual Asian ingredient thinking it might fail only to find yourself pleasantly surprised by the outcome?
We have some customers that always come to us and ask us to create "East meet West" menus. Frankly, I am allergic to the word "fusion" and, more so, to the style. So I would not "experiment" for the sake of discovering a new goldmine in food or to become the next trend-setter in the pastry world. I would rather take a classic dessert and try to give it a stylish twist in presentation and flavor with local ingredients. In most cases, I simply picture the features of a dessert and think about ways to enhance it with different local ingredients. In most cases, we have been positively surprised by the outcome, to say the least.
Walnut Crusted Fourme d'Ambert with Apricot Rosemary Coulis from

Got Cheese?
What does a typical work day look like for you?
Every morning, like a Swiss clock, I start work at 8:30. I take a quick look at the banquet events for the day and am off for a tour of our breakfasts in 4 different locations in the hotel. Shortly after, we hold our daily morning briefing to go through issues and events for the day. Then comes the time to get ready for lunch service in the restaurants and banquet as well as the preparation of our popular afternoon tea. The lunch service can be quite intense with so many different locations throughout the hotel. After that, we have our lunch at the employee restaurant. Then it's time for the afternoon tea service at our Lounge. Later, we get ready for the dinner service in restaurants and banquet. Once the last function is over, I head home.
We have a great team of professionals in the pastry. Though Assistant Pastry Chef Ringo Chan and our Head Baker, Mark Yeung, along with the chefs de partie represent the pillars of our pastry operation, our success relies on the entire staff of 17 individuals working in pastry.
What was the biggest culture shock when you first arrived in Hong Kong? Have you gotten used to it now?
I am very culturally adaptable, and I really enjoy being in a different environment. In Hong Kong, what "shocked" me initially was the pace of life. People are consistently running and everything needs to happen now, to the point where now almost means yesterday! Eventually, I got used to it and today, when I travel back home, people are constantly telling me to slow down.
Does creating all kinds of fancy dessert at work almost everyday make you yearn for simple, homemade desserts when you're at home? What do you make for yourself? Any flavors you remember from childhood in Switzerland?
The desserts I create at work are very similar to the one I make at home. The only difference is the presentation and the chinaware used. The flavors I remember from my childhood are endless as we are a family that love food. Everything is homemade: jam, bread, tarts, cured ham, pickles, sausages, wine, etc. These memories are with me forever and I can't stop dissociating flavors and food from my childhood when I create food.
What has always kept me hanging to my roots is my Mom's apple tart*. She would make her dough with flour, eggs, salt and a lot of butter. The apples she used suit the purpose so well**. She would cut up the apples, top the tart with them, sprinkle a bit of sugar, cinnamon, and butter on the apple pieces, and bake the tart to a dark golden color. What a treat. This is not just any apple tart; it is the apple tart takes me back home. The ingredients, the way my mom made it, and the love she put into it is what make this tart an art form.
At home in Hong Kong, I prepare desserts for my wife, Vianna, and my son, Clément, that they love. I love prepare cakes, cookies and pies with my son. He loves it and so do I. The most popular dessert I make at home is caramelized baby bananas in brown sugar, deglazed with dark rum, butter and a little coconut milk served with a huge scoop of ice cream. Decadent.
Green Apple, Fromage Blanc, and Fresh Shiso Flower from

Got Cheese?
What made you want to write the new book?
As always, it's the interest and the passion for food. I love cheese and I thought it would be interesting to work around this topic with desserts. Cheese is an increasing trend in Hong Kong. Cheese is part of Europe's cultural heritage and just as we, Europeans, are beginning to discover Asian ingredients in Europe, Hong Kong people are discovering a part of our culture with cheeses. With the way people travel around the world today and the way people blog about everything, cultural exchanges have become an every day phenomenon. The momentum for cheese is growing and I thought now was a good time to write the book to support that movement and try to share the passion of cheese with people.
What can a reader expect from "Got Cheese?"? Are the recipes geared towards home use or a mix of both home and professional bakers?
You can expect to learn how to make a few fresh cheeses at home as a base element for recipes in the book. The book is divided in four chapters. making fresh cheeses, cheese desserts that are served cold, cheese dessert to be served warm which is my favorite, and a final chapter about dishes using full-bodied cheeses. I use the word, "dish," instead of, "dessert," because these dishes can be classified in different categories, depending on people's habit.
The recipes in the book are easy to follow and do not require special equipments or ingredients impossible to source. Anyone can reproduce them at home. We tested each recipe in our pastry kitchen while shooting the photos for the book, so you can be sure they are accurate. Although the book is suitable for non-professionals, those who work in pastry can also use the recipes to create a base element for desserts or as a dessert. Many of the desserts in the book are served at the hotel.

What do you consider to be the "crown jewel" recipe in the new book? Why?
What a difficult question! But since you asked, I would choose the Tarte Tatin with gratinated goat cheese or the Peach, Rosemary and Brie Tart.
Fondant Apple Tatin and Warm Charolais from

Got Cheese?
To me, these two creations represent the perfect blending of cheese in a dessert; the flavors, textures and temperatures blended together create a great experience. But also, I would point out the simplest one in the book that is the homemade ricotta. Homemade ricotta cheese, enriched with a little bit of heavy cream becomes a dessert in itself. Just drizzle some honey or eat it with any fruit compote and you've got a winner with sharp, clean, and succulent flavors.
________________________
My
heartfelt appreciation
goes to Chef Grégoire Michaud for taking the time to not only think up a dessert for the Tom Yam series for my readers, but also create the prototype.
Just like the two chefs before him (Thip and Zen Chef) who had been pleasantly surprised by how their creations turned out, Michaud made a comment, "Actually, it's good!" about his coconut-fromage blanc cream and kaffir lime mangoes. It's as if he started off with some reservation only to find himself wowed by how well the flavors meshed together. I thought I would mention that in case some of you find this flavor combination too strange.
But that's what's magical about the combination of lemongrass, kaffir lime, and galangal. The fact that they work well together in savory dishes is common knowledge, but what many have yet to discover is that these three herbs lend themselves so well to desserts.
This multi-element dessert may seem daunting to some, but this is one of the beauties of studying the works of professionals: you get ideas and inspiration from them even though you have no intention nor desire to replicate their works exactly. For example, you can make only the kaffir lime mango and serve that over coconut milk gelato, or you can make the coriander crisps and eat those alone as a snack. Ideas abound.
Kaffir Lime Mango with Smooth Coconut-Fromage Blanc Cream
Recipe courtesy of Chef Grégoire Michaud, The Four Seasons, Hong Kong
Printable Version

Note: You need some prepared sponge cake, dried coconut chips, some gold leaves, and a macaron of your choice to finish the recipe and embellish the presentation.
Mango Compote
Ingredients
1 ripe mango
120 g mango purée
Juice from half a lime
6 kaffir lime leaves, crushed
Method
In a small saucepan, bring the mango purée to a boil over medium-high heat; once the purée reaches the boiling point, shut off the heat.
Add the crushed kaffir lime leaves and the lime juice to the mango purée.
Cover the saucepan and allow to rest overnight at room temperature.
The next day, remove and discard the kaffir lime leaves.
Peel the mango and cut the mango flesh into 1/4-inch dice; put the mango pieces into a bowl.
Pour the prepared mango purée over the diced mango and lightly toss to mix.

Coconut Cream
Ingredients
150 g fromage blanc (Fromage frais, crème fraîche, or thick Greek-style yogurt can also be used.)
60 g heavy whipping cream
50 gm thick coconut milk (Ponthier brand if possible or Chaokoh)
30 g powdered sugar
Method
Mix all the ingredients and whisk until you obtain a nice and smooth texture; keep chilled.
Galangal-Lemongrass Infusion
Ingredients
150 ml water
50 g white sugar
1 small piece of galangal root
1 stalk lemongrass
Method
Make a simple syrup by boiling the water and sugar in a saucepan.
Roughly chop the galangal and lemongrass and add them into the liquid.
Cover the pot while it is still hot and let it infuse for about 1 hour.

Coriander Crisp




Ingredients


2 phyllo sheets
50 g melted butter
25 g white sugar
A bunch of coriander (cilantro), trim the leaves off the stems and discard the stems

Method

Preheat the oven to 375° F (190°C).
Place one phyllo sheet on the table and brush the entire surface with half of the melted butter.
Strew the coriander leaves randomly on the buttered phyllo sheet.
Sprinkle half of the sugar evenly over the entire surface of the phyllo sheet; layer the remaining phyllo sheet on top of the first one. Smooth out any air pockets or bumps to make it nicely flat.
Brush the remaining butter on the top of the second layer and sprinkle the remaining sugar more sugar on top.
With a 3- or 4-inch round cookie cutter, cut out as many rounds as you can out of the sandwiched phyllo sheets. Arrange the rounds onto a parchment-lined baking sheet.
Place another baking sheet on top of the first one to keep the coriander crisp perfectly flat during baking.
Bake for about 12 minutes or until golden brown.

Presentation

Pour a few spoons of the prepared mango compote into a glass container.
Place a layer of sponge cake, trimmed to fit into the container, and brush with the galangal-lemongrass infusion.
Add a few dollops of the prepared coconut cream on top and decorate with a coriander crisp, a macaron, some coconut crisps and gold leaves.
*One of the recipes featured in Never Skip Dessert.
**Reinette apples.