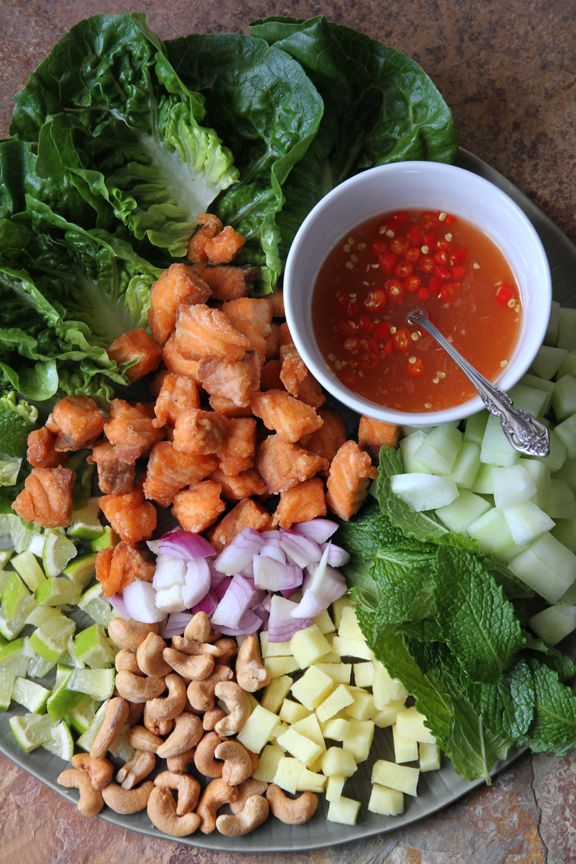 Though Miang Kham (เมี่ยงคำ), the so-called one-bite salad with sweet and sticky sauce (there's a recipe for it in Simple Thai Food), has rightfully hogged all the limelight all these years, it should be noted that it is by no means the only dish in the family of miang (เมี่ยง) wherein various tiny little things are anointed with a sauce and wrapped up in a leaf to form one perfect bite. Just as anything can be turned into a yam (ยำ), a spicy salad with fish sauce and lime juice as the main seasoning, pretty much anything can be turned into a miang.
Let your imagination take flight. Think of what makes a good combination of flavors and textures and go for it. Your job as a miang maker is to create a place where the different ingredients not only bring out the best in one another but also, together with the sauce, form a unified whole that is so good you don't want to remove any components or add more to the mix. When you've got that situation going on, you know you have a good miang — something to set in front of a group of friends, inviting them to put together with their hands one bite after another of a composed salad.
This is one of the miangs I like. I hope you do too.
Fried Salmon One-Bite Salad - Miang Pla Salmon (เมี่ยงปลาแซลมอน)
Recipe type:
Appetizer, salad, snack
Ingredients
12 ounces skinless salmon fillet, cut into ¾-inch cubes
¼ cup fish sauce, divided
3 tablespoons cornstarch (corn flour)
Vegetable oil for deep-frying
¾ cup of fresh ginger (the younger the better) that has been peeled and cut into ¼-inch cubes
3 medium shallots or ½ a medium red onion, peeled and cut into ¼-inch cubes
Half a large cucumber, seeded and cut into ½-inch
¾ cup of roasted cashews
One large lime (choose one with thin and smooth skin), cut into ¼-inch cubes (peel and all)
1 cup of individual mint leaves (somewhat packed)
Boston (Bibb) lettuce, separated into individual leaves, washed and spun dry
¾ cup Thai sweet chili sauce, homemade or store-bought
3-4 bird's eye chilies, cut crosswise into ⅛-inch slices
Instructions
In a medium mixing bowl, mix together the salmon cubes and 2 tablespoons of the fish sauce. Allow the fish to marinate in the refrigerator, covered, for 15 minutes.
Place the vegetable oil in your frying vessel of choice. You want the oil to be at least 2 inches deep and register 300 to 350 degrees F.
Sprinkle the cornstarch over the marinated fish and, with your hands, try to get the fish cubes coated with the cornstarch as thoroughly and evenly as possible.
Deep-fry the fish cubes until they are cooked through, crisp up on the outside, and turn darker in color. If they stick together in the fryer, gently separate them with a spatula.
Transfer the fried fish to a paper towel-lined plate; let cool.
In the meantime, make the sauce by combining the sweet chili sauce with the remaining fish sauce and bird's eye chilies. (You may think that the sauce is not sour enough, but remember that we have fresh limes as part of the salad.)
Before serving, you want to check if you like the end result by placing one piece of each component on a piece of lettuce and about ½ a tablespoon of the sauce, wrapping it all up, and eating it in one bite. Do you think the sauce needs to be a little sweeter? If so, add a bit more of the sweet chili sauce to the sauce. Could the sauce be saltier? If so, add more fish sauce to the sauce. Not tart enough? Let's hope you have another lime lying around in the fridge which you can dice up just as you did the first one, so that you can put twopieces of lime in each bite instead of one. Love cashews? Feel free to double up the amount specified and add two to each bite. This is a very customizable snack; do what you like.
Arrange all the components on a large platter. Serve with the sauce in a little bowl.