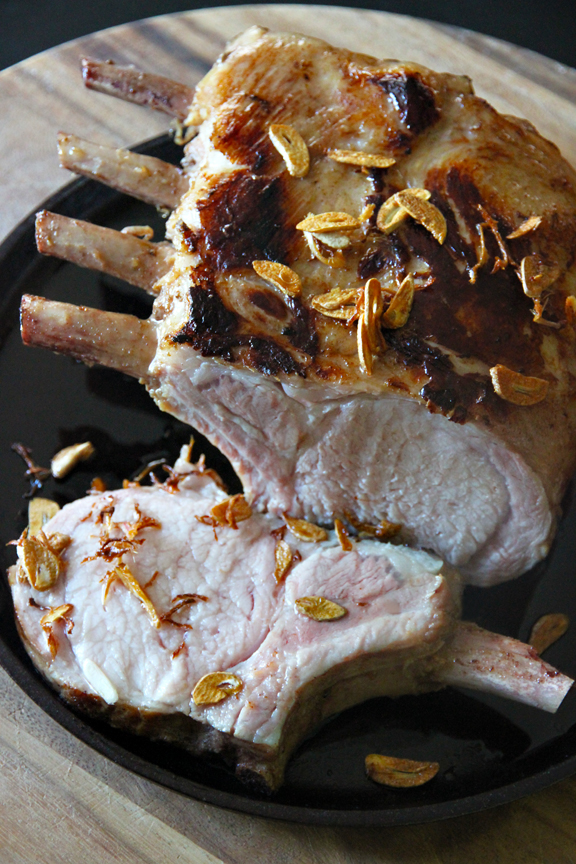 I have a few chef friends who cook and infuse things sous vide (literally, "under vacuum") all the time when they cook at their restaurants; I have had countless restaurant meals that are cooked sous vide; I have friends who swear by their ice box or beer cooler sous vide apparatus; I just hadn't had a chance to try my hands on it. Until recently, that is. Several weeks ago, the folks behind the Sous Vide Supreme offered me to test drive their sous vide machine, and I accepted it out of curiosity.
It was fun, and I created several great meals out of it.
Sous vide cooking works; there's no doubt about that. Its benefits are even more acutely felt when it comes to cooking meat, especially tough or thick cuts of meat. Sous vice cooking allows the seasoning to penetrate the meat better than if you were to rub it on the meat's exteriors or marinate the meat in it. Much more moisture is also retained. Also, if you like your steak well-charred on the outside but medium-rare on the inside without the undesirable tough, gray rings, sous vide cooking is definitely for you.
You just have to think about whether you're willing to dedicate your counter space to something the size of a bread machine and invest in both the machine itself and the ongoing costs of vacuum bags, etc. Those who spend a lot of money each month eating out may end up saving money this way. Each person's situation and needs are different. I'll let you decide whether this machine and this method of cooking is for you.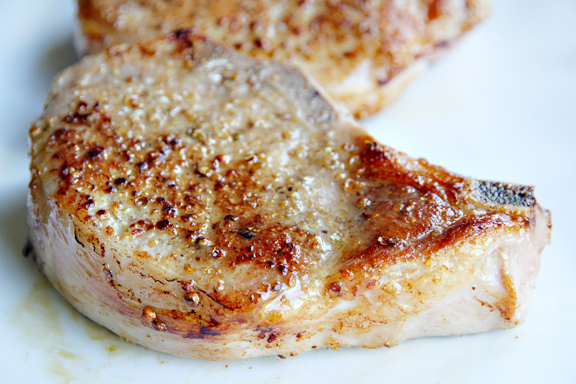 My first experiment with cooking sous vide involved thick cuts of pork chops. I was thinking that if there was anything that would be a true test of how well this machine and this type of cooking worked, it would be these 2-inch thick, somewhat lean, bone-in pork chops.
Now, if you cook thick, bone-in pork chops with any regularity, you know the problem. By the time the meat around the bones is cooked, others parts have already become dry and tough. Brining these thick pork chops helps some with moisture retention, but when it comes to actually cooking them, you're still not out of the danger zone. The line between undercooked and overcooked is still razor thin.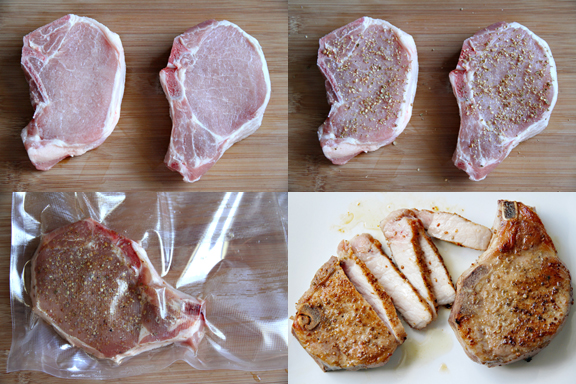 Cooking sous vide solves this problem.
These pork chops you're looking at can be made by  mixing 1.5 pounds of 2-inch thick, lean, bone-in pork chops with a mixture of 2 teaspoons dark soy sauce, 2 teaspoons fish sauce, 1 tablespoon oyster sauce, 1 tablespoon honey, 1 1/2 tablespoons coarsely crushed coriander seeds and 1/2 tablespoon coarsely crushed whole white peppercorns, and cooking them in sealed bags at 140 degrees F for 3 hours. Then you want to sear the exteriors in a hot pan just to caramelize the juices somewhat and toast the coriander seeds and peppercorns that adhere to the surface.
Serve these with warm steamed jasmine rice and a bowl of nam pla prik. So, so good.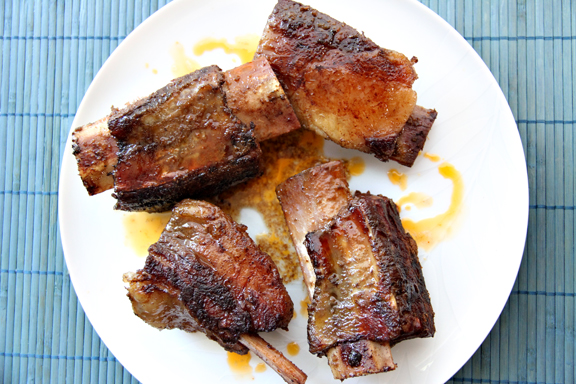 I also made some massaman short ribs. I mixed 2.5 pounds of 2-inch thick and 4-inch long beef short ribs with 2 tablespoons massaman curry paste, 2 tablespoon tamarind pulp, 1 teaspoon sugar, and 1/2 tablespoon salt. These went into sealed bags and were cooked at 140 degrees F overnight (10 hours). What I ended up with were tender (but not fall-off-the-bone tender which I don't like) short ribs that carried the unmistakable flavor of massaman curry.
I made a reduction out of the juices that collected inside the vacuum bags and used that as a sauce to pour over the seared short ribs. I served these with some boiled and buttered new potatoes to reinforce the massaman theme.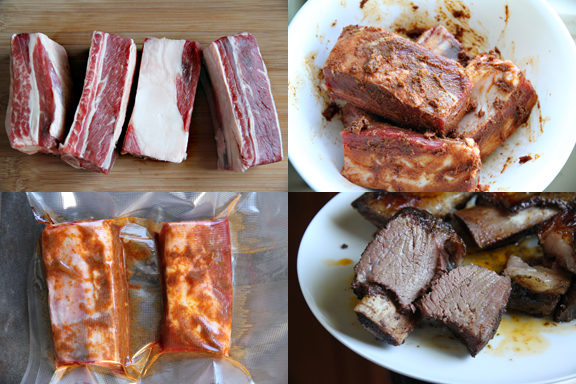 But what stood out among all these experiments — and this was perhaps the biggest test of sous vide cooking — is the pork rib roast with crispy garlic and lemongrass.
If thick individual pork chops (see above) present a challenge for cooks, then this big hunk of pork rib roast presents a much bigger challenge. Remember that time when you were invited to dinner at a friend's house where a beautiful rack of pork rib roast was placed on the table and carved right before you? Remember how the clapping and the oohing and aahing turned into awkward silence once you started chewing on a piece of it, especially if it was one the end pieces? Cardboard.
It's the same problem that happens with thick individual pork chops. Sous vide cooking ameliorates this.
Here's how to make a sous vide version of my mother's fried pork chops with crispy garlic and lemongrass using a pork rib roast instead of pork chops.
Pork Rib Roast with Crispy Garlic and Lemongrass: Cooking Sous Vide
Recipe type:
Main Course, Meat
Ingredients
3.5 5-rib pork loin roast
2 tablespoons dark soy
3 tablespoons honey
3 tablespoon fish sauce
2 tablespoon oyster sauce
1 teaspoon ground white pepper
2 stalks lemongrass, sliced crosswise very thinly (use only 5 inches from the base and keep the rest to infuse Tom Kha Gai or Tom Yam with)
5-6 large cloves of garlic, peeled and sliced crosswise as thinly as you can
About ⅓ cup vegetable oil
Instructions
Mix together the first 6 ingredients.
Place the pork loin roast in a large vacuum bag; seal and vacuum.
Cook at 160 degrees F for 8-10 hours.
In the meantime, make crispy garlic and lemongrass by frying both in oil, separately, over very low heat in a small skillet until light brown and crispy. (Make sure you don't wait until the garlic and lemongrass pieces turn golden brown as the residual heat will continue to cook them; it's better to fish them out of the oil when they're still light brown.) Drain off the oil and let the crispy garlic and lemongrass sit on a paper towel-lined plate.
Sear the outsides of the finished roast.
Carve and serve with rice.