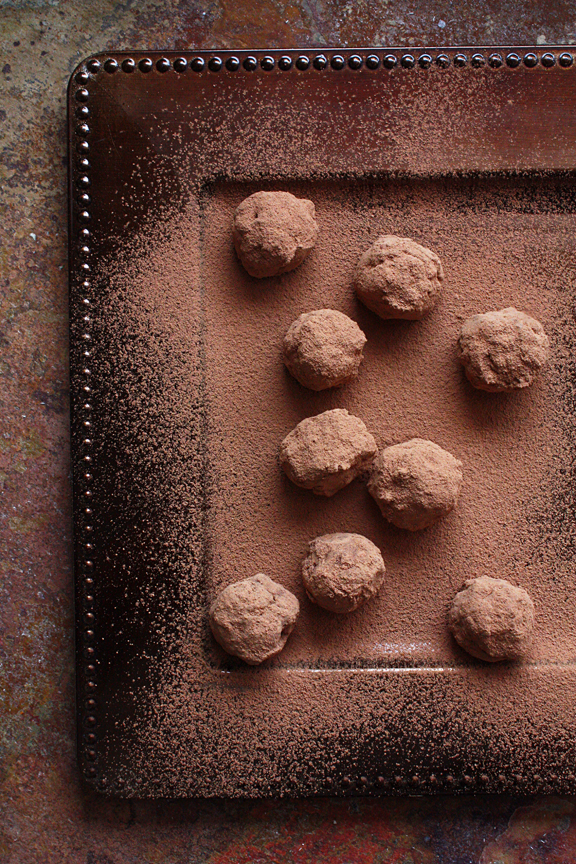 This recipe is an adaptation of the original recipe developed by Kristen Klassen of award-winning, Hawaii-based Madre Chocolate. It has been given to my readers courtesy of the company's Chocolate Flavormeister, ethnobotanist Nat Bletter. My thanks go to both of them and Madre Chocolate.
Enjoy these rustic, full-flavored truffles — a combination of banana foster and dark chocolate ganache. The fact that they're vegan may also be of added benefit to some of you.
Banana Chocolate Truffles
Author:
Kristen Klassen (adapted by Leela)
Recipe type:
Dessert, Candy, Sweets
Serves:
Approximately 50 truffles
Ingredients
4 medium semi-ripe bananas
½ vanilla bean, scraped
1 cup brown sugar
1 teaspoon five-spice powder (see notes)
1 tablespoon coconut oil or cocoa butter
½ teaspoon salt
12 ounces dark chocolate, chopped (see notes)
1 cup full-fat coconut milk
½ tablespoon rum (optional)
Unsweetened cocoa powder
Instructions
Peel and cut bananas into ¼-inch dice; transfer to a 10-inch skillet with vanilla bean, brown sugar, five-spice powder, coconut oil, and salt. Cook on high heat until juices bubble and bananas are soft, about 5 minutes.
Stir in rum and remove from heat. Let the mixture cool down to room temperature.
Melt chopped chocolate in a medium heatproof mixing bowl set over a pot of boiling water, stirring just until smooth; set aside.
Heat up coconut milk in a separate pot just until it's steaming but not boiling.
Pour coconut milk over melted chocolate; whisk until smooth.
Remove vanilla bean from banana mixture. Add banana mixture into chocolate mixture, cover with plastic wrap and chill for approximately 4 hours or until the mixture has set.
Scoop up chocolate mixture one tablespoonful at a time and form it into a round ball (see notes); roll in cocoa powder. Repeat until you run out of ganache. This will take a while, but it's worth it.
Notes
1.) I prefer chocolate with at least 60% cocoa content. 2.) Klassen's original recipe calls for one cinnamon stick which is cooked along with the banana mixture and removed before the mixture is mixed into the ganache. I experimented with five-spice powder and really liked it. You can go either way. 3.) Depending on several factors including the temperature of your kitchen, the chilled ganache may go soft when you're about ⅓ of the way through. Simply pop the bowl right back in the fridge and take it out again when the ganache has firmed up enough for you to roll it into balls. You may need to do this 3-4 times.