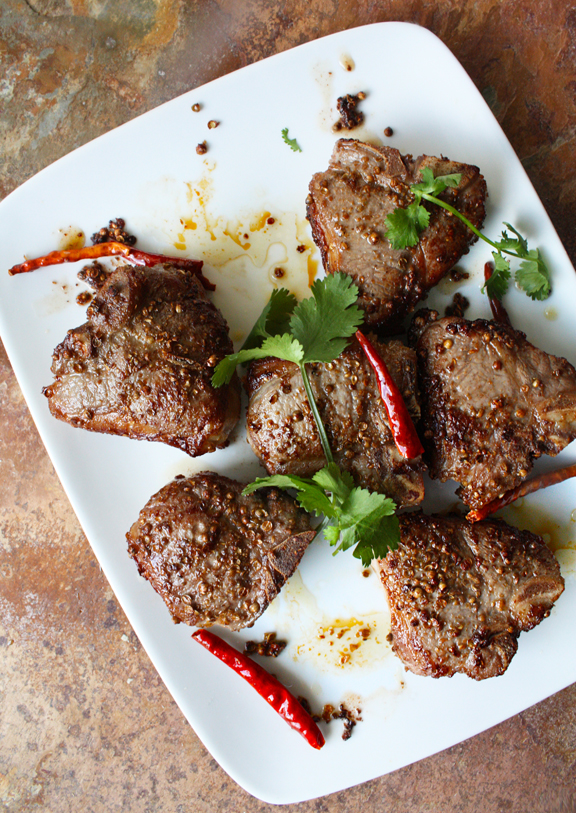 This is going to sound weird, but as long as I have garlic, coriander roots/stems, and whole white peppercorns (aka the Thai marinade 'trinity') around, I feel safe. This combination of aromatics along with other pantry staples, such as fish sauce, saw me through my student days when my food budget was — I verified this — smaller than that of my landlord's dog. I feel that if I had to go back to living cheaply like I did at that time, I would be able to manage. It would, of course, be tough, but I know that I could make any inexpensive cuts of meat from the supermarket delicious as long as I have these ingredients.
A less extreme and stressful case would be when I have to create an impromptu meal for company in minutes. This happened today, actually. And I did okay — I think.
Instead of the usual peppercorns, I used coarsely cracked whole coriander seeds to mimic the scent of a Thai meat dish nuea sawan ("heavenly beef"). I marinated the lamb chops for 15 minutes and got my coconut rice started. (The flavors of coconut and coriander seeds go so well together.) I crusted the lamb chops with coriander seeds and seared them in a skillet. By the time the lamb chops were cooked to medium, the rice was done. It took me 35 minutes from the time I took the lamb chops out the fridge to the time lunch was served. If I had been more prepared, I would have made some green papaya salad to serve on the side. But since I wasn't, the side vegetable was simple steamed carrots. No complaints so far …
Coriander-Crusted Lamb Chops
Ingredients
2 pounds center-cut lamb chops, preferably no more than 1-inch thick
3 large cloves garlic, peeled and minced
1 cilantro root or 4 cilantro stems, minced
2 tablespoons fish sauce
1 tablespoon grated palm sugar (or honey or brown sugar)
3 tablespoons vegetable oil
1 tablespoon whole coriander seeds, coarsely cracked
5-6 dried red bird's eye chilies or arbol chiles, optional
Instructions
Prick the lamb chops all over with a fork; put in a bowl.
Add the garlic, cilantro root, fish sauce, and palm sugar to the lamb; mix well. Let the lamb marinate in the refrigerator for at least 15 minutes up to overnight.
Put the vegetable oil to a large skillet set over medium heat.
Sprinkle the cracked coriander seeds all over both sides of the lamb chops; press them in tightly.
Fry the lamb chops until golden brown on one side; flip and brown the other side (throw the chilies in there at this point, if you use them). If you like your lamb medium, a total of 15 minutes of cooking on both side should suffice.