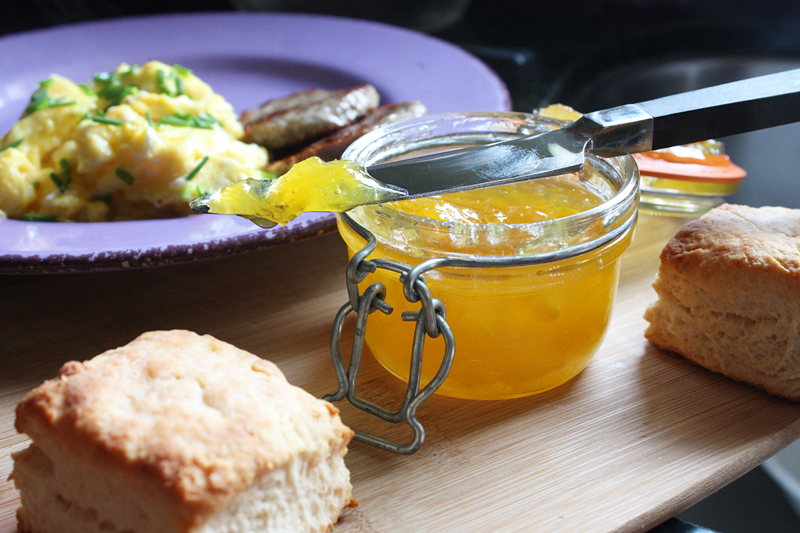 Whenever Champagne or Ataulfo mangoes are in season, I make Thai sweet sticky rice and mango, mango & rice tart, or the pavlova-inspired mango meringue tart with sweet coconut cream.
When the Tommy Atkins mangoes are all I can find, I make this jam.

Mango Lime Jam Recipe
Ingredients
3 cups mango pulp, coarsely chopped into raisin-sized pieces
3¼ cups granulated sugar
¼ cup fresh lime juice
Zest of 2 limes
Half of 3-oz pouch of liquid pectin
Instructions
In a nonreactive pan, mix together mango, sugar, and lime juice, and bring to a boil over medium heat, stirring constantly.
When the mixture comes to a boil, add the lime zest, turn up the heat to medium and let the mango mixture boil for 3 minutes, stirring constantly.
Stir in the liquid pectin and let the mixture boil for one more minute.
Take the pot off the heat and let the jam rest for 5 minutes before putting it into the jars. This allows the jam to thicken up a bit which promotes better suspension of mango pulp; otherwise the mango pieces will rise to the top instead of being interspersed throughout the entire jar.
Process with the water bath canning method. Alternatively, the jam can be stored in airtight containers and kept refrigerated.