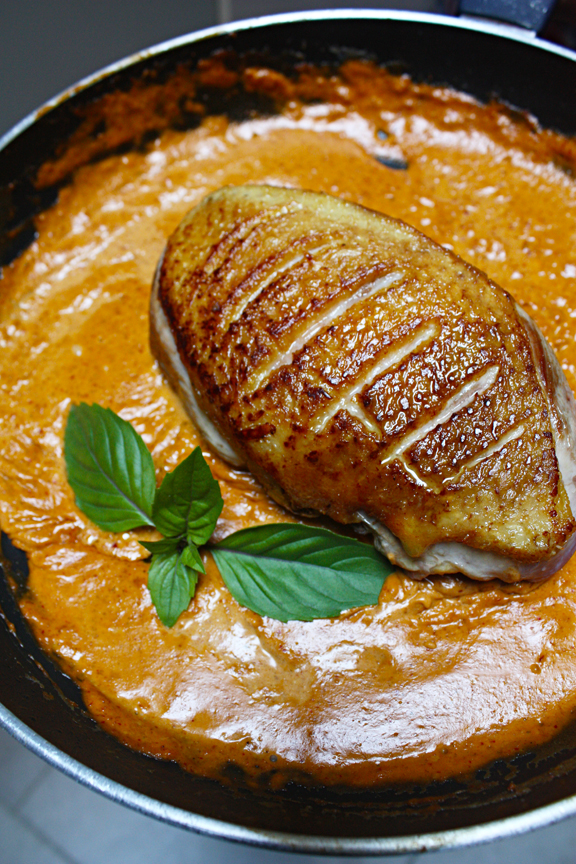 If you're curious about that one half-hearted vertical slash, please read on.
Here's another day of cooking Thai food with everyday fresh market items in Lyon, France. I'm still cooking in a small poorly-equipped kitchen with not many tools to work with. I still have to cut things with a serrated butter knife. Yet, I'm still having lots of fun. Lyon is such a great city. I could have been stuck with a much smaller kitchen and a disposable plastic knife, and I still would be having a blast. (You can read the background story
here
.)
Enticed by all the beautiful, voluptuous côtes de canard at Croix-Rousse market in Lyon, I just had to bring home one. This gorgeous duck breast weighs in at 700 grams which is slightly over 1 1/2 pounds. I didn't have any idea what to do with it when I was at the market. I had with me some red curry paste and boxed coconut milk which I had schlepped all the way from Geneva, Switzerland, when I was there last week. (By the way, did you know they have tom yam/tom kha herb kits at mainstream supermarkets in Geneva? Mind blown.) So I thought I would make duck breast in red curry sauce — chuchi-style, somewhat like this halibut in red curry sauce.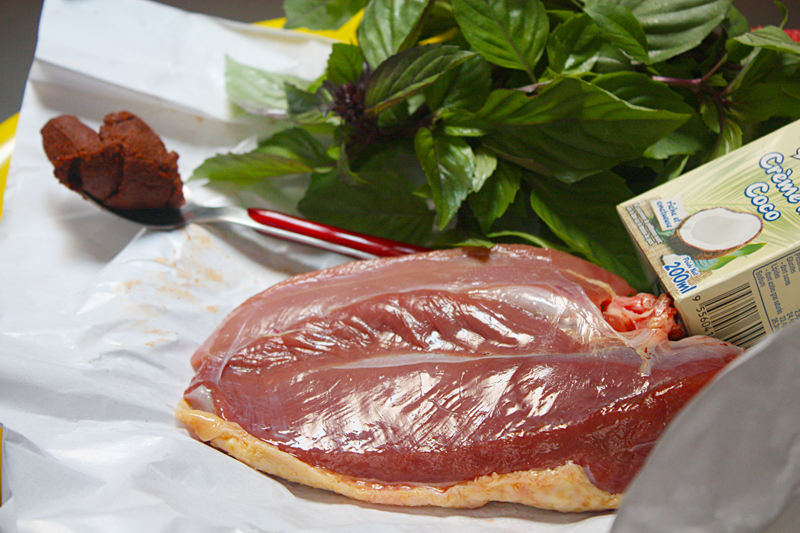 I started by scoring the skin of the duck breast (to facilitate the rendering of the fat among other things). If you have a good knife, do the crisscross pattern. If you're one of those who, for whatever reason, cook with, say, a butter knife, do what I did: make a few horizontal slashes on the skin, try making one vertical slash, realize that it 1. is pathetic and 2. just won't work, decide that horizontal slashes will have to do. Also, if you work with a duck breast this thick, it would be a good idea to make a few slashes, about 1/2 the thickness of the duck breast in depth, on the flesh side (especially the top part). This will ensure even cooking.
I marinated the duck breast for an hour with one tablespoon of fish sauce. I kept it refrigerated in a covered bowl.
Next, I seared the duck breast on all sides, starting with the skin, in a 14-inch skillet (that's all I have; you can do this in a medium sauté pan or saucepan) just until it's browned on the outside (no need to cook it through) and about 1/4-1/3 cup of fat is released. Then I transferred the seared duck breast to a plate, covered it, and set it aside.
I kept the rendered duck fat in the skillet to fry my curry paste in. You see, if you use canned or boxed coconut milk/cream, you know that sometimes it doesn't "crack" readily due to either the way it's processed or the presence of emulsifiers/stabilizers (see my post on easy Thai green curry on the "cracking" of coconut cream which is essential in making Thai curry). When this happens, additional fat will help you achieve the cracking. For me, this fat usually comes in the form of coconut oil or vegetable oil — a couple of tablespoons along with about 1/2 cup's worth of coconut cream used in this initial stage. In this particular case, since I had this beautiful rendered duck fat on hand, I thought I'd just use it.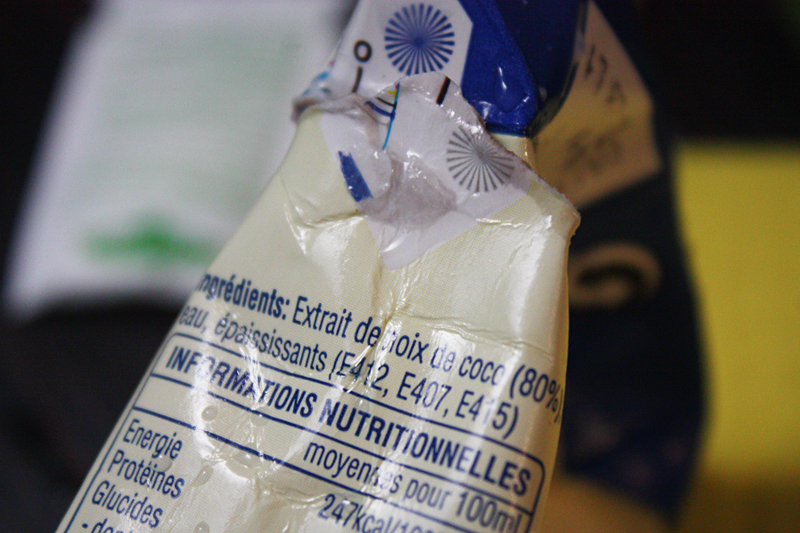 Ayam brand coconut milk contains 80% extracted coconut milk; the rest is water and stabilizers E412, E407, and E415. Even with almost 1/2 cup of rendered duck fat, the curry sauce still ended up homogenous.
So that's what I did; I fried
2 tablespoons of red (or panaeng) curry paste
(you can use less or more) in the duck fat along with
1/2 cup of coconut milk
on
medium-high heat
until the curry paste had fully dissolved and the mixture became fragrant,
about 2-3 minutes
.
Then I added another 1/4 cup of coconut milk and 3/4 cup of water or broth. to the skillet, blended everything, and added the seared duck breast (including the juices that it had released) back to the skillet. I lowered the heat to medium and let the duck cook in a covered skillet for 12 minutes (it was still slightly pink inside — just how I like it). Then I seasoned the sauce to taste with fish sauce (at home, I would add a tiny bit of palm sugar or brown sugar. But I didn't have any on hand, so I just skipped it). I tasted the sauce to see if it was sufficiently seasoned, remembering that this would be served along with some bland rice. I checked the consistency of the sauce to see if it needed more water (I cooked this dish in a wide skillet, therefore the liquid evaporated more than if I was to cook it in a smaller pot. These things you need to play by ear).
Once everything looked good, I took the skillet off the heat, sliced the duck into thin slices, plated it, and strew some fresh basil leaves on top before serving it with rice. This was enough for 2 people — more if served with other dishes as part of a multi-dish Thai-style family meal.
You can, of course, use more basil than what is shown here. I actually used about a cup of loosely-packed basil leaves — definitely more than just the one sprig in the photo above (I tried to make the curry look cute to compensate for the old, ugly nonstick skillet in which I cooked it. You see, this thing is so old that if you shake it from side to side even for just a bit, the handle will come right off).
Please come back here tomorrow for a refreshing summer Thai dessert made with fresh produce from a French market.