To say that these past several years have not been easy for the airline industry is to put it comically mildly. And it has been interesting to me to see how the major players had to reach deep to find the strength to survive and thrive in this hostile environment of fiercer competition and shrinking profit margins. And speaking of reaching deep, it's not surprising that in a recent move to stay in the competition, Thai Airways International, who considers itself the gateway to Thailand, goes back to the very heart of Thai-style hospitality: the food.
To retain its customers and attract more of them, Thailand's national flag carrier, under the leadership of its newest president, Sorajak Kasemsuvan, has given its in-flight Thai menu a makeover.
In keeping with its ambition to be perceived as "the best restaurant in the sky," THAI has made its food even closer than ever to what is normally served in the homes, restaurants, and street eateries of Thailand. The new and improved Thai menu, available on all TG flights, has debuted since July 1, 2013. It features over a dozen best-known Thai dishes with all the usual suspects: green curry, pad thai, tom yam kung, and many more.
I recently had a chance to chat with Flying Officer Suraphon Israngura Na Ayuthya, Managing Director of THAI Catering Department.
Suraphon pointed out to me that it had become clear to him in recent years that people all over the world had developed the ability to appreciate Thai food in ways that they did not before; that is to say: with the world becoming smaller and more connected, people have developed a better sense of how Thai food generally looks, tastes, and is consumed in its birthplace. As a result, they have come to expect nothing less.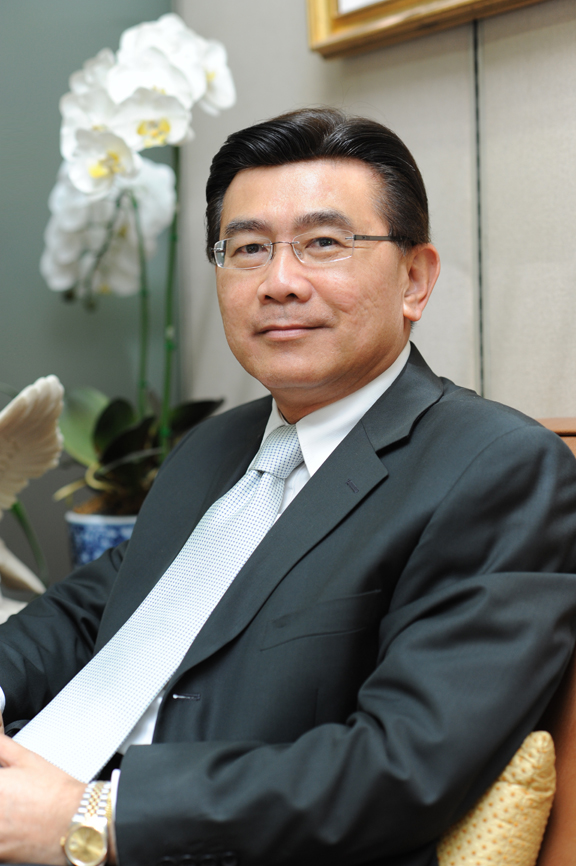 Flying Officer Suraphon Israngura Na Ayuthya
I think his observation is spot on. (I told you this in
my CNN article
two years ago.)
In light of this, you can see that harder times lie ahead for unscrupulous restaurants in touristy areas in Thailand that used to rub their hands with glee every time a foreign visitor paid 10 times the market price for a plate of ketchup-flavored pad thai. At the same time, some restaurant cooks who used to sob inside for having to satisfy the demand for cilantro-flavored green curry with broccoli, carrots, snow peas and a hearty squeeze of fresh lime can now let out a collective sigh of relief and ease their way back to their true calling. People worldwide have become increasingly more knowledgeable about Thai food. It's a phenomenon that has been happening both in the motherland and gaining momentum in Thai restaurants overseas, most notably in the United States and Australia from my experience.
But more on that later. Back to Thai Airways' new menu. How did that come about?
"It is not as much an overhaul as it is an upgrade," said Suraphon. "We're sticking with the regular menu items for the most part — we're just amping up the flavors." By that he means there is no more holding back for fear that passengers won't be able to take Thai food the way it's served in Thailand.
Restaurateurs and celebrity food gurus were invited to test out the improved dishes; only recipes that had passed muster made it on the menu.
However, the THAI executive, to his credit, did not try to gloss over the fact that, even with good intention and execution, it is nearly impossible to make airline foods as palatable as they would otherwise be under different circumstances. He was well aware of the many factors that affect both the foods themselves as well as how your body responds to them. And then there are the pesky details involving the idiosyncrasies and temperamental behaviors of some ingredients.
"Anything involving noodles is especially difficult to make well," said Suraphon. "Pad thai, for example, requires such careful preparation." Just as I was about to ask …
I can see why. If you have a hard time creating a good version of Thailand's best-known dish at home — and, trust me, you would be in good company — imagine making it hours in advance, blast-chilling it, then reheating it for consumption in a pressurized cabin at a high altitude. My head hurts just thinking about it.
Asked if there was any one menu item of which he was most proud, without missing a beat, "Khao man gai," answered Suraphon. "It looks like a simple thing to make, but do you have any idea how difficult it is to make each component of this dish very well — the rice, the chicken, the sauce — everything?"
I do, sir, I do.
"And I think we pulled it off!" said Suraphon. His voice could hardly conceal the excitement, the fondness — the joyous giddiness only people who have long loved this dish could understand.
________________________________
I'd like to thank Flying Officer Suraphon Israngura Na Ayuthya for graciously granting me an interview. I'd also like to thank Thai Airways International for allowing me to publish the recipe for one of their improved Thai menu items,
Tom Kha Gai
(RTGS:
tom kha kai
). This is something most readers of this site already know how to make (my tutorial is
here
— a little more detailed and, uh, particular), but I hope you will enjoy this recipe, a gift to you straight from the award-winning kitchen of THAI Catering Department.  
Tom Kha Gai from Thai Airways International's New Thai Menu
Author:
SheSimmers.com, adapted from Thai Airways International
Recipe type:
Main Courses
Ingredients
1 cup coconut milk
1 cup chicken stock
4-5 thin slices of fresh galangal
1 large kaffir lime leaf, deveined and torn (I didn't do that in the picture -- mea culpa)
2 1-inch sticks of trimmed lemongrass (use the part closest to the roots)
8 ounces boneless, skinless chicken breasts or tenderloins, cut into bite-sized pieces
½ cup fresh straw mushrooms, halved (oyster or white button work as well)
1 tablespoon fish sauce (more or less depending on the sodium content of your chicken stock)
1 tablespoon lime juice (have more on hand, just in case)
3-4 crushed fresh bird's eye chilies (more or fewer, depending on your heat tolerance)
¼ cup loosely-packed cilantro leaves
Instructions
Combine the coconut milk and chicken stock in a 2-quart saucepan. Add the galangal, kaffir lime leaf, and lemongrass; bring the mixture to a gentle boil over medium heat.
When the liquid boils, add the chicken and the mushrooms; turn up the heat slightly to restore the gentle boil.
Meanwhile, put the lime juice, fish sauce, and crushed chilies at the bottom of a large serving bowl.
When the chicken is fully cooked, about 2-3 minutes, ladle the soup into the prepared bowl and stir to disperse the seasoning ingredients. Taste to see if it needs more lime juice and/or fish sauce.
Top the soup with the cilantro leaves and serve it with rice immediately.