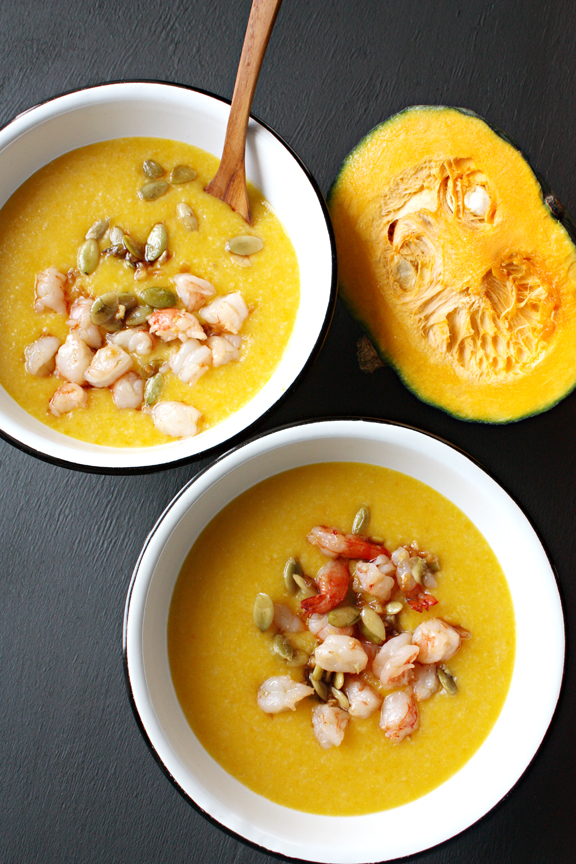 Mom used to say that she noticed when I was a baby, I laughed and babbled more than I normally did whenever she added puréed pumpkin, instead of the usual puréed fruits or greens, to my rice cereal. I wouldn't touch pumpkin by itself, but would lap up the combination of rice and pumpkin. Then I would 'talk' a lot. Maybe the times I was in a particularly good mood happened to coincide with the times when she fed me rice-pumpkin porridge. Maybe Mom was just imagining things. Maybe I was a weird kid. I don't know.
This is a grown-up version of what's supposed to be my favorite baby food. I love this dish and make it often. The salty garlic shrimp balances out the sweet rice-pumpkin porridge. The pumpkin seeds add some crunch to what would otherwise be a texturally dull mush. Vegans can use vegetable broth instead of chicken broth and salt instead of fish sauce and skip the shrimp or replace them with mushrooms.
I can't say anything about whether you'll get more talkative after you eat this porridge. But if that happens, perhaps you and I (well, the baby version of me, anyway) have more in common than previously thought.

Rice-Pumpkin Porridge with Garlic Shrimp and Pumpkin Seeds (ข้าวตุ๋นฟักทองใส่กุ้งกับเมล็ดฟักทอง)
Recipe type:
One-Plate Meal
Ingredients
¾ cup packed cooked flesh of kabocha squash (see note)
1½ cups cooked white long grain rice
3 cups chicken broth
½ tablespoon vegetable oil
2 medium cloves garlic, peeled and minced
2 tablespoons raw pumpkin seeds
¼ pound shrimp, peeled, deveined, and cut crosswise into ½-inch dice
½ teaspoon fish sauce, plus more, to taste
¼ teaspoon ground white or black pepper
More water, as needed
Instructions
In a blender puree the pumpkin, rice, and chicken broth until smooth. Transfer the puree to a 2-quart saucepan. Leave it alone for now. The mixture will thicken upon 10-15 minutes of standing. Only then will you be able to know whether to adjust its consistency and with how much water.
In the meantime, put the vegetable oil and minced garlic in a small skillet (while it's still at room temperature). Put the skillet over medium-low heat, stir the garlic around almost constantly until it turns medium-brown and crispy, about 8-10 minutes. Be patient. You don't want to rush this step. Stir often (almost constantly) and keep the heat low to prevent the garlic from burning before it crisps up.) Add the pumpkin seeds to the skillet, turn the heat down to low, and stir for about 1 minute. Transfer the contents of the skillet to a bowl; set aside.
Put the skillet back on the stove without wiping it clean. Turn up the heat to medium high. When the skillet is hot, add the diced shrimp, ½ teaspoon fish sauce, and ground pepper. Stir the shrimp around until they turn pink and opaque, about 1 minute. Transfer the cooked shrimp to the bowl containing the garlic and pumpkin seeds; stir to mix and set aside.
Put the porridge in the saucepan on medium-high heat. Add more water, if necessary to achieve the consistency of stirred yogurt (regular not Greek style). Heat it through. Season with more fish sauce as needed (keep in mind that there's already some fish sauce in the shrimp topping).
Divide the hot porridge between two serving bowls. Top with the garlic shrimp-pumpkin seed mixture. Serve immediately.
Notes
This is my personal taste, and I won't force it on you: I would not use any squash other than kabocha, Fairy Tale, buttercup, or potimarron (red kuri) in this. But you can use what you like. To arrive at ¾ cup of cooked pumpkin flesh, I use half of a small (1.5-2 lbs) kabocha. Peel it, scoop out all the seeds and stringy fiber, and cut into 1-inch chunks. You should end up with about 1¾ cups of raw pumpkin chunks. Steam them using any method you prefer. Once cooked, the amount will measure about ¾ cup.