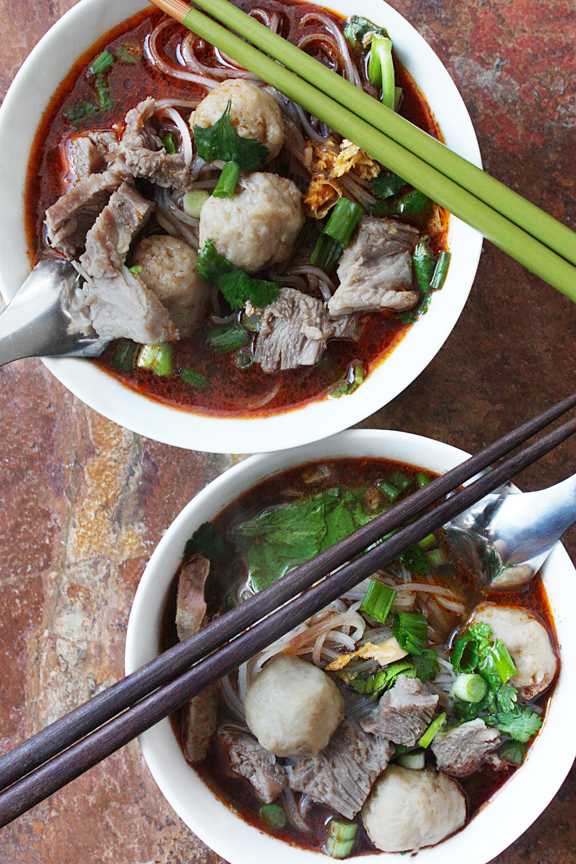 Initially, I was planning on prefacing this much-anticipated recipe with a brief historical overview of Thai boat noodles (kuai-tiao ruea ก๋วยเตี๋ยวเรือ) as well as some personal anecdotes. But considering the length of the recipe, I felt that if I was to have any chance of keeping the word count of this post below 100K, I needed to keep the fun subject of Thai boat noodles for another occasion.
For now let's talk about this recipe that comes from this new cookbook, Pok Pok: Food and Stories from the Streets, Homes, and Roadside Restaurants of Thailand written by Chef Andy Ricker together with JJ Goode and photographed by Austin Bush.
But, first, a warning of sorts: Thai street noodles aren't particularly difficult to make; they just require a lot of ingredients, both single and composite (assuming your goal is to make Thai street noodles exactly the professional way, not the easy, homespun way). Boat noodles, especially this particular type which has come to define the genre, require quite a bit of time and the right ingredients. [Perhaps I should tell you that Bangkokians don't usually make this at home. If you grew up in a household where your mom came home on a weeknight after a long commute and said, "Go wash up, dear, and come down at 7 -- I'm making boat noodles for dinner," then I'd like to meet your mom so I can prostrate myself before her in reverence.] But if you live outside Thailand where you can't find great boat noodles, this recipe will serve you well.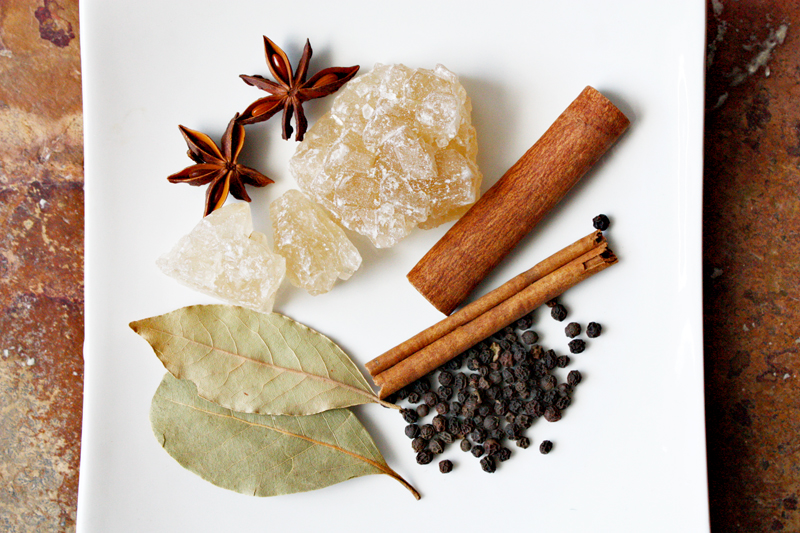 I'm going to present the recipe the same way it is presented in the book; that is, it is split into three main components: the broth (the foundation), the noodle soup (the assembly), and the table seasonings (the personal customization of flavors). Assuming your pantry isn't usually stocked to the gill with Thai ingredients as mine is, I have created a shopping list for your convenience. I won't publish the shopping list here, but you can visit this page in order to print it out.
************
PORK BOAT NOODLES
From Pok Pok Cookbook
Serves 4
According to the way the recipe is written, it is assumed that you've prepared some of the composite ingredients as well as the table seasonings beforehand (we're talking multiple recipes within a recipe). Therefore, for the process to flow smoothly, I suggest that you get a head start on these ingredients before making the broth. Personally, I would make the following the day before.
FRIED GARLIC AND FRIED GARLIC OIL (kra-thiam jiao กระเทียมเจียว, nam man kra-thiam jiao น้ำมันกระเทียมเจียว)
From Pok Pok Cookbook
Makes 6 tablespoons fried garlic and 2 cups of garlic oil
Chop 30 cloves garlic (peeled) into tiny pieces, about 1/8-inch pieces. Place a fine-mesh strainer over a heatproof container. Pour 2 cups of vegetable oil into a pan small enough to allow it to form a depth of 3/4 inch. Heat the oil to 275°F. Add the garlic, then immediately turn the heat to low, and stir once or twice. Cook, stirring and scraping the sides occasionally and adjusting the heat to maintain a gentle sizzle, until the garlic is light golden brown and completely crisp, 4 to 6 minutes. Pour the pan's contents through the strainer, reserving the oil. The fried garlic will keep, unrefrigerated, in an airtight container in a cool, dry place for up to 2 days. The strained oil keeps in an airtight container for up to 2 weeks.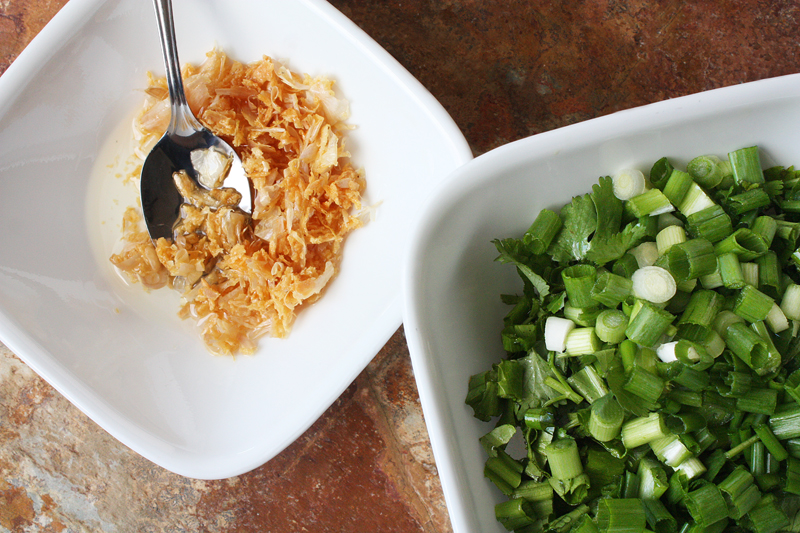 TOASTED CHILI POWDER (phrik pon khua พริกป่นคั่ว)
From Pok Pok Cookbook
Makes about 1/3 cup
Put 15 Mexican dried Puya chiles (stemmed) in a wok or pan, turn the heat to high to get the pan hot, then turn the heat down to medium-low to low. Stir the chiles almost constantly, moving them around and flipping them occasionally to make sure both sides of the chiles make contact with the hot pan. Continue until the chiles are very brittle and very dark brown (nearly black) all over, 15 to 20 minutes. Remove the chiles from the pan as they're finished. Discard any seeds that escape the chiles, because they'll be burnt and bitter. Let the chiles cool. Pound them in a granite mortar or grind them in a spice grinder to a coarse powder. The chile powder will keep for up to a few months in a sealed container kept in a cool, dry place. (My note: Evacuate babies, small kids, or small pets from the kitchen before you make this. Crank up the exhaust fan. If you have 10 windows in the house, open 11. I am not kidding.)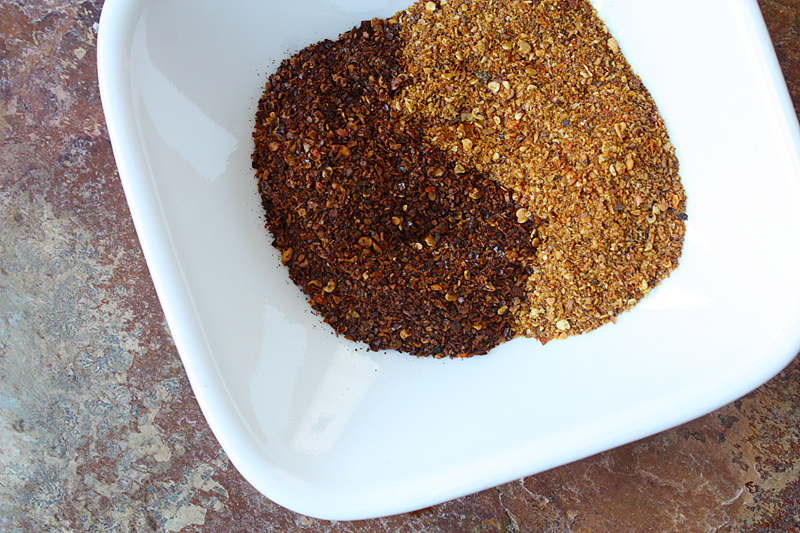 GRILLED CHILI VINEGAR (nam som phrik tam น้ำส้มพริกตำ)
From Pok Pok Cookbook
Makes 1/2 cup
Grill 16 fresh Thai green chilies or 4 green Serrano chilies, either over a charcoal grill or in a grill pan/skillet, over high heat. Cook the chilies, turning them over and pressing on them occasionally to help them cook evenly, until blistered and almost blackened. This should take about 5 minutes for the Thai chilies and 10 for Serrano chilies.
Grind the grilled chilies in a mortar into a coarse paste and transfer to a bowl; add 1/2 cup of white vinegar to it and stir.

CHILI FISH SAUCE (nam pla phrik น้ำปลาพริก)
From Pok Pok Cookbook
Makes 1/2 cup
Slice 14 fresh Thai chilies crosswise, thinly, and place in a small bowl. Pour 1/2 cup Thai fish sauce over the chilies.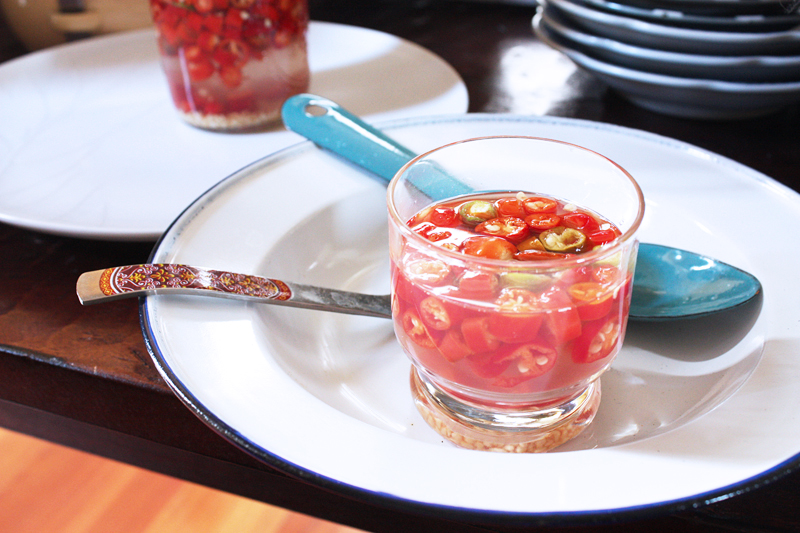 VINEGAR-SOAKED CHILIES (phrik nam som พริกน้ำส้ม)
From Pok Pok Cookbook
Makes about 1/2 cup
Slice 3 fresh Serrano chiles crosswise, thinly, and place in a small bowl. Pour 1/2 cup white vinegar over the chilies. Covered, it keeps for 4 to 5 days in the refrigerator.
***********
With the above components in place, we move on to the broth.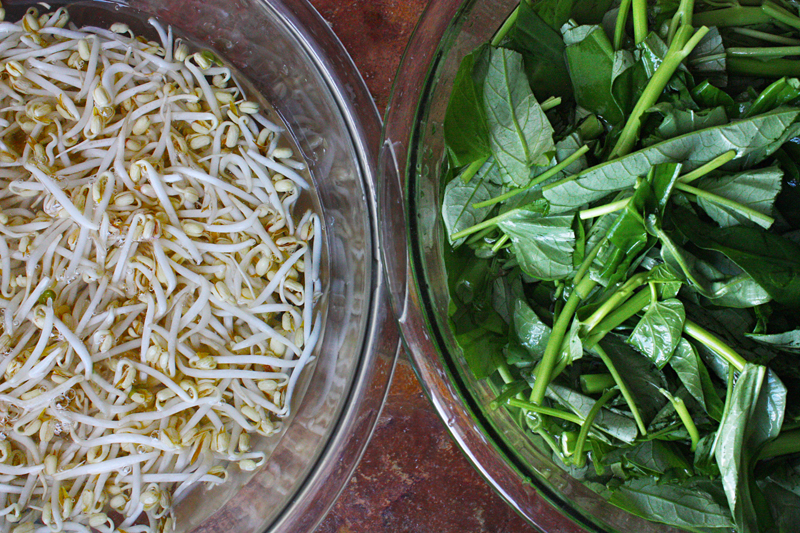 THE BROTH
2 1/2 pounds boneless pork shoulder, rinsed and cut into strips approximate 2 inches long, 1 inch wide, and 1/4 inch thick
1 one-ounce piece of fresh or frozen galangal, thinly sliced against the grain
3 large stalks lemongrass, trimmed (i.e. with the tough layers, 1/2 inch of the bottom, and 4 inches of the top removed) and thinly sliced crosswise
10 large fresh cilantro roots, lightly smashed with a heavy object
2 fresh or frozen pandan leaves, lightly bruised and tied into a knot
1 ounce (about 2 cups lightly packed) Chinese celery leaves, cut into 3-inch pieces
3/4 cup Thai thin soy sauce
1 tablespoon Thai black soy sauce
2 ounces rock sugar
1 1.5-inch piece cinnamon stick
4 dried bay leaves
1 tablespoon black peppercorns
2 pieces of star anise
12 cups water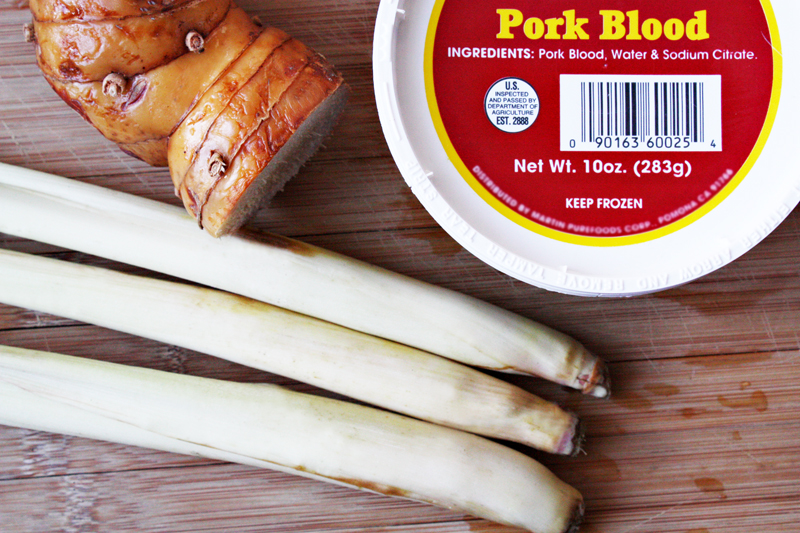 Add all the broth ingredients into a large stockpot and bring to a boil. Once the liquid boils, cover the pot and reduce the heat so the liquid is simmering. Cook for about one hour, adjusting the heat along the way as necessary to maintain a simmer, until the pork is tender but still holds its shape. (Note: I suggest that you use this one-hour period to prepare the vegetables and the herbs that you will need in the assembly stage.)
You will end up with more broth than you need to make 4 servings (use the remaining broth to make this egg noodle soup with stewed chicken drumsticks and baby bok choy). Reserve 4 cups of the broth and about 1 cup of the stewed pork to use now and store the rest for later either in the refrigerator (up to 5 days) or freezer (up to 6 months). Bring the broth and the pork to a simmer over medium-low heat and keep it covered. You won't need it until assembly time.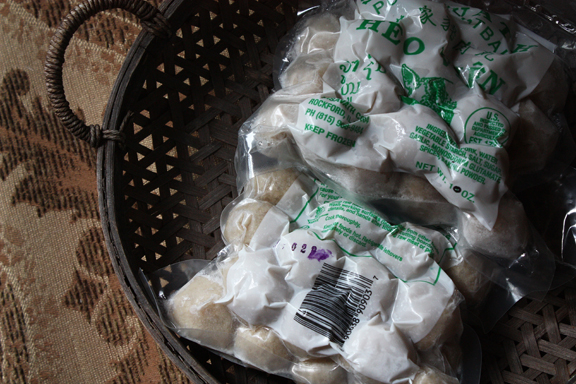 THE ASSEMBLY
1/4 cup Thai fish sauce
1/4 cup grilled-chili vinegar, see above
1/4 cup granulated sugar
2 tablespoons fried garlic oil, see above
2 tablespoons fried garlic, see above
1 tablespoon plus 1 teaspoon toasted chili powder, see above
1 tablespoon plus 1 teaspoon fresh or defrosted frozen raw pork blood (optional)
8 ounces boneless pork shoulder, sliced against the grain into 1/8-inch-thick bite-size strips
16 fresh or defrosted frozen pork balls (see this post to find out what they are)
10 ounces semi-dried thin, flat rice noodles (about 5 cups, tightly packed), soaked in lukewarm water until fully pliable but not fully soft, about 15 minutes, then drained well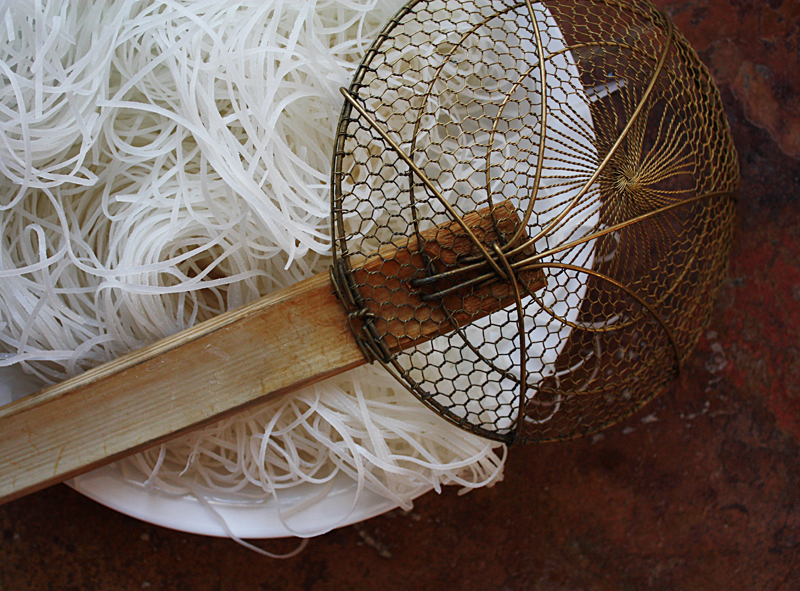 2 ounces Chinese water spinach (the one at the top of this photo), leaves and thin stems only, cut into 2-inch lengths (about 2 1/2 cups, lightly packed)
4 ounces bean sprouts (about 2 cups, lightly packed)
Generous 1/4 cup coarsely chopped Chinese celery (thin stems and leaves), lightly packed
Generous 1/4 cup coarsely chopped cilantro (thin stems and leaves), lightly packed
Generous 1/4 cup thinly sliced sawtooth coriander (cilantro), lightly packed
When you're ready to assemble the noodles, bring a large pot of water to a rolling boil. Prepare 4 soup bowls each of which should be large enough to hold about 3 cups' worth of food comfortably. To each bowl, add 1 tablespoon of the fish sauce, 1 tablespoon of the chili vinegar, 1 tablespoon of the sugar, 1 1/2 teaspoons of the fried garlic oil, 1 1/2 teaspoons of the fried garlic, 1 teaspoon of the toasted chili powder, and 1 teaspoon of the blood, if you're using it.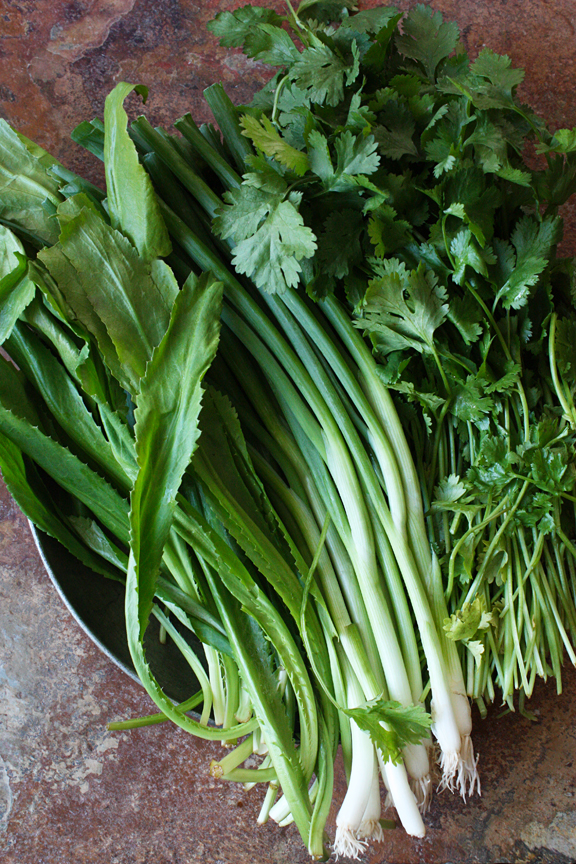 In each of 4 containers, combine 2 ounces of the raw pork shoulder, 4 of the pork balls, 2 1/2 ounces of the noodles, about 1/2 cup of the water spinach, and 1/2 cup of the bean sprouts. Put the remaining ingredients in separate containers.
Make one bowl at a time. Add one portion of the noodle mixture to a long-handled noodle basket and put the basket in the water. Cook, using a spoon to stir the ingredients just until the pork shoulder is cooked through, about 1 minute. Firmly shake the basket to drain the ingredients well. Add the contents of the basket to the bowl, add a few pieces of the reserved stewed pork (about 1/4 cup), and ladle in 1 cup of the broth. Add a large pinch of each of the herbs. Repeat with the remaining 3 bowls.
Serve alongside the chili fish sauce, sugar, vinegar-soaked chiles, and chile powder. Season to taste and stir well before eating.
*****************
Notes:
1. If you already have some chili-fish sauce lying around, by all means, use it. But plain fish sauce is what's always offered at noodle shops in Bangkok, I think you can certainly get away with using plain fish sauce right out of the bottle.
2. I couldn't find Chinese celery the day I made this, so I didn't use it.
3. I couldn't find cilantro roots, so I cut about 4-5 inches off the bottom ends of the cilantro stems (I used the whole bunch) and use those instead.
6. I didn't make dark-roasted chili powder from scratch as the book instructs. Instead of toasting some Mexican puya chiles and grind them up, I took some of the homemade dried chili powder, which I've always had in the pantry, and toasted it in a dry skillet over low heat, stirring constantly, until it turned dark, reddish brown. See one of the photos above showing dried chili powder, toasted and untoasted.