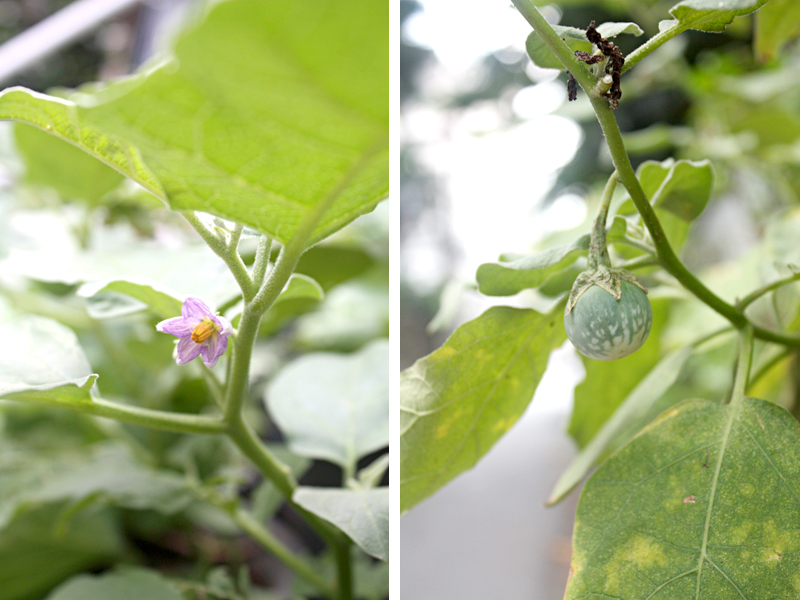 Thai "Chao Phraya" Eggplant
In continuing our week-long series of giveaways in celebration of my first little book,
Simple Thai Food
, which is now ready for preorder, I've collaborated with
Baker Creek Heirloom Seeds
, my long-time trusted source of non-GMO heirloom seeds, in order to bring you Giveaway #2.
Because of all my travels, I don't get to garden much these days. But for years, rare seeds from Baker Creek were my best friends. You want cilantro that grows strong, fragrant roots (that's an essential ingredient in Thai cooking)? They've got cilantro seeds for you. What about Thai lemon basil which, as far as Thai cooks are concerned, is irreplaceable? If you can't find it at the store — and that's most likely the case — grow it; it's easy. Of course, they have the seeds for it too (along with every type of basil you ever need for Thai cooking).
In Simple Thai Food, I have made suggestions on what everyday produce you can use in lieu of some herbs and vegetables that may be hard to find in some areas. However, if you're interested in growing these herbs and vegetables yourself, RareSeeds.com has hundreds of high-quality seeds available just for that purpose.

Photo credit rareseeds.com
With no further ado, let's look at the gardening gift set, worth over $100, which the kind folks at Baker Creek Rare Seeds have put together for one of you. It includes:
1. The Home Gardener's Collection, a collection of seeds, geared for the home gardener or container gardener, featuring 20 full-sized packets of seeds and a Clyde's Garden Planner. Everything is all packaged in a burlap bag with a drawstring closure. Varieties in this package are chosen to be productive in both Northern and Southern climates.
2. Seeds for 12 varieties of herbs and vegetables which I have specifically requested from them (thank you, Baker Creek!), because they are used in the recipes in my book (not all required). They are:
Thai hairy lemon basil
Thai holy basil (the indispensable ingredient in pad kaprao)
Thai Chao Praya eggplant aka Thai round eggplant
Thai Siam Queen basil, a type of Thai sweet basil, typically used in red and green curries.
Thai Burapa pepper
Thai kang kob pumpkin (what they usually use in Thailand, though kabocha or Red Kuri can be used)
Lemongrass (You can use it to make Thai curries and salads; You can even use it to make slushies!)
Bonanza 141 gourd aka angled luffa gourd (which — be warned — can show up in unexpected places)
Culantro (Sawtooth coriander, sawtooth cilantro, Vietnamese coriander, etc.)
Pickling cucumber
Zwolsche Krul celery (okay, so this doesn't sound very Asian, but I've found its young, tender leaves to be a good sub for Chinese celery which is different from Pascal)
Chinese kale or Chinese broccoli (kai lan)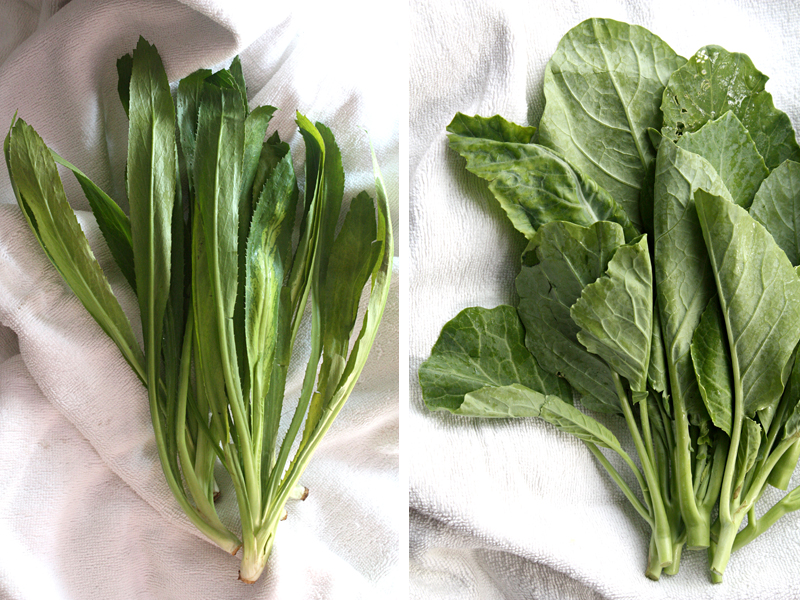 (Left) Culantro aka sawtooth coriander/cilantro; (right) Chinese broccoli/kale aka kai lan
The giveaway is open to everyone who lives anywhere in the world (the only requirement is that you follow both Baker Creek and SheSimmers.com on Twitter and Facebook), but the gift can only be sent to an address in the United States. So those living outside the USA, have in mind a favorite US-based friend and relative to whom you'd like to have the prize sent as a gift in case you win.
You have 7 days to enter.