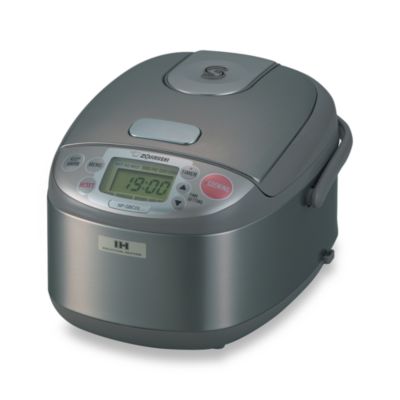 It's been an exciting week — well, for me, anyway. First, I got to tell you about my book, Simple Thai Food. Then I got to team up with some really cool companies in order to bring you things that help make cooking Thai food easier for you.
Our week-long celebration concludes with a giveaway of a cooking tool that is found in practically every household in Thailand: a rice cooker. But I have teamed up with Zojirushi USA to bring you a free 10-cup induction heating system rice cooker and warmer (MSRP $430) which is a high-end one, something more fancy than average.
One of the questions I get asked all the time is: What is the best way to cook rice?
I've discussed this topic in my book, so I won't repeat it here. Suffice it to say, I have tried several methods of cooking rice from the traditional to the unorthodox. And I haven't found any that is so exceedingly excellent and ingenious that it obliterates any value in the convenience a rice cooker brings.
You put raw rice and water in rice cooker. You close lid. You push button. You wait. You go do things. Rice cooker goes ding. You eat rice.
This rice cooker does more than just cooking, though. Using induction heating technology, it makes precise temperature adjustments to cook various types of rice from the germinated whole grain rice to all types of white rice. It also keeps the cooked rice warm automatically. You can read more about Zokirushi rice cooker, NP-HBC18 model, by following this link.
This rice cooker could be yours!
No purchase necessary. We only ask that you follow SheSimmers and Zojirushi USA on Facebook and Twitter. Also, even though the giveaway is open to everyone, the prize can only be sent to an address within the United States. So if you live outside the USA, you can still enter and have this fancy rice cooker sent to your US-based friend or family as a gift.
You have 7 days to do so. Good luck!