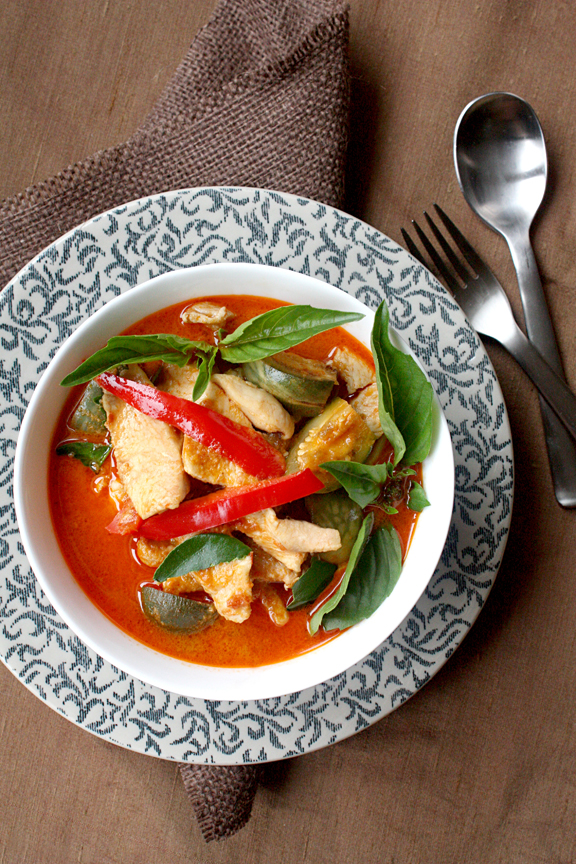 Last month when I announced that my book, Simple Thai Food: Classic Recipes from the Thai Home Kitchen, was available for preorder, I also told you that if you preordered the book by Thai New Year on April 13, you would get access to a video tutorial on how to make Thai red curry from the paste to the finished dish (chicken-Thai eggplant red curry, as shown here). Well, by the time you're reading this the deadline will have passed and Songkran, Thai New Year (read about it while looking at panko-crusted fried baby bananas), will have already begun.
Three things, therefore:
1. Happy Thai New Year!
2. Thank you for buying my book — sight unseen to boot. Your support means a lot to me.
3. You can now begin the process of redeeming your gift by emailing your proof of purchase, to simplethaifoodbook@gmail.com before 5/13/2014 and I will ensure that you receive your access code by the time the book becomes available (you need the book in your hand for the video to make sense). Your proof of purchase can be anything that proves that you have preordered Simple Thai Food by April 13, 2014. It could be something as simple as a screenshot of your order confirmation (with sensitive information blacked out, if applicable).
By the way, please rest assured that your email address is safe. I'm not going to put you on any mailing list without you knowing about it, because that would be wrong and I have nothing to send to you anyway. I may decide to do e-newsletters in the future, but you will not receive them unless you opt in at that time. Any questions, please ask.
Thank you again, everyone. We should get back to our regular schedule of recipe postings shortly.