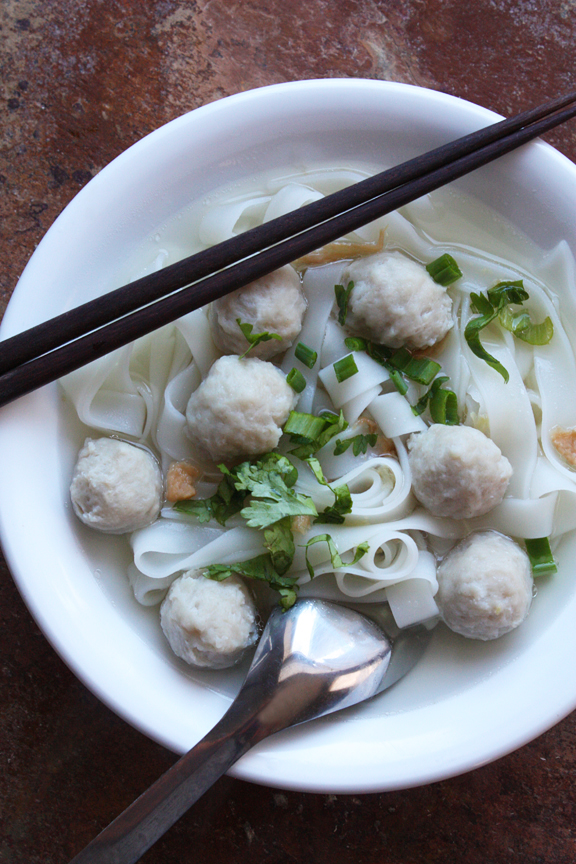 Whenever I get an email from someone asking me to post a recipe for Thai-style noodle soup which they had on their last trip to Bangkok, I always say yes. But then I always feel fearful for both of us.
I fear for myself, because I know it's going to be a lot of work – a serious commitment. I don't even know how or where to begin. A book, I mean, A HUGE BOOK, could be written on that one genre of modern Thai food alone. I'm not exaggerating. To write a quick, simple post on Thai noodles and the whole noodle culture would be an insult to something so complex. I fear that the more I say, the more pessimistic I sound and the more it seems that I'm talking people out of making noodles — which isn't true. Well, kind of. But not entirely.
I'm also fearful about disappointing those who are eager to learn how to make Thai street noodles at home, because I'm not sure they know what's involved and how much work it actually requires to turn their kitchen into a Bangkok noodle stall. See, there's a reason noodles are not home cooking. Ask an average Bangkokian how many times a week, he makes noodles at home, and I wouldn't be surprised if he goes, um, like, zero …?
Or maybe I think too much. Maybe you just want something simple. If that's the case, let's start with what I consider the easiest type of Thai (Thai-Chinese, actually) noodle soup: noodles in clear broth with Asian-style bouncy meatballs. I can't think of anything else out of the hundreds of different types and combinations of noodles that is simpler than this. Continue Reading →