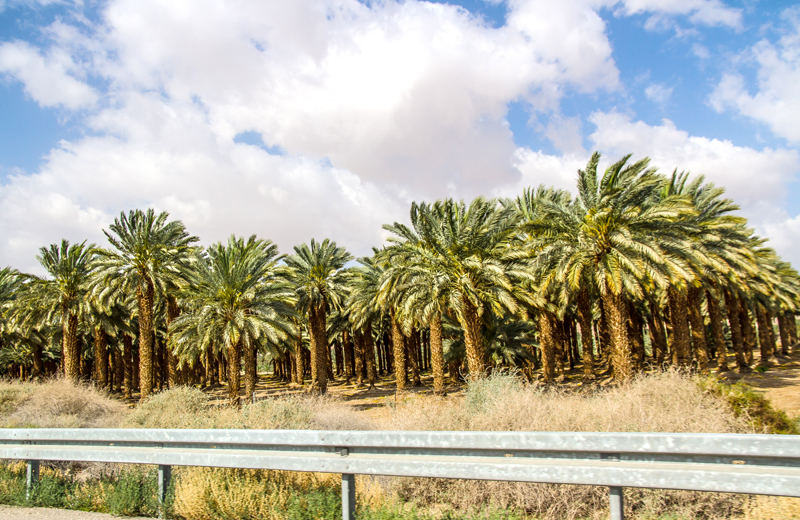 Those who have paid any attention to me on Twitter probably remember that I had recently returned from Israel where I spent several days exploring, eating, frolicking in museums as well as libraries, and just plain having fun. It was such a great trip, and I'm glad that I chose to go in the spring when the markets were flooded with loquats, fava beans, and green almonds among many other things — when the weather was beautiful every day and all the time even in the middle of a desert at midday.
I thought I'd bring a little bit of Israel to you with the emphasis on, of course, food.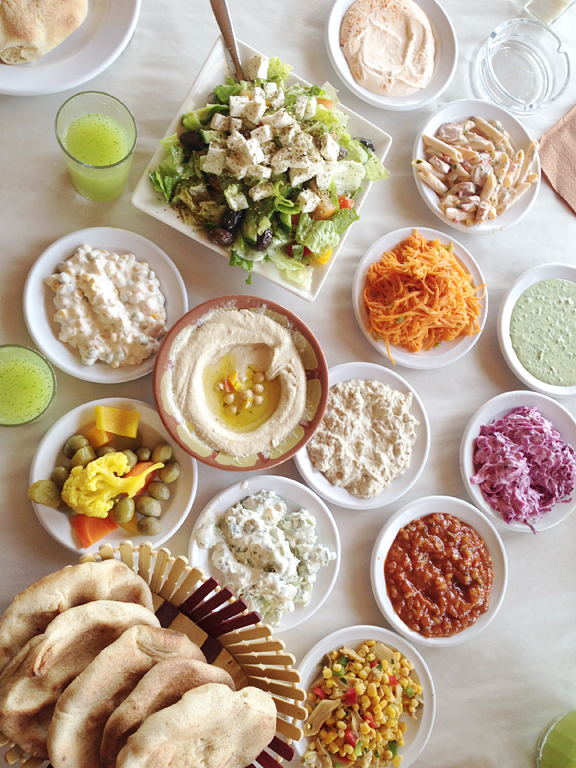 To say that I ate well while there is an understatement. Not every meal was a big, full-on feast like the one I had in Bethlehem shown in the photo above. But looking back, I don't think a day went by when I didn't eat at least one thing memorably delicious.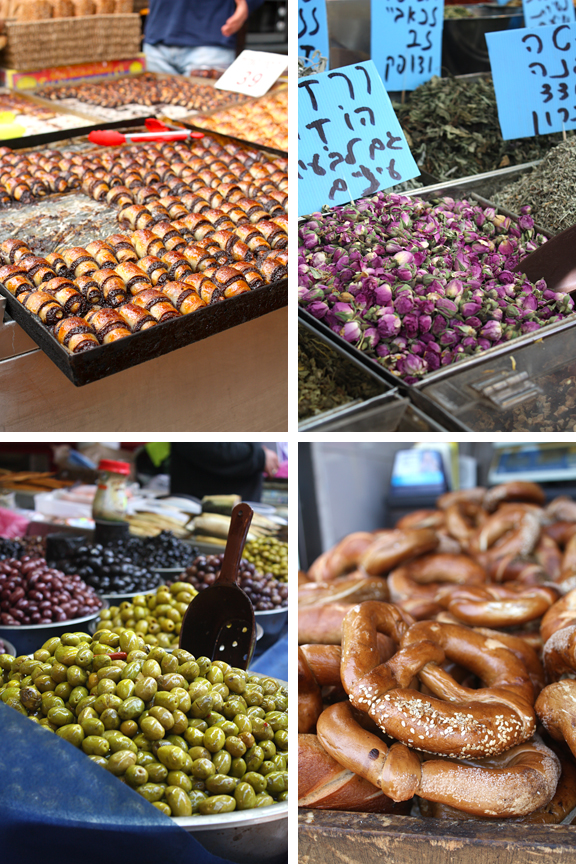 One of those memorable things are the little sticky chocolate rugelach (top left, above), made fresh on the premises at Mahane Yehuda Market (שוק מחנה יהודה). (Apparently, David Lebovitz is also a fan.) And the cured olives that you see everywhere all the time? They never get old.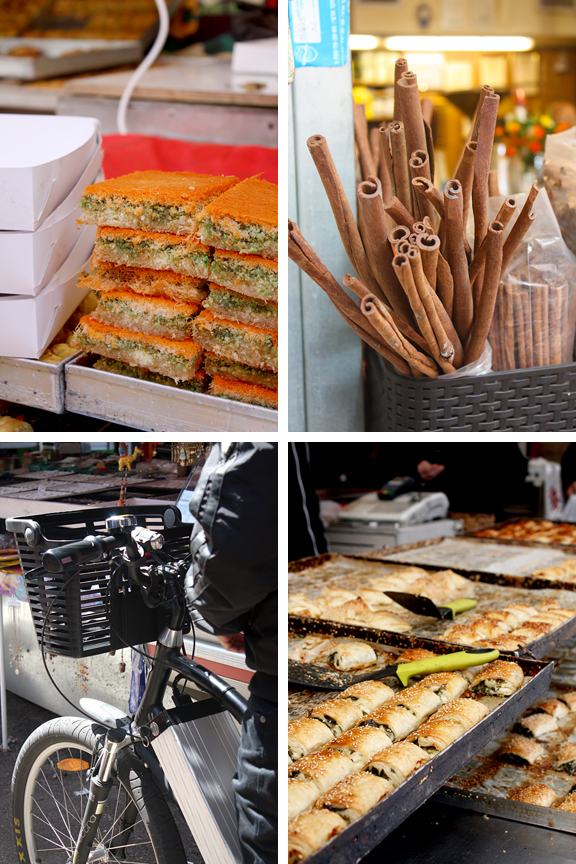 Dried spices, dried fruits, dried herbs, and dried aromatics abound; sweets and all sorts of pastry as well. At any given time, I had at least 3-4 little pouches of dried spice mixes in one hand as I roamed the market. In the other hand would be some kind of pastry, sweet or savory.
After having typed the previous paragraph, I came to understand now why the number of photographs of local markets in my Israel 2014 album is as low as it is: no free hands.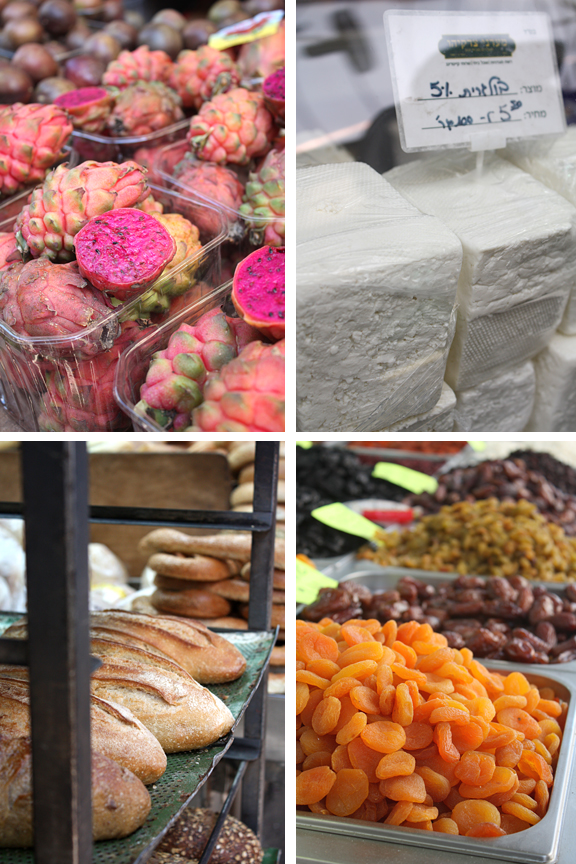 By the way, if you ever find yourself in Israel during the time when dragon fruits, referred to as pitaya (פיטאיה) there (top left, above), show up at the market, try eating them — like I did — in alternate bites with the local bulgarit (בולגרית) cheese (top right) and tell me if the look it elicits from your local friends is one of skepticism or disapproval — or both. I couldn't quite figure that out. All I know is that the salty cheese somehow brings the flavor out of dragon fruits which, as pretty as they are, don't have a lot of flavor (that's true with dragon fruits in Southeast Asia as well, in my opinion). Somebody asked me the other day what they tasted like, and all I could think of was that they tasted like really, really bland kiwifruits — which, I realize, is not a fair description because it's not like dragon fruits set out to match the flavor of kiwifruits then failed. Oh, well.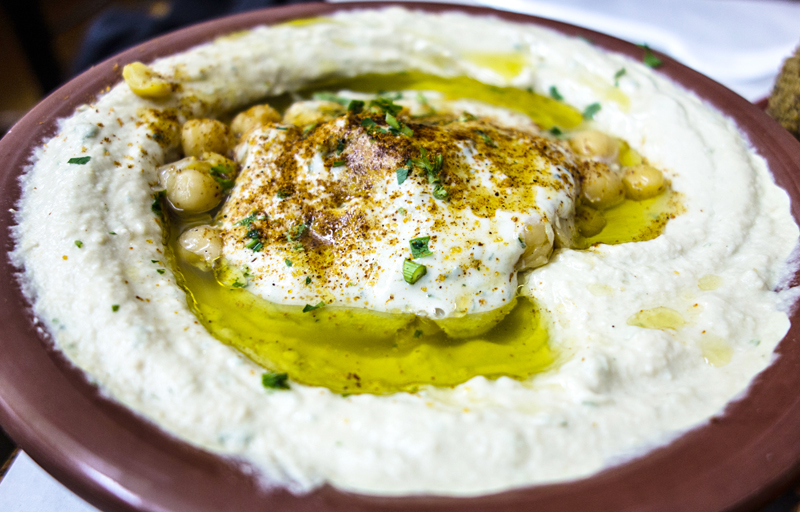 You know what's not bland, though? Hummus at the tiny Abu Shukri Restaurant (مطعم ابو شكري) on the Via Dolorosa in the Muslim Quarter in Jerusalem.
I think it's only mildly exaggerated to say that the amount of hummus I ate on this trip was more than I ever had in my life. I really did eat a lot of hummus during my time in Israel. And though I discovered that eating supermarket hummus for several days in a row led to hummus fatigue, I am confident that I could eat every type of hummus on the menu of Abu Shukri and never tire of it.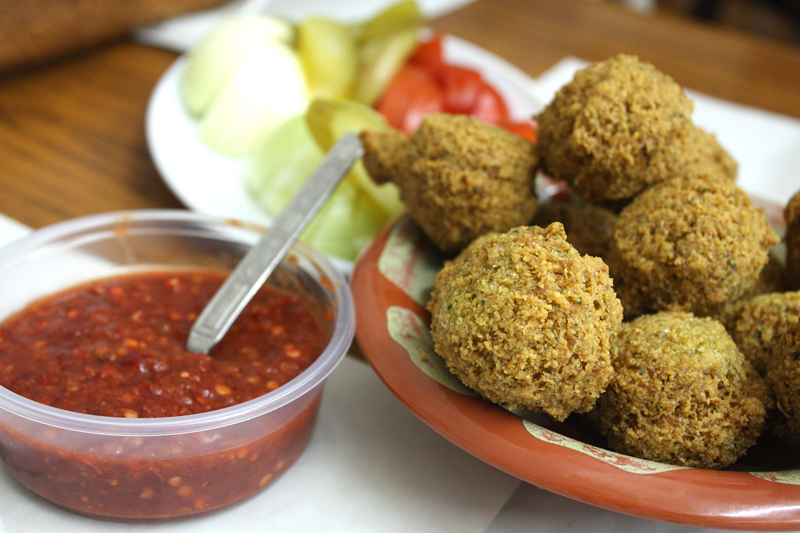 Or their falafel, for that matter. And ordinarily I'm not even that big of a falafel fan.
That hot sauce you see above is awesome, by the way. I believe it goes by the generic term for hot sauce, shatta(h) شطة (someone sitting next to us when some friends and I were eating at Abu Shukri introduced this sauce to his friends as, "the local sriracha," and I almost choked on my mint tea).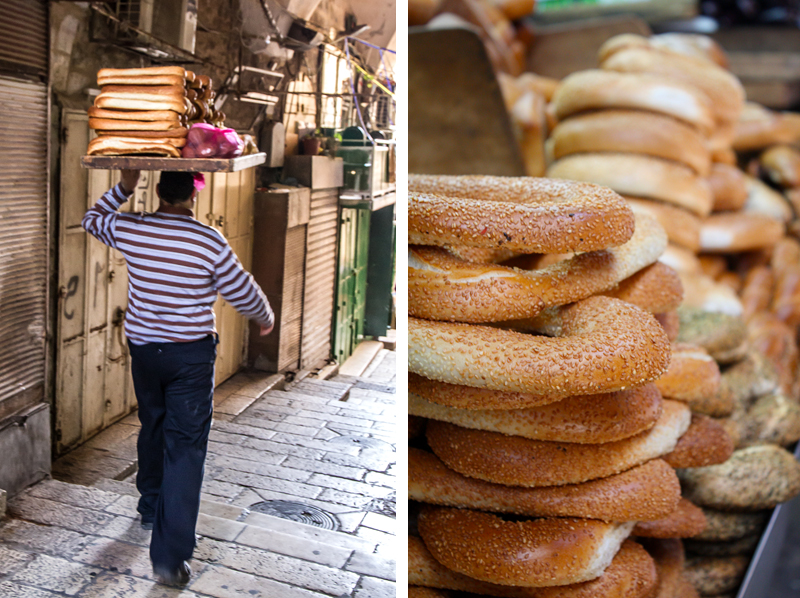 Choking aside, one of the best things I ate in Israel — in Jerusalem, especially — has got to be this sesame bread (ka'ak bil sumsum كعك بالسمسم). Inside the Christian quarter is a little bakery that bakes this bread in a brick oven all day. Even though these elliptical rings of bread look like sesame bagels that have been stretched, they don't really have the same texture as bagels. When fresh out of the oven, this sesame bread is nothing like I've ever had. The outside is light, thin, crisp; it exudes the scent of both toasted bread and toasted sesame seeds — a really good combination; the inside is soft and slightly chewy.
My local friends taught me to take a piece of it, remove the inside keeping only the crisp shell, fill it with flattened balls of falafel, drizzle some tahina sauce on it, and eat the whole thing like a sandwich like that. I didn't do that; I enjoyed eating it plain too much.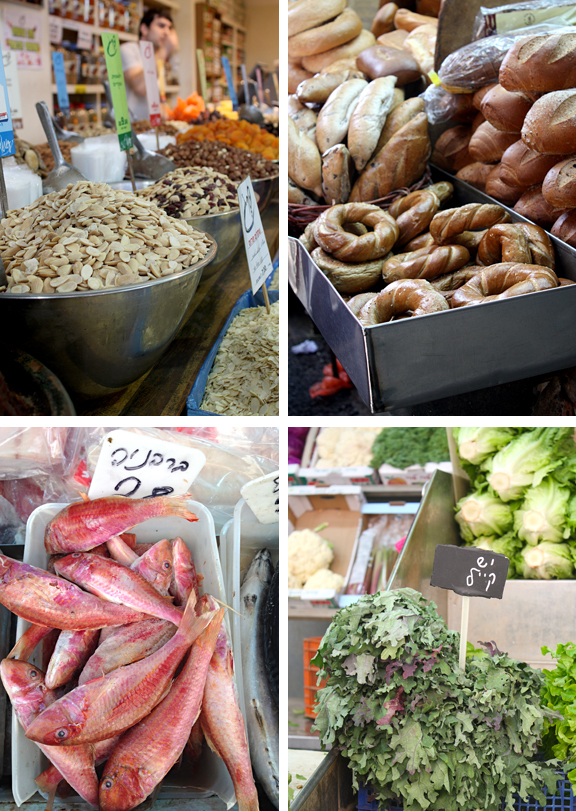 Though I took advantage of my time in Israel eating local foods, sampling new dishes, and exploring some fresh fruits, vegetables, and herbs that I don't normally see at home, I couldn't help keeping an eye out for things that could be used to make Thai dishes. It's one of those things I always do when I travel overseas: pretend I'm a local Thai food enthusiast and visit a local farmers' market or grocery store with the goal of finding locally available produce with which to make Thai dishes. This kind of exercise helps me understand my readers who live in different parts of the world better.
There were also times when friends in Israel asked me to cook a Thai meal for them which I gladly obliged. When that happened, these were some of the things I did:
1. I deep-fried fresh red mullets or barbunia (ברבוניה), seen at the bottom left above, until they were so crisp you could munch on their heads like crackers then coated them with the classic three-flavored sauce. The heads of red mullets when deep-fried remind me of those of island mackerels (Rastrelliger faughni ปลาทูปากจิ้งจก), a common fish in Thailand, which I like to prepare in this same way.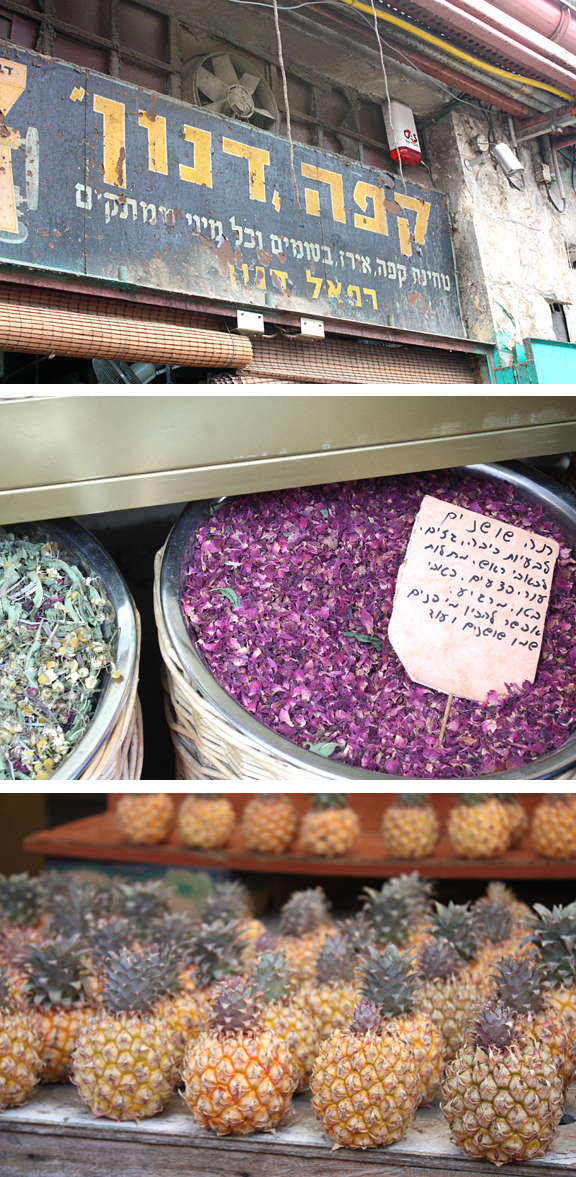 2. I bought some local pineapples (bottom, above), which are tiny and similar to Phu Lae (ภูแล) pineapples, grown primarily in Chiang Rai province in Thailand, then used them to make Ma Haw (RTGS: Ma Ho).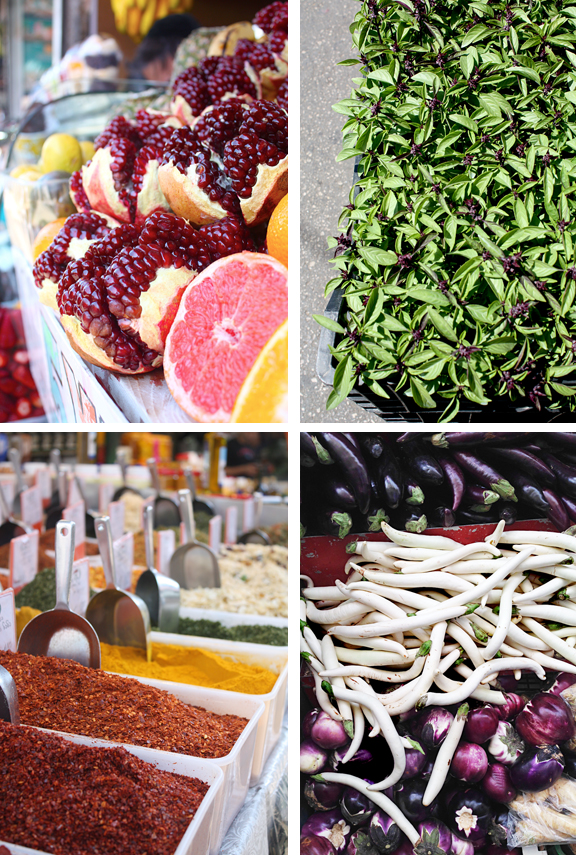 3. I made spicy basil beef, pad ka-prao nuea, (RTGS: phat ka-phrao nuea ผัดกะเพราเนื้อ) using the only Thai basil I could find (top right, above) which wasn't holy basil. So, in the end, I had to call it pad bai horapa (RTGS: phat bai hora-pha ผัดใบโหระพา).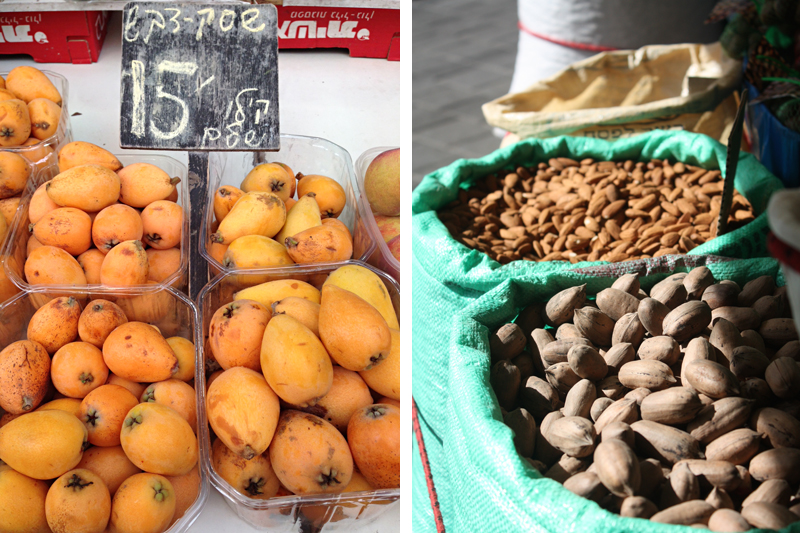 4. I used fresh loquats (שסק), which were found in abundance when I was there, as the main ingredient for loy kaew (RTGS: loi kaeo), a classic cold Thai dessert made with fresh fruit (or a melange of fruits) in fragrant syrup. The famous juicy, EZ-peel Jaffa oranges do well in this application too (same with fresh apricots as I found out last year in Lyon).
5. I grabbed some green papayas, which I stumbled upon while roaming the West Bank city of Jericho, and made som tam with them — not that you need green papayas to make som tam.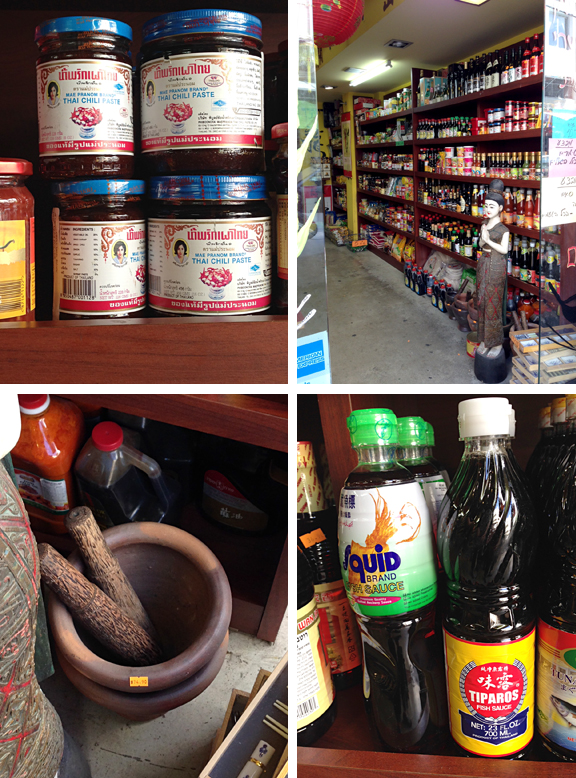 Many Thai dishes, like those mentioned above can be made easily using ingredients indigenous to various places around the world that are already used to prepare local dishes. It's the dishes that require ingredients not normally used in non-Thai cuisines — anything containing galangal, for example — that present a challenge. Luckily, Tel Aviv has some moderately well-stocked Asian grocery stores (one of which is Dragon in Lewinsky Market area). You can find Thai pantry essentials, such as fish sauce and nam prik pao. They even have some terra cotta mortars.
This was, all in all, one of the best overseas trips I have made in recent memory.