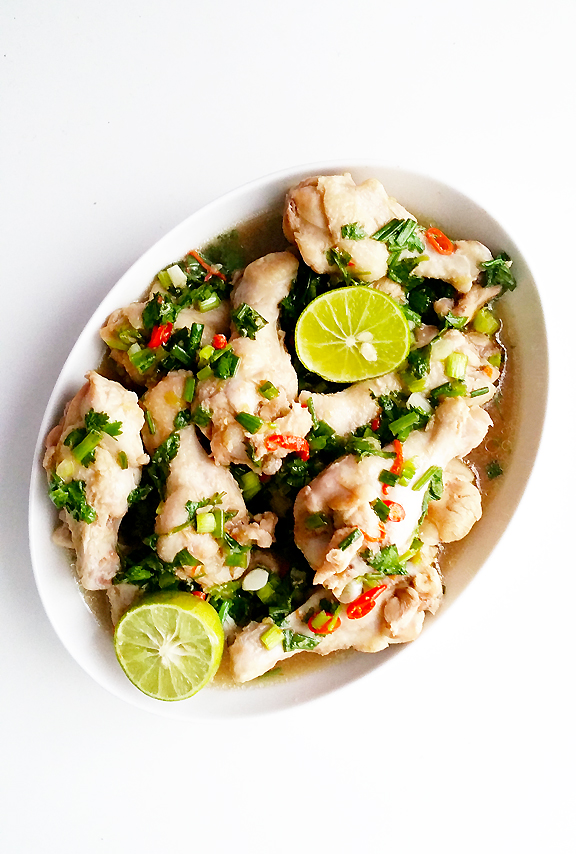 My apologies for a lack of updates on the blog lately. Excuses: 1. I've been traveling all over, 2. I don't always have access to electricity let alone the Internet, and 3. my camera is broken (this photo you see here was taken with my phone). But I've managed to bully request another easy recipe from one of my best friends, M, whose recipes, nam prik pao fried rice with shrimp and pineapple and the so-called Shook Shrimp, have been published on this blog before.
By this time, you've probably formed a pretty good idea of M's personality and cooking style. He doesn't like to make anything too complicated, and the things he makes usually don't require anything beyond what most people already have in the fridge or pantry. M has a large repertoire of recipes like this and I intend to use my long-time friendship with him along with a few pieces of information about his life back in grade school to extort nudge as many as possible out of him.
Anyway, here's another one from M. Always a hit among us friends. Make a pot of jasmine rice as you get started on this chicken dish. Half an hour later, you'll end up with a plate of warm, fragrant rice with tender, spicy chicken drummettes on the side and an incredibly delicious sauce to spoon over it all. Trust M. He may not always be clear about why he does what he does, but he always knows what he's doing.
Until the next update, dear readers. In the meantime, please feel free to follow along on my travels.
Spicy Chicken Drummettes
Ingredients
3 cilantro roots or 2 tablespoons finely-chopped cilantro stems
2 cloves garlic, peeled
½ teaspoon white peppercorns
2 pounds chicken drummettes
2 tablespoons thin soy sauce or seasoning sauce (Golden Mountain, green cap)
1 tablespoon fish sauce
1 heaping teaspoon palm sugar or ½ teaspoon brown sugar
2 large green onions, sliced thinly crosswise
¼ cup, packed, roughly-chopped cilantro leaves
3-4 red bird's eye chilies (or 2 red Serrano, deveined), sliced thinly crosswise
2 tablespoons lime juice
Instructions
Grind the cilantro roots, garlic, and peppercorns into a paste; set aside.
Put the chicken drummettes into a somewhat wide saucepan. (The sauce pan shouldn't be so wide that the number of drummettes you have can't cover its bottom or so narrow that they stack up on each other higher than 2 layers.) Put in the saucepan just enough water to be about 1 inch higher than the chicken.
Add the prepared paste, soy sauce, fish sauce, and sugar to the saucepan; stir. Bring to a boil. Cover. Lower the heat so the liquid is gently simmering. Let the chicken cook for 20 minutes.
By this time the chicken drummettes should develop cracks at the "ankles"—a sign they're ready. (If not, cook them some more.) Fish them out to a large serving bowl with a wire skimmer; keep it covered.
Meanwhile, reduce the remaining liquid in the saucepan by boiling it hard, uncovered. It doesn't matter how much is in there; you want to reduce it down to about one cup of liquid. No need to be exact; just do your best to gauge it.
Once you've achieved that, turn off the heat. Stir in the chopped green onions, cilantro leaves, chopped chilies, and lime juice. Pour the sauce over the chicken.
Serve with jasmine rice.