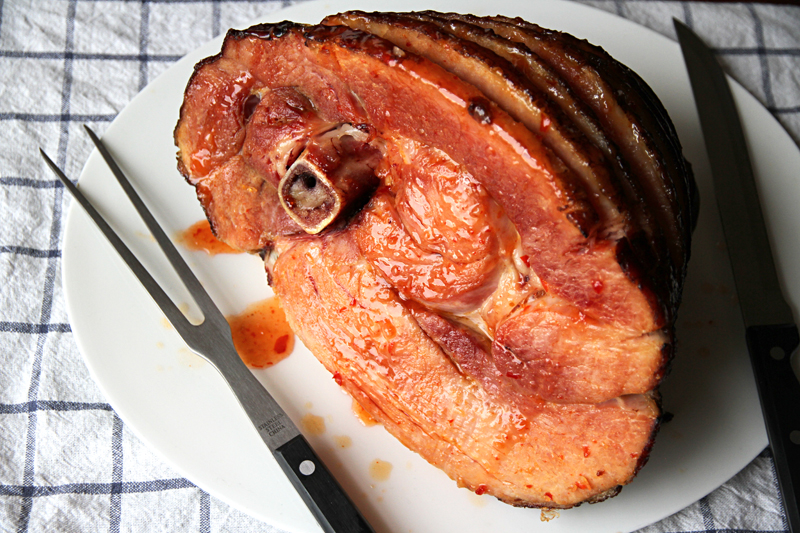 I wish you all happy holidays and bid you farewell for this year with this baked bone-in ham, glazed with Thai sweet chili sauce. It's something I often bring to a potluck during or outside of the holiday season, because it's so easy to make and always a crowd-pleaser.
You only need two things: a bone-in ham and some Thai sweet chili sauce, store-bought or homemade. This recipe—if you can even call it that—is pretty easy; the only thing that could be regarded as a hassle is the soaking which I will tell you about below. But that part is optional.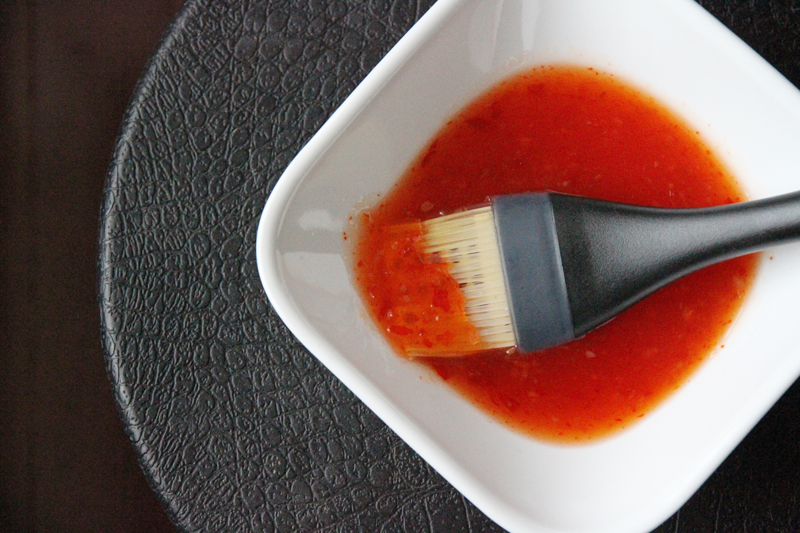 I'd never liked picnic ham, because I found it to be too salty. But I learned a few years ago that soaking the ham in cold water 36-48 hours before cooking helps remove a lot of the saltiness with absolutely no negative effects on the texture or taste of the ham. So, if you, like me, have been put off by how salty bone-in ham is, try this.
Make several cuts parallel to the cut side of the ham 1/3 of the way into the center, about an inch apart. Submerge the whole ham in cold water and refrigerate for 36 to 48 hours, changing the water 5-6 times. When you're ready to cook the ham, use a kitchen towel to dry it off. Set a rack in the middle of the oven and preheat the oven to 325°F. Line a large baking dish with a piece of parchment and pour some water into it to a 1/4-inch depth. Place the ham, cut side down, in the baking dish and bake, uncovered, until the center registers 130°F. During the last 20-30 minutes, turn the ham on its side and brush the sweet chili sauce on the skin, the surface of the cut side, and down into the deep cuts. Leave the cooked ham to rest, loosely tented with foil, for 20 minutes before carving.
This goes very well with warm jasmine rice, buttered (so not Thai) and spiked with finely-chopped green onions. Sautéed green beans or roasted Brussels sprouts on the side would also be delicious.
____________
*In general, you need to bake the ham for about 15 minutes per pound and start glazing it during the last 30 minutes (glazing earlier than this and you risk burning the glaze which usually contains quite a bite of sugar). This hunk of ham weighs 9 pounds, so the total baking time would be about 2 1/2 hours. I used 1 cup of sweet chili sauce.