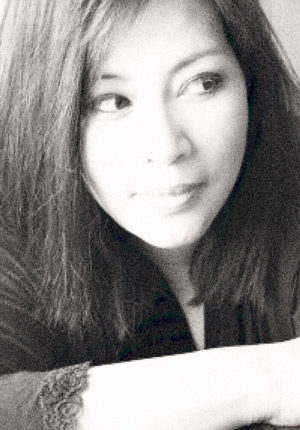 Longing for the taste of home, Leela Punyaratabandhu has spent the past several years testing and refining her favorite Thai recipes using the ingredients which she can find in the United States. This site is a place where she shares with her readers those recipes. SheSimmers was created in November 2008 in the memory of Leela's mother, the cookbook addict, who inspired her love for cooking.
Leela's interests include linguistics, philology, intercultural communications, and history (especially the culinary history of Thailand). She's also a freelance writer and recipe developer.
She's currently working on her first Thai cookbook to be published by Ten Speed Press in 2014.
| | |
| --- | --- |
| | |
| | She Simmers named Best Food Blog in the Regional Cuisine Category by SAVEUR Magazine |
| | Leela named one of the seven writers in the Chicago Tribune's "Out of a Crowded Field, Seven Writers You Should Know" |
| | "... Leela ... has made it her mission to demystify Thai food for an international readership, with clear instructions, vivacious culinary histories, and inspiring photography ..." |
| | My Thai: Leela's weekly Thai cooking column on Serious Eats |
| | "Literate, funny, beautifully photographed SheSimmers [...] is the most authoritative and engaging English online resource on one of Asia's most popular but misunderstood cuisines. [...] Punyaratabandhu, who divides most of her time between Chicago and her hometown, deftly employs the key aspects of memorable food writing—memory, history, cultural identity, technique, humor. Her interviews with foremost Thai chefs and food writers illustrate thorny philosophical debates on authenticity and innovation that would otherwise be lost on most Westerners. And her explorations of individual dishes—though not strictly limited to Thai—are at once meticulous and encouraging ..." |
| | SheSimmers was chosen from over 40,000 food blogs worldwide as one of the finalists in SAVEUR Best Food Blog Awards 2011. |
| | "... her authentic recipes for popular dishes [...] finally pull back the curtain on the Thai kitchen.We love She Simmers because she teaches us things we never see in English-language cookbooks .." |
| | Leela's articles on CNN Travel |
| | ChicagoMag.com names SheSimmers one of Chicago good blogs. |
| | Leela as the Zealous Water Buffalo, letting out her inner nerd for those who are interested in linguistics, philology, poetry, and intercultural communications. (Water buffalo is an indigenous Southeast Asian quadruped, unfairly used to portray bullheadedness and ineptitude.) |