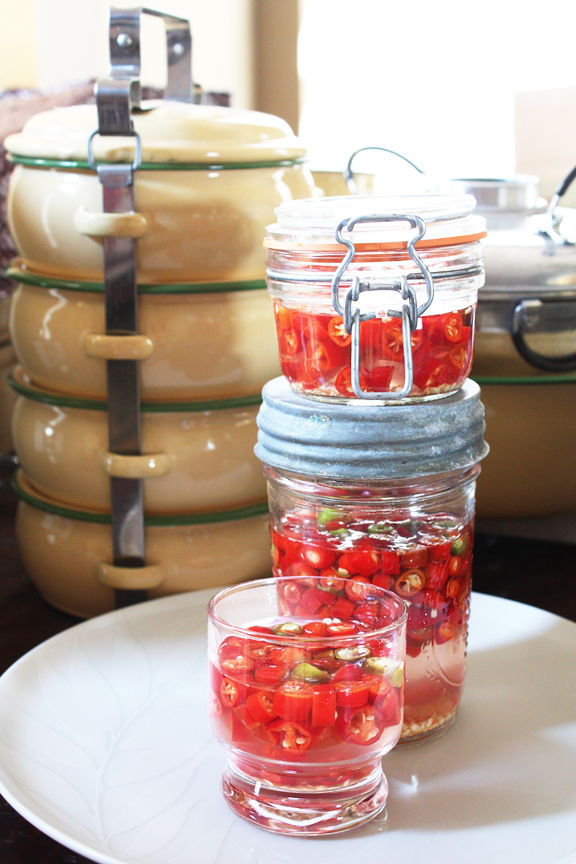 To allow you to season your noodles to taste, noodle shops in Thailand always provide a seasoning caddy containing different condiments which they deem appropriate for the types of noodles which they offer. This is because most noodle dishes in Thailand are seasoned moderately when they leave the cook's hand — it's intentional — so that you can season your meal further to suit your taste. Vinegar with pickled chilies is almost always among these condiments which the people in Thailand consider essential to their noodle experience.
What it is: This may sound like I'm messing with you, but I'm not: some people see it as pickled chilies in vinegar (i.e. the main player is the pickled chilies and the vinegar is merely the pickling agent and the vehicle); some people see it as vinegar with pickled chilies (i.e. the vinegar is the main and essential player and the pickled chilies are along for the ride to make things more interesting). I belong to the second group; hence the post title. In any case, both components always go together.
What kind of vinegar to use: White distilled vinegar is what they use to make this condiment pretty much everywhere in Thailand. But if it's too low-brow for you or if you really can't stand it, I'd go with apple cider vinegar which is really great. Personally, I will never use Japanese-style seasoned rice/brown rice vinegar which is not used in everyday Thai cooking, but, surprisingly, is often called for in a lot of "Thai" recipes as if the word "rice" or "brown rice" makes the recipes truly "Asian" or "authentic" whereas the plain white vinegar you can get from Target makes it less so. Seasoned rice vinegar is a great product to use in Japanese dishes but does not go well with Thai or Chinese-influenced Thai food at all, in my opinion (ditto with white wine, red wine, champagne, balsamic vinegars). I don't particularly like coconut vinegar in this either. But at the end of the day, go with any vinegar that works best for you. I'm merely reporting what's typically done in Thailand.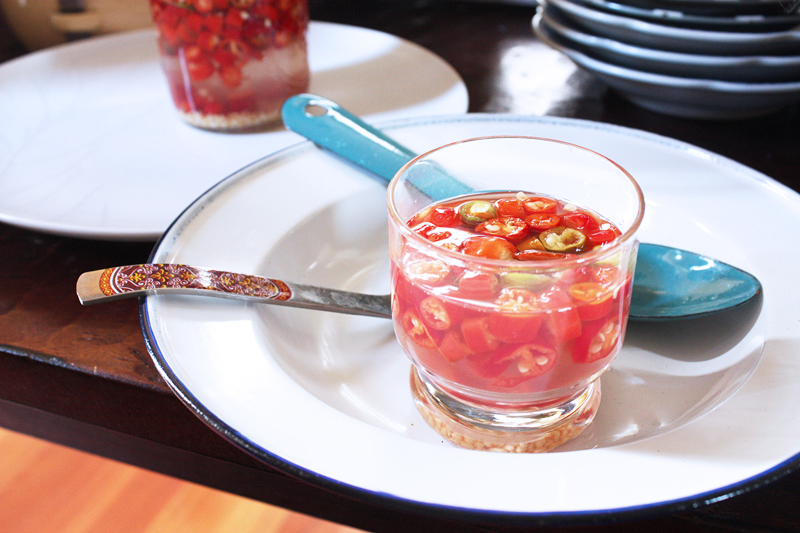 What type of chilies: Traditionally, the most common chili of choice is Thai long chilies (prik chi fa); both green and red are used. The smaller and hotter bird's eye chilies (prik khi nu) aren't typically used. The super mild peppers on the other end of the heat spectrum, such as banana peppers (prik yuak), aren't used either. My guess is that long chilies are mild enough to be "tamed" after a day of pickling, allowing you to enjoy a whole piece of chili without suffering from the excessive heat, yet hot enough to still taste like chilies after being pickled. Again, this is me reporting what is usually done in Thailand. Go with whatever works for you. If you can't find Thai long chilies, jalapeño or Serrano works very well.
How to make: Very complicated. Slice the chilies crosswise into thin slices, about 1/4 inch, and put them in a glass jar or bowl. Pour some vinegar, about twice the volume of the sliced chilies, over them. Let the chilies pickle at room temperature for 24-48 hours. Done.
How to store: I like to store mine in the refrigerator where it keeps for 2 months after which point the chilies tend to turn mushy (even though the vinegar still tastes just fine). I take out just the amount I need each time and let it warm up to room temperature first so that its coldness won't cause my noodles to become lukewarm. Also, the pickled chilies taste better at room temperature, in my opinion.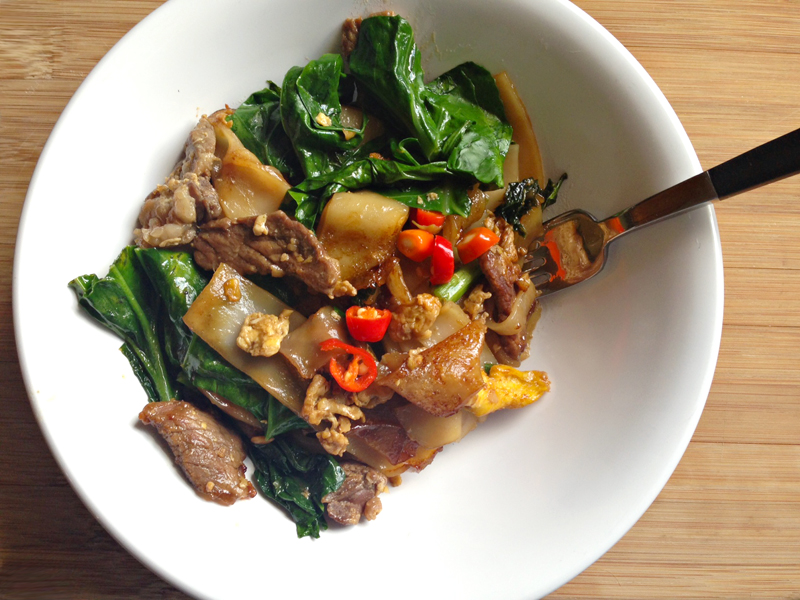 How to serve: Put a little bowl of it on the table for people to spoon just the amount they need into their individual bowl or plate of noodles.
What to serve it with: Stir-fried noodles with Chinese flavor profile such as pad see-ew (a greasy dish which benefits a great deal from the pickled chilies; I like one piece with every bite of my pad see-ew), rat na, various noodle soups, etc.
This condiment is not served with every type of noodles, though. In general, it's not used to season noodles with Thai flavor profile such as pad thai or those with curry and/or coconut milk as the main ingredients, such as Muslim-style curry noodles, khao soi, or khanom chin and its curry-based sauces. In these cases, fresh lime works better, and is typically used, as a table souring condiment.