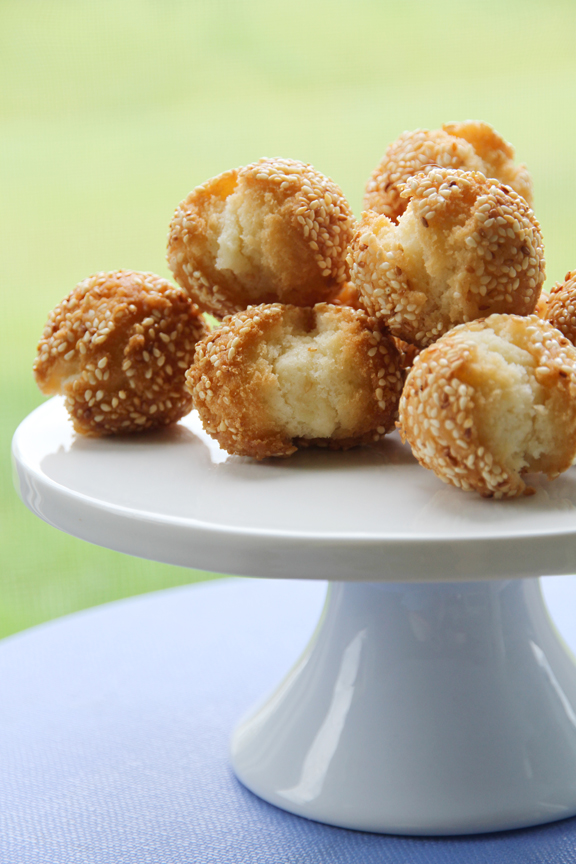 This post had been sitting in my draft folder since the first quarter of 2012. Originally, I wanted to post it on May 5th, 2012. However, for reasons too boring to get into, that didn't work out, and the post that went up on that day turned out to be baked pork tenderloins with gravy, coconut rice, and carrot som tam instead. So I waited for the next best timing: the end of 2012. As you can see, that didn't work out either. But it doesn't matter.
Why those dates? Well — and this is a lot sillier than you think — the reason is because the year 2012 CE is the year 2555 in Buddhist Era. This means May 5th, 2012 is numerically written 5-5-55 (๕-๕-๕๕, if you're going to get all ultra-traditional about it). Now, if you're familiar with Thai txt-speak, you know that with the Thai word for 5 being "ha" (ห้า*), 555 (hahaha) is the same as LOL. And the key to understanding what I've been yapping about is this: these Chinese doughnut holes, each of which displays a gaping "mouth," are known in Thailand as 'laughing doughnuts' (ขนมหัวเราะ).
Having said that, I'm sure I can't be the only one who thinks these look more like Pac-Man doughnuts, right?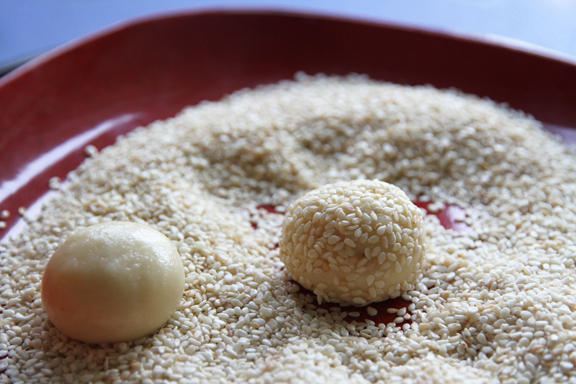 I don't know what has happened to laughing doughnuts over the years. When I was a kid, they used to be all over Bangkok. Obviously, the popularity of these two-bite doughnut holes didn't last for they had all but disappeared over the years. In fact, I can't think of one place in Bangkok where I can get them (can you?). It's such a shame. These are good. I wouldn't be blogging about them if they weren't. Also, if some Bangkok street foods need to disappear to make room for newer, better things, there are other things that deserve to go more than these little cuties.
All the more reason to learn how to make these laughing doughnuts at home, I guess.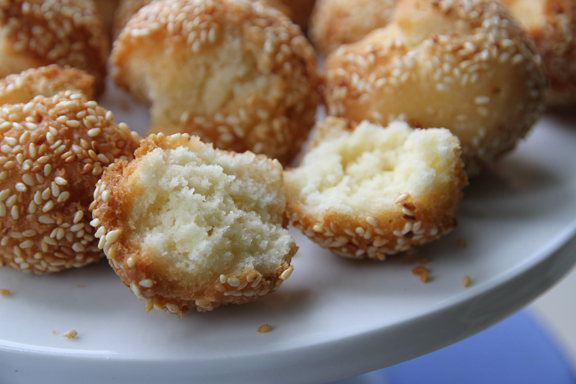 Making laughing doughnuts is easy. It's finding a recipe that actually works and tweaking it and tweaking it and tweaking it until you get what you really like that presents a bit of a challenge. In the process of developing this recipe, I've come to realize that:
1. Substituting oil or even butter for lard always results in the doughnuts not laughing (if anyone can give us a scientific explanation for this, please do).
2. Cake flour is the best flour for this. All-purpose flour causes the doughnuts to develop thicker and tougher shells which I don't like. In 2-3 experiments, it also resulted in the doughnuts being wetter and gummier on the inside. With cake flour, the doughnuts come out perfect every time (except when used in conjunction with butter or oil — see above). The shells are thinner and crispier. The doughnuts puff up more, laugh harder, and are lighter and more airy on the inside.
3. Double-acting baking powder works best.
My apologies to those who prefer volume measurement. But this recipe is not forgiving at all. When the margin of error is this small, precision is key. I have to go with weight measurement.
Other than that, everything is simple and straightforward. The only thing to be careful about is the temperature of the oil. If the oil is too hot, you burn the sesame seeds before the doughnuts have a chance to cook thoroughly all the way to the center and laugh out loud. I've found 300 degrees F (approximately 150 degree C) to be the perfect temperature. If you have a thermometer, this is a good time to use it. Otherwise, fry only one just to see how it does, then adjust the temperature as necessary.
What you look for is doughnut holes that are soft and cooked through on the inside and crusty (not tough) on the outside. These doughnuts are not as soft and squishy like the kind of doughnut holes you get at Dunkin' Donuts; they're nowhere near being as sweet either.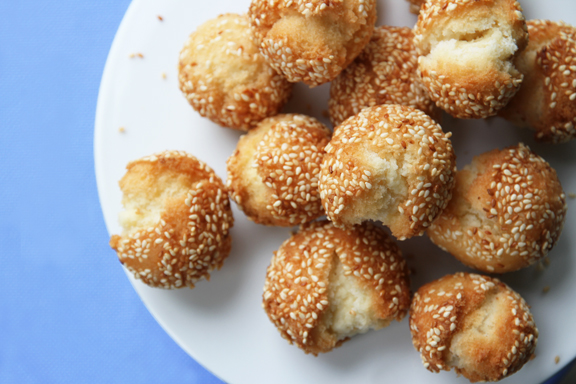 * ห้า is homophone for ฮ่า.
Laughing Doughnuts (ขนมหัวเราะ)
Recipe type:
Snack, Dessert
Ingredients
480g cake flour
4g salt
20g double-acting baking powder
3 large eggs
220g granulated sugar
156g melted lard, duck fat, goose fat, or shortening, room temperature
5g vanilla extract (optional)
White sesame seeds for coating (have about 70g or ½ cup on hand)
1 quart (just shy of a liter) vegetable oil for deep-frying
Instructions
In a mixing bowl, combine flour, baking powder, and salt together; set aside.
In the bowl of an electric mixer, beat eggs on medium-high speed until light and fluffy. Gradually add sugar to the eggs, a couple of tablespoons at a time, and continue to beat until the the egg mixture is almost twice the original volume.
Reduce the mixer speed to low and add the flour mixture to the egg mixture, about ½ cup at a time. Before you add the last ½ cup of the flour mixture, add the melted lard and vanilla (if using). Then add the remaining flour. Mix lightly just until everything is combined.
Cover the dough bowl with a towel and refrigerate it for 15 minutes.
Form dough into ¾-inch balls.
Put white sesame seeds on a plate in a thin layer. Roll each dough ball into the sesame seeds, making sure all sides are coated. Press the sesame seeds in lightly with your fingers.
Heat the oil in a deep-fryer over medium heat, making sure the oil is at least 3 inches deep.
Once the oil reaches 300 degrees F, gently drop the dough balls into it. Stir them around with chopsticks to make sure they're evenly browned -- this should take less than 2 minutes. Once the donuts have opened up and are golden brown, fish them out with a slotted spoon onto a paper towel-lined plate.
Allow the donuts to cool down to room temperature before serving.