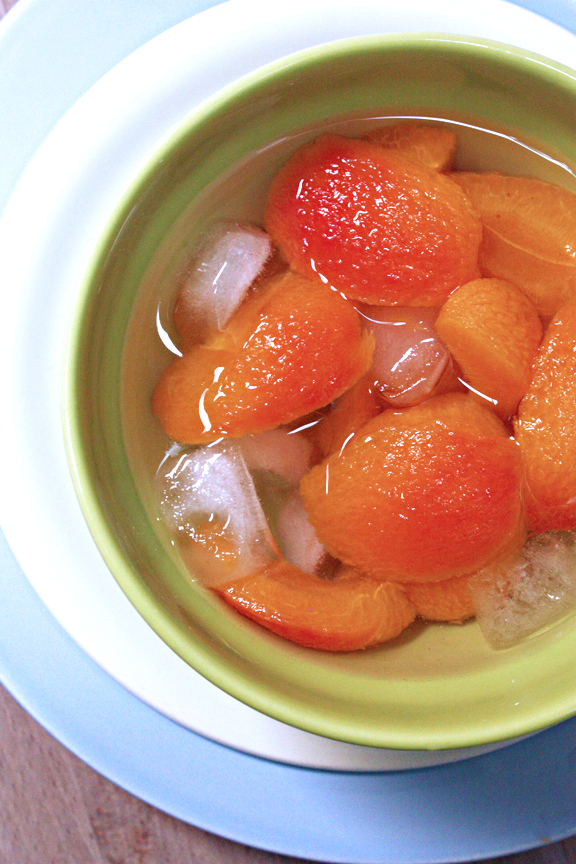 I'm still making Thai food in Lyon just for fun (I'm eating French food every day too, so don't worry about me). After a simple mixed vegetable stir-fry and a duck curry, I'm turning France's delicious fruits into a loy kaew (ลอยแก้ว RTGS: loi kaeo), a Thai iced dessert that I make all the time even in sub-zero weather.
What is great about loy kaew is the freedom it gives you in terms of your fruit of choice. In general, most fruits that are non-starchy, hold their shape well and don't turn the syrup cloudy are good loy knew candidates. If they're also sour or sweet and sour, that's even better. The process is also easy: it's just a matter of preparing the fruit (i.e. peel and pit/deseed it, if applicable, then cut it into bite-sized pieces) and cooking it very gently in a syrup infused with whatever strikes your fancy — most commonly jasmine or ylang-ylang flowers.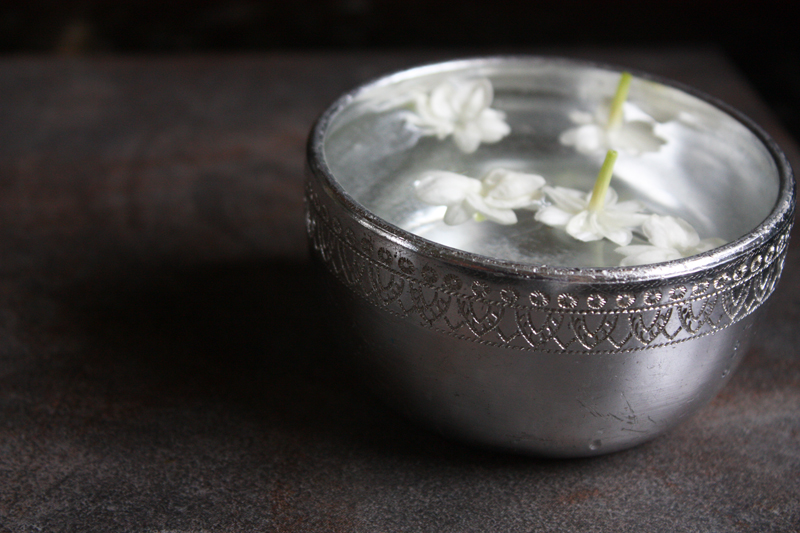 Jasmine — haven't found any since I arrived in Europe.
My favorite
loy kaew
fruit is
santol
(kra-thon กระท้อน), but since it's not available in the US — at least where I live — I have settled for my second favorite:
pineapple loy kaew
.
But when I saw fresh apricots at Croix-Rousse market the other day in Lyon, I just couldn't resist their charm. These blushing beauties come in several varieties. What you see in the photo above are Orangered apricots which, if I'm not mistaken, originated from the US. What I actually bought from the market was a variety called Bergarouge (which, according to the internet, is an offspring of Orangered); these are grown and harvested in Boulbon in Bouches-du-Rhône in the Provence-Alpes-Côte d'Azur region.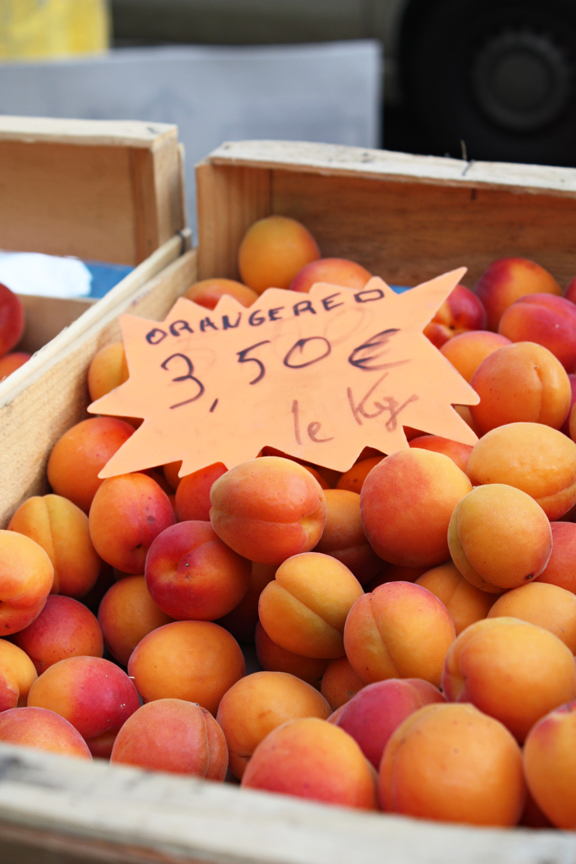 To be honest, these apricots are at their peak and so great that they should just be eaten fresh, right out of hand. But we're on a mission to explore ways to make Thai food with European ingredients, so the petits abricots would have to be loy-kaewed by their adoptive Thai mommy.
Making loy kaew, as I said above, isn't hard; making good loy kaew, though, requires some thinking. The general procedure is the same for every fruit. But since not all fruits are alike, some common sense comes in handy. Fruits such as rambutan, pineapple, longan, lychee, and santol withstand heat better than others and they can be poached in simmering syrup until just softened without disintegrating or becoming mushy. These apricots are much more fragile and cannot be treated the same way. I had to prepare the syrup and take it off the heat, then soak the quartered apricots in it just until the whole thing cools down to room temperature. If I were to make grape loy kaew, I would also treat the grapes the same way I do apricots.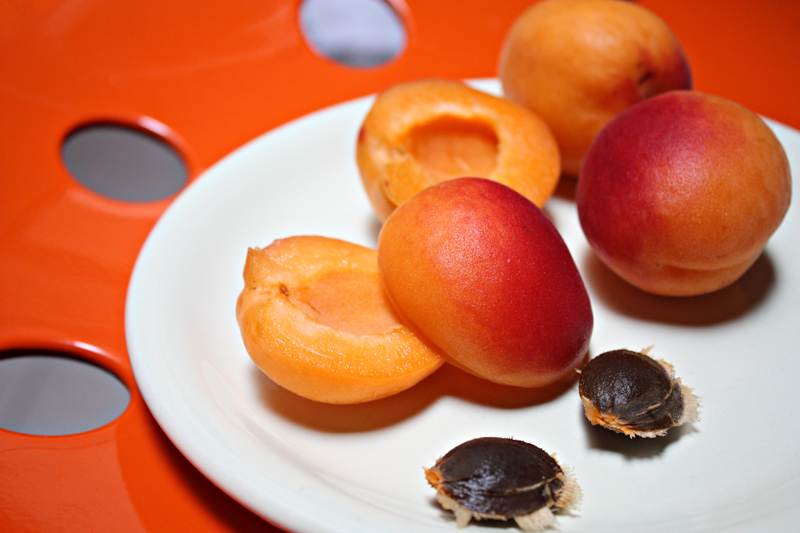 The concentration of the syrup is another thing to consider. Each fruit has different level of sweetness and tartness, so the syrup in which it's poached needs to be adjusted accordingly. Even the same type of fruit tastes different at different stages of ripeness. Therefore, be prepared to improvise. Any loy kaew recipe is, at best, a guide. At any rate, the syrup should always taste somewhat too sweet to sip on its own when you make it. This is because you will add ice to the dessert when it's served and the ice will dilute the syrup. So if your syrup starts out tasting just right, it will be too bland once the ice is added.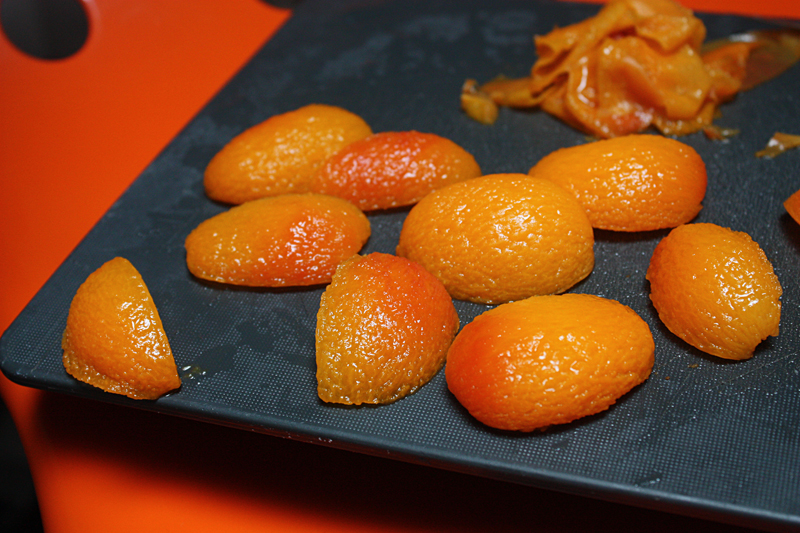 To make apricot loy kaew for 2 people:
1. Get 4 large apricots that are not yet fully ripe. Halve them. Remove the pits. Then cut each half into half again. Set them aside for now.
2. Crack the apricots pits open with whatever heavy object you have lying around in the house. A hammer works. A granite pestle works too. The apricot kernels lend their mild almond-like flavor to the syrup, acting in place of the traditional jasmine. Not everybody feels confident about using apricot kernels (to help you decide, David Lebovitz lays out all the information for you here), you can also skip this step and use a couple of whole cloves or star anise instead.
2. Put 3/4 cup water and the apricot kernels (or whole cloves or star anise) in a small pot and bring it to a boil. Take the pot off the heat and immediately whisk in 1/2 cup granulated sugar; stir quickly until the sugar has fully dissolved.
3. Add the quarters apricots to the pot while the syrup is still warm, making sure that every piece is submerged. Let everything cool down to room temperature.
4. Fish out the apricots. Gently remove the skin which should peel off easily at this point. Arrange them in two dessert bowls.
5. Strain the syrup into the two dessert bowls; discard the apricot kernels (or spice).
6. Add 1/2 cup of crushed ice to each bowl. Serve the loy kaew immediately.