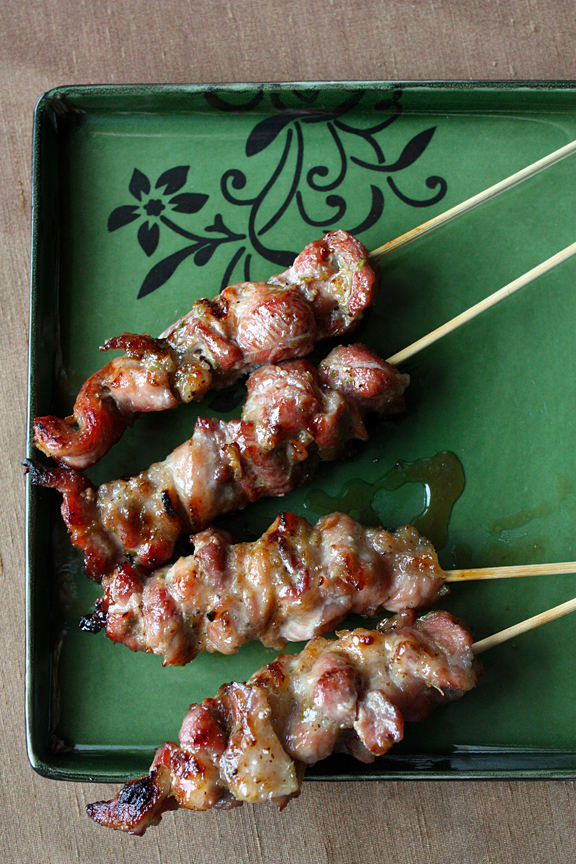 From the looks of it, you wouldn't think something like Thai-style grilled pork on skewers would require a year of recipe testing. But that's exactly what had happened between May 2010 and last weekend. It's not just the marinade formula which I feel must replicate the flavor of what was served at my favorite Mu Ping (often transliterated Moo Ping) stall in Bangkok; it's also the way the pork is threaded onto the skewers, the best cut of pork, etc. And we all know the "simple" things are usually the hardest things to get right.
I don't know if it's incompetence or perseverance, but a year and somewhere between 10-15 experiments later, we've got it — the skewered grilled pork that transports you back to the streets of Bangkok. So make this, would you please?

Mu Ping is often served with a dipping sauce which seems to vary from vendor to vendor. Jaew (แจ่ว), dried chilli dipping sauce, is one of the common accompaniments, and you can certainly serve it with this grilled pork. However, I have devised this recipe in such a way that the pork is more than adequately seasoned and — at least for me — does not need a dipping sauce at all. In fact, I find that the flavor of a dipping sauce detracts from the flavor of the pork. But this is up to you.
The best cut of pork, in my opinion, is pork butt or pork shoulder with its excellent composition of lean meat, fat, and muscle. Please don't use a lean cut for that will most definitely prevent you from achieving the kind of grilled pork found at respectable Mu Ping stalls in Thailand. Don't use pork belly either; it's too tough when cooked this way.

Another important factor is how the pork is threaded onto each bamboo skewer. Let's examine the photograph above.
Exhibit B shows a skewer with one large piece of pork in the style of Thai-style pork satay. When skewered this way, the pork is susceptible to becoming dry and tough. A lot of vendors do this, but I don't recommend it. Exhibit C shows the kind of up-and-down threading technique, exposing the bamboo skewer, which is often found in English-language cookbooks from the 70s in places where recipes for "oriental beef skewers," or "Asian meat appetizers" are found. I don't recommend that either.
Exhibit A is what you want. Bite-sized pieces of pork (this minimizes the length of the meat fibers making it easier to eat) are threaded onto the skewers kabob-style. The pieces are scrunched up together quite tightly, forming a compact body that's made up of multiple pieces of pork. Not only does this help the meat stay moist, it also prevents the bamboo skewers from being exposed to the fire. This makes it easy to eat as well; you bite off one whole bite-sized piece of meat at a time as opposed to tearing off meat fibers mid-piece with your teeth.

Then it's just a matter of grilling the pork over medium to hot coals. Use wood charcoal if you can find it (mangrove wood charcoal is almost always used in Thailand), but regular briquettes are fine too. I like to do what some Mu Ping vendors do which is brush some coconut milk on the pork while it's still uncooked. This keeps the pork moist and increases surface caramelization. Once the pork develops slightly-charred exteriors, stop brushing; you don't want your finished grilled pork to look like it's been dipped in coconut milk.
Mu Ping is best served with warm sticky rice. Thai papaya salad, Som Tam, would be great with this as well.
See that one friendless skewer? The meat is not threaded correctly.
Thai Grilled Pork on Skewers (Mu Ping หมูปิ้ง)
Recipe type:
Entree, Main, Meat, Grill
Ingredients
4.5 lbs pork shoulder, cut against the grain into ¼- to ½-inch thick bite-sized pieces
4 tablespoons (30 g) finely-chopped cilantro roots (or stems)
7 large garlic cloves (30 g), peeled
1 tablespoon (8 g) white peppercorns
132 g palm sugar, grated finely (or melted in the microwave)
3 tablespoons fish sauce
2 tablespoons thin/light soy sauce
2 tablespoons oyster sauce
1 teaspoon of baking soda as tenderizer (optional)
Approximately ¾ cup of coconut milk with which to brush the pork
Bamboo skewers, soaked for 2-3 hours
Instructions
Make the marinade paste by pounding the cilantro roots, garlic, and peppercorns together.
Put the pork, the paste, and the seasonings into a large bowl; mix well, cover, and let marinate in the refrigerator for 3-4 hours.
Thread the pork onto the skewers as explained in the post and grill over medium coals until slightly charred on the outside and cooked through on the inside. Brush the coconut milk on the pork occasionally while it's on the grill.
Serve warm with sticky rice. I find the grilled pork marinated this way flavorful enough unadorned, but you can also serve it with dried chilli dipping sauce (Jaew) on the side.