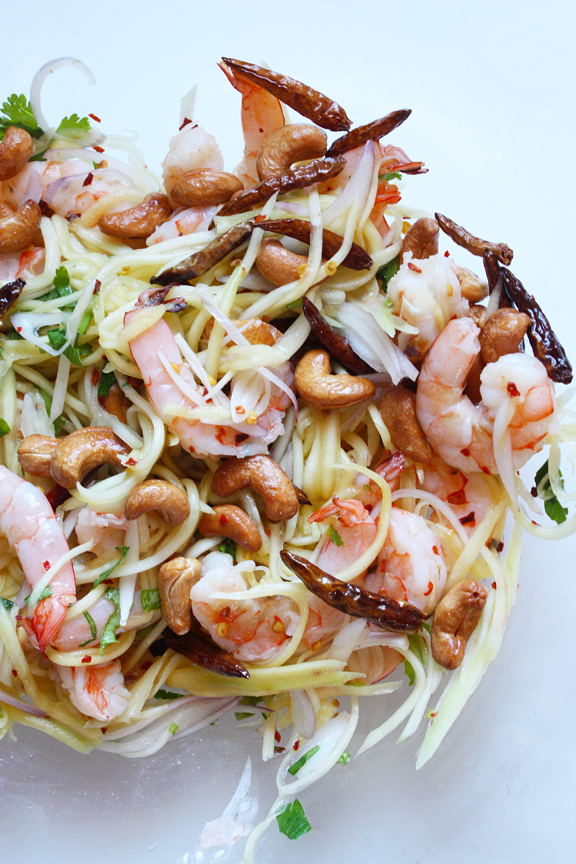 For this batch, I grilled my shrimp with the shells on; this explains the absence of grill marks.
This is just something I threw together for lunch the other day. The ingredients are so perfect together. Having said that, there's lots of room to play around with this
no-recipe
recipe. Grilled scallops or cuttlefish would make a great substitute for the shrimp. I can also see small pieces of white fish, lightly-battered and deep-fried, in this in lieu of the grilled seafood (the end result would closely mimic the much-loved
yam pla-duk fu
). Cashew is the best nut for this salad, but peanut would be nice also.
Just for kicks, add a tablespoon of nam prik pao to it.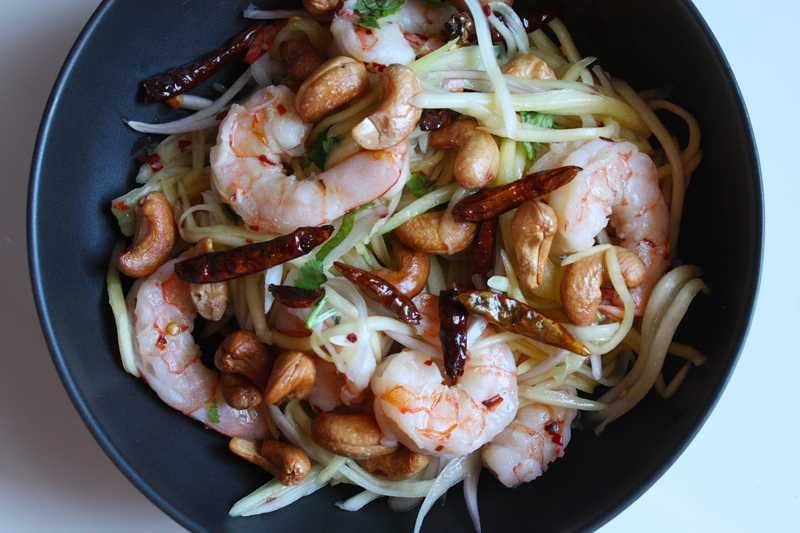 Thai Green Mango Salad with Grilled Shrimp and Cashews (ยำมะม่วงกุ้งย่าง)
Ingredients
One large green mango (see notes), peeled and grated into long, thin slices
One pound of large shrimp, peeled and deveined
10-12 small dried red chilies (or red pepper flakes, to taste)
¾ cup roasted cashews, preferably unsalted
One large shallot, peeled and sliced lengthwise very thinly
¼ cup roughly-chopped fresh cilantro leaves
3 tablespoons fish sauce, divided
Fresh lime juice
Instructions
If using dried red chilies, heat up ½ cup of vegetable oil in a small skillet over medium-low heat. Fry the dried chilies in the oil just until crispy, being careful not to burn them; drain them on a paper towel-lined plate and set aside. If you use red pepper flakes, you can skip this step.
Put the grated mango and shallot in a large mixing bowl; set aside.
Toss the shrimp with one tablespoon of fish sauce; grill until cooked.
Add the grilled shrimp to the mango bowl along with the remaining fish sauce and 2 tablespoon of lime juice; toss. Depending on how tart your mango is, you may need to add more lime juice.
Once the salty-sweet-sour balance has been achieved, add in the heat in the form of a) dried red pepper flakes or b) the dried red chilies which you have fried earlier (I like to crumble some up and leave some whole).
Plate the salad, topping it with roasted cashews and cilantro.
Notes
Some types of mango, such as Tommy Atkins, can look green on the outside without being actually "green." The best green mangoes to use are available at Southeast and South Asian stores; they are green, taut, rock hard, and very tart -- perfect for this application.