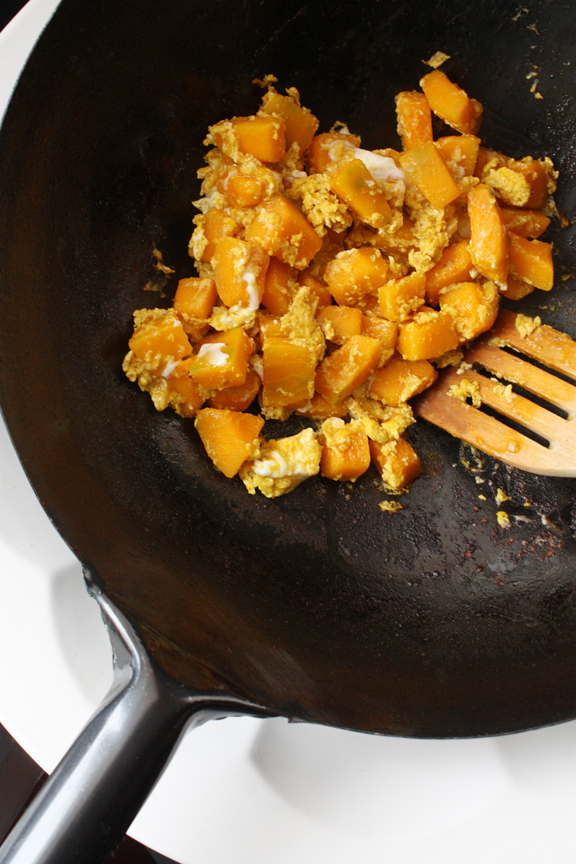 This may look like nothing special, but the fact that this no-frills home-style dish is a rice-curry shop staple in Bangkok tells you a lot.
Kabocha squash, also known as Japanese pumpkin, is the best choice of pumpkin/squash for this, in my opinion. The flavor is mild and sweet. Its low moisture content makes the texture dense and starchy, yet soft and fluffy — almost like chestnut. The skin, once cooked, becomes soft enough to eat as well. (In fact, I could have left the pumpkin skin on when I made this.) Any type of pumpkin or squash that becomes soft and watery once cooked will not be appropriate here.
Stir-fried pumpkin with eggs is easy and quick to make and requires only six common ingredients. This is a perfect weeknight meal.
Stir-Fried Pumpkin with Eggs (ผัดฟักทองใส่ไข่)
Recipe type:
Main Course, Stir-Fry
Ingredients
One kabocha squash, weighing about 2½ pounds
3 tablespoons vegetable oil
3 large cloves garlic, peeled and minced
1 tablespoon fish sauce
4 large eggs
¼ teaspoon ground white or black pepper
Instructions
Peel the pumpkin (if you would like to experience the joy of eating cooked kabocha skin, leave the skin on) and cut it into quarters. With the side of a spoon, scrape off the seeds and the fibers. Cut the pumpkin into 1-inch cube
Put the vegetable oil in a wok, and set it over medium-high heat. When the oil is hot, add the garlic; stir-fry until fragrant.
Add the pumpkin to the wok along with the fish sauce. Cover it with plain water and boil until the pumpkin is soft enough for you to pierce the tip of a knife into it easily, yet still firm enough to hold it shape. This should take about 10-15 minutes. The goal is to use the water to soften the pumpkin and let it evaporate, so there's no need to replenish the water.
Once the pumpkin is soft, make a well in the middle and crack the eggs right into it; stir.
Once the eggs are cooked, remove the wok from heat. Sprinkle the ground pepper on top. Serve warm with rice.