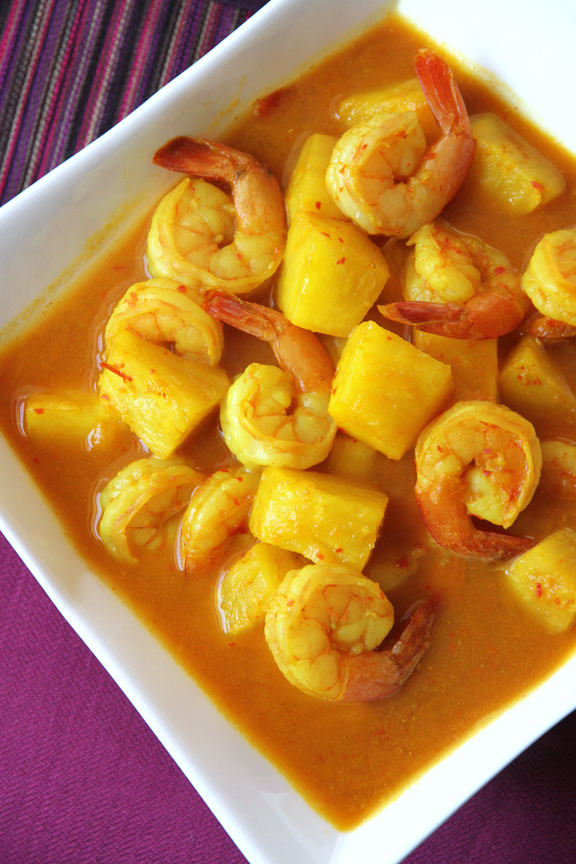 Remember how I was telling you that what is generally referred to as "yellow curry" at many Thai restaurants with English-language menus isn't what is known as "yellow curry" in the Thai language but a milder, turmeric-tinted curry we call kaeng kari (kari curry)? Now this is the actual "yellow curry" (แกงเหลือง) which is what the Centralites call Southern sour curry (the Southern counterpart of the Central sour curry, kaeng som). And remember Wanvipa Koonpan, one of the owners of Bangkok Kitchen, a no-frills, down home rice-curry shop in London which I'd recently introduced to you? This is my adaptation of the recipe which she learned while spending a few years in Samui prior to her move to England.
But first, here's a word of warning.
In general, Thai food is not always fiery hot as rumored. Also, a high level of heat (as in 'spicy heat') is definitely not a requirement, let alone a mark of quality, in many dishes (those who complain about Thai-style satay sauce or massaman curry being not 'hot enough,' I'm looking at you). Even dishes that are on the hot side (e.g. red curry which is generally hotter than massaman) can be excellent even when they're mild. However, when it comes to southern Thai food, things are a little different. If a dish is supposed to be hot, it has to be very hot and anything milder (as subjective as it is) seems to be regarded as inferior — at least by southerners. This is to say: this curry you're looking at is very hot.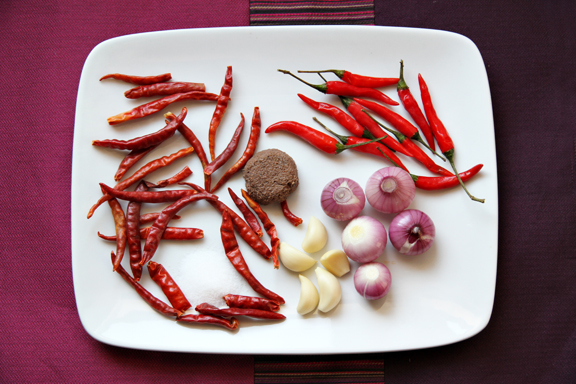 The pineapple should help cool things down a bit, but still …
If you're not familiar with southern Thai food or if your heat tolerance is low (nothing wrong with that), approach this curry carefully. You may want to use only half of the amount of chilies. Or you may keep the recipe as is but increase the curry:rice ratio on your plate from the usual 1 spoonful of curry per 2-3 spoonfuls of plain rice to 1 spoonful of curry per 6-7 spoonfuls of rice. Then you build from there. After all, this is how Thai parents ease their young kids into spicy food.
That's the only precaution; everything else is pretty easy. The paste doesn't require many ingredients, and except for the shrimp paste, you should not have a hard time finding anything regardless of where in the world you live.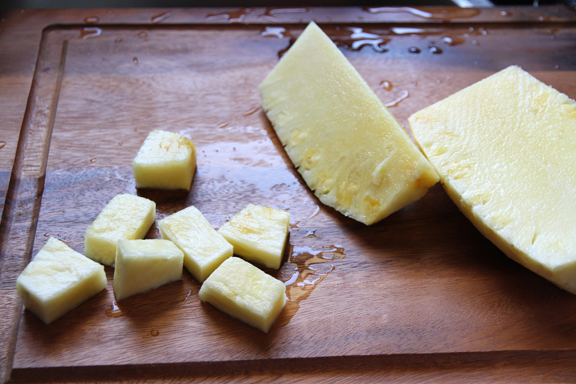 Be sure to use a firm pineapple — one that isn't too ripe. This means that it should look more green than yellow/orange on the outside. If necessary, a pineapple that has passed that stage of ripeness can be used as well; you just have to be more careful in not overcooking it to the point of mushiness and reducing the amount of palm sugar since a riper pineapple is sweeter. Lastly, I would use fresh pineapple only and steer clear of canned pineapple, even the unsweetened type.

Southern Thai Sour Curry with Pineapple and Shrimp
Recipe type:
curry, main course
Ingredients
10g dried red chilies (I use Arbol), soaked in hot water until soft, drained well and patted dry
4g salt
10g fresh red Serrano or jalapeno peppers
8g peeled garlic
60g peeled shallots, sliced thinly
20g Thai shrimp paste (kapi)
4g ground turmeric or 8g fresh turmeric, peeled
3 cups water or unsalted shrimp or fish stock
One 2-kg under-ripe pineapple, peeled, cored, and cut into 2-inch chunks
3 tablespoons fish sauce
134g prepared tamarind pulp
50g palm sugar
½kg large shrimp, peeled and deveined
Instructions
Put hydrated dried chilies in a granite mortar along with the salt; pound until smooth.
Add fresh peppers, shrimp paste, turmeric, garlic, and shallots in that order, pounding until smooth after each addition.
Put water or stock in a large pot; bring to a boil over high heat; stir in the prepared curry paste.
Add pineapple chunks to the pot along with fish sauce, palm sugar, and tamarind pulp; simmer for 2 minutes.
Add shrimp to the simmering (not furiously boiling) liquid; stir. Once shrimp is half way done, turn off the heat; the residual heat will finish the cooking of the shrimp.
Adjust seasoning as needed. The flavor should be predominantly sour, followed by sweet, then salty.
Serve with rice.
Notes
If you don't have a mortar, use a blender or a small food processor to make the paste.