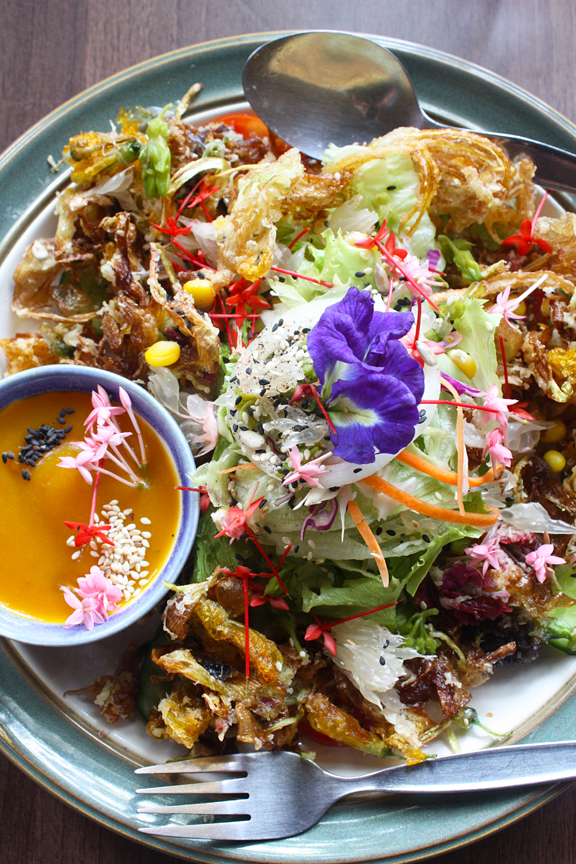 In 2011, I ended the year with a post on the things that I liked (and still do); In 2012, I'm doing the same thing. The randomness which you saw from last year's post? It's here too. Anyway, for what it's worth, here they are: the most memorable food items of 2012, presented in the most random fashion.
**********
This post is lovingly dedicated to my best friend T and his girlfriend K.
T, what can I say? You're a precious gem of a friend, and I love you truly. K, knowing you has been a privilege and joy. Thank you for your generosity, kind spirit, and genuine character. I've learned a lot from you about life and food. You both have made this year so wonderful. Thank you.
**********
(I split this post into 2 pages to make it faster for the pictures to load. Don't miss the second page.)
THE MOST BEAUTIFUL: FLOWER SALAD, PUN-PUN, CHIANG MAI
Starting from the top, the picture above shows what I consider the most beautiful dish I've eaten this year. Tipped off by writer
Michele Humes
, I set out to Chiang Mai to see for myself this restaurant which Humes and several others have been raving about. Well, I was impressed.
Humes has already done a great job describing the restaurant and its food in her post (which I've linked to above), so I'm just going to focus on gushing over this beautiful salad of edible flowers. Even though the beauty of some of these blossoms is marred due to them being batter-fried, you can still see how pretty this whole ensemble is. (The dressing in the bowl is made of pumpkin, in case you're wondering.)
As good as this salad is, I must say, it is far from being a most delicious thing I've ever had (but, then again, I'm not much of a salad person). What makes it stand out in my memory every time I think of 2012 is its beauty.
THE SPICIEST: SOUTHERN SOUR CURRY, DAOTAI, BANGKOK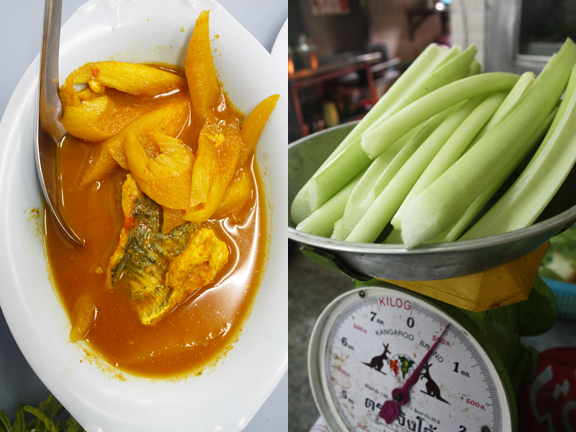 I spent 2010 exploring northeastern Thai cuisine, 2011 learning about the cuisine and language of the north of Thailand, and most of 2012 immersing myself in everything related to southern Thai cuisine. So far, I've found the southern cuisine to be the most interesting, varied, and, to my palate at least, the freshest and the tastiest. It took a while for this girl from the central plains, whose heat tolerance is pretty low even for the Thai standard, to get used to the spiciness of the southern cuisine. But once she got there, there's no going back.
Shown in the photo above: (L) southern sour curry of barracuda and (R) stems of giant elephant's ears [Colocasia indica hassk., also known as khun (คูน) in the central dialect and o-dip (ออดิบ) in the southern dialect]. So good. But if you're going to be eating at Daotai (ดาวใต้), or any place selling real southern Thai food, during the hot season in Bangkok, please do heed my advice.
THE MOST YEARNED FOR (#1): KHAO SOI WITH BEEF, KHAO SOI ISLAM, CHIANG MAI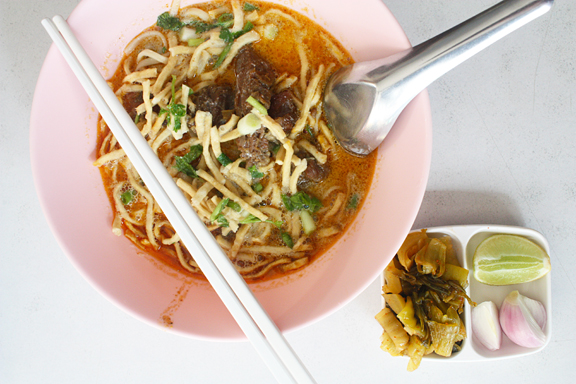 Here's a dish that's not particularly hard to make, but is made pretty badly on a regular basis by those who should know better. You can't blame me for approaching this bowl of khao soi at Khao Soi Islam (ข้าวซอยอิสลาม) in the manner in which a thirsty desert sojourner approaches an oasis.
All the khao soi impostors with ultra-creamy, homogenous, tasteless broth and vermicelli thin noodles can line up in a single file and march in unison to a place where darkness reigns and wailing never ends. And if those that are decorated with green lettuce and topped with generous amount of ground peanuts insist on heading to the same destination, I won't stop them.
THE MOST YEARNED FOR (#2): MEE KROB, TALING PLING, BANGKOK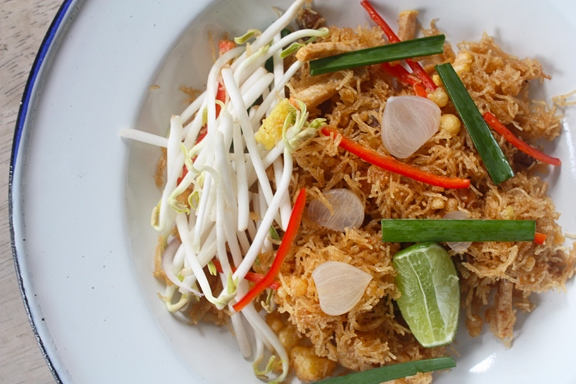 My best friend T stopped by Taling Pling (ตะลิงปลิง), one of my favorite restaurants in Bangkok, one afternoon, then showed up at my place with this mee krob (RTGS: mi krop) — one of the better versions of this dish. Let's just say, it was a good day. It's as if he knew that I'd been so deprived of good mee krob which is almost impossible to find in the US.
Traditionally, mee krob demands a squeeze of som sa (ส้มซ่า Citrus media Linn. var. linetta), but regular lime stood in for that type of citrus fruit which is generally very hard to find even in Thailand (and wasn't in season at that time). I'm not complaining, though. Having experienced enough mediocre mee krob at most Thai restaurants overseas for many years, I'm wowed by even an okay version of this dish in Bangkok. That's not to say this one is 'just okay,' though; this one is good.
The recipe for mee krob, by the way, will be included in my upcoming book. You'll be pleased to know that though it requires multiple steps, this dish is not difficult to replicate at home. In fact, it's pretty fun to make.
THE MOST FUN: KLEEB LAMDUAN COOKIES, SMOKED WITH THAI SCENTED CANDLE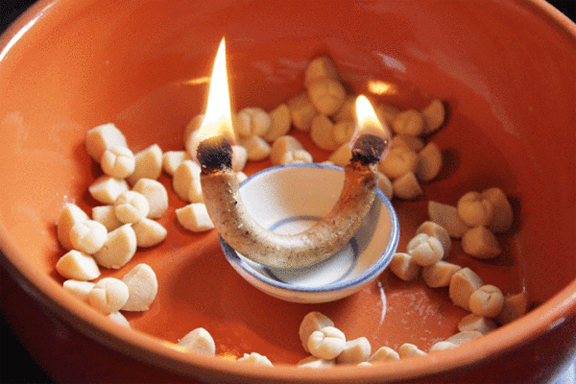 Thai flower-shaped cookies, so you can smoke them too?
THE MOST INSPIRING: RABBIT RISSOLES WITH OXFORD SAUCE, THE HARWOOD ARMS, LONDON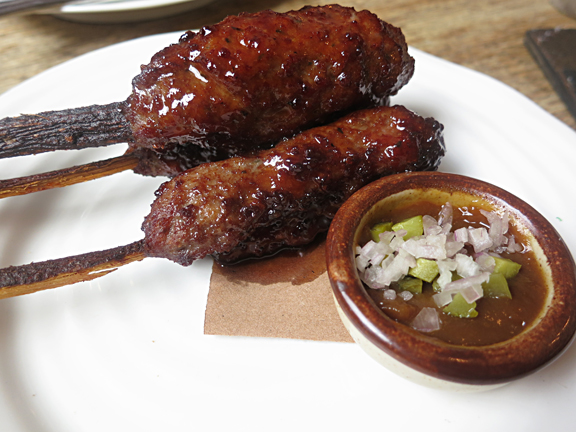 One of the best meals I've had in 2012 was lunch at the Harwood Arms in London, the city which I've fallen in love with, the city which has overturned the stereotype about English food. Although I loved everything which I had that day, it's the rabbit rissoles on fragrant licorice sticks that have stuck on my mind.
Inspired by these, I've devised a recipe for something that's more Thai in flavor. I'll share it with you as soon as the weather is warm enough to do some grilling outside.
THE TALLEST: KHAI CONDO, JARUNGIDANAN HOME, BANGKOK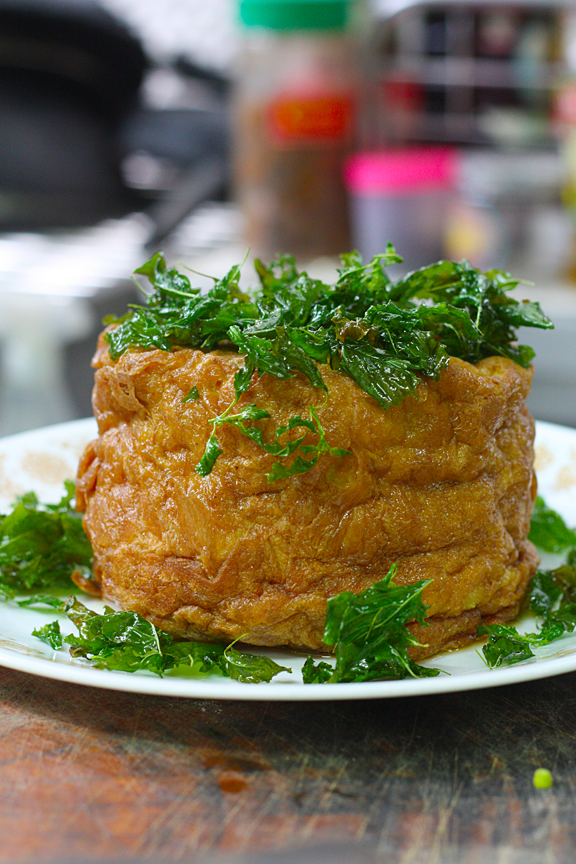 You've seen khai jiao, Thai-style omelet. But have you seen its gigantic, I-WAS-BORN-TO-BE-NOTICED! cousin, khai condo? Yes, the "condo" in the name is short for the English word, condominium, which, to most Thais, is synonymous with a high-rise residential building. Now you can see why this egg concoction is called that.
More on this in 2013. You'll love it.
THE CHEAPEST GOOD FOOD: HOMEMADE "CLEAN OUT THE FRIDGE" NAM PRIK PAO STIR-FRY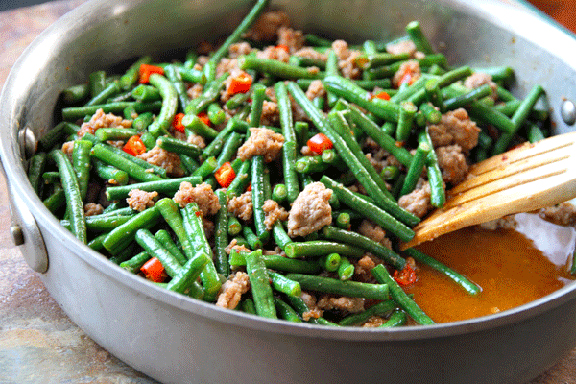 Nam Prik Pao is one of those things that most Thai people even those that don't cook — no, especially, those that don't cook! — have in the fridge. It's so versatile. This stir-fry you're looking at is made with odds and ends in the fridge: a little bit of ground pork, some long beans that would have gone bad in a day or two had they not been used, and some bird's eye chilies in the freezer. Cheap. Flavorful. Feeds 5 people easily. Make a pot of rice to go with this. Fry up some crispy fried eggs Thai-style to top it all off. A bowl of nam pla prik on the side. This is a feast.
Check out my friend M's Nam Prik Pao fried rice with pineapple and shrimp. This favorite of mine (and many of my readers') was devised out of odds and ends in the fridge too.