THE BOOBIEST: KHAI JIAO PU, KRUA APSORN, BANGKOK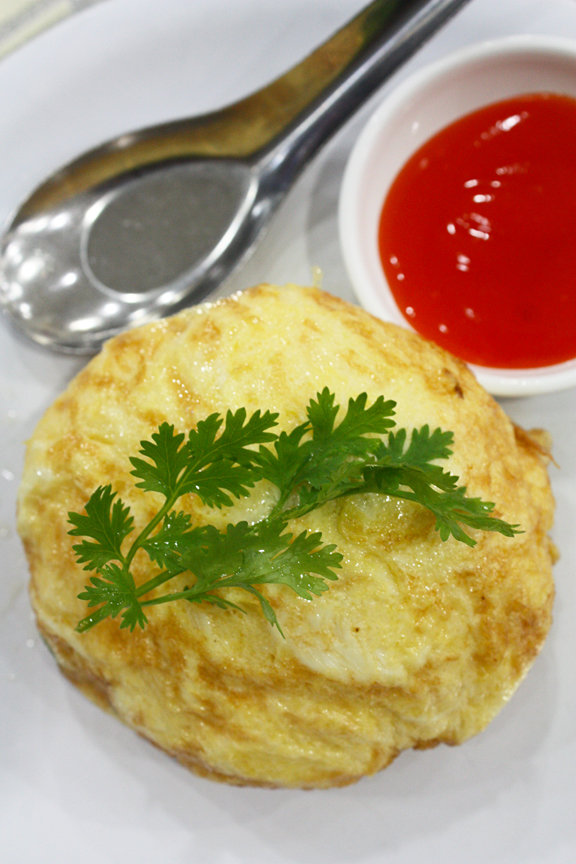 You've seen khai condo or "condo eggs" (above). Now you're looking at, um, "bra eggs" (khai yok song ไข่ยกทรง). And "bra" here is short for — that's right — brassiere. (Had this photo shown two of these eggy orbs side by side, you might get a better idea of why these things are called "bra eggs.") These are half orb-shaped omelets created through a special frying and shaping trick resulting in an omelet that's softer on the inside, thicker, … boobier.
Krua Apsorn (ครัวอัปสร) in Bangkok makes one heck of a bra omelet. They don't call their bra eggs, 'bra eggs,' though, so don't go there and ask for a plate of bra omelet (although, between us, if it looks like a bra, walks like a bra, and quacks like a bra, it is a bra). Do, however, look for crab omelet (khai jiao pu ไข่เจียวปู) on their menu. Order a plate of rice and something else spicier, such as their famous southern sour curry of lotus shoots (แกงเหลืองไหลบัว), to go with it and you've got a great meal.
If I remember correctly, the bra eggs served at Krua Apsorn, according to my estimation, are cup B. All eggs. What you see is what you get. Okay, fine, there's some fresh crabmeat stuffing; they stuff their bras. But other than that, there's no padding or push-up underwire or anything like that. The only embellishment is a little bowl of Thai sriracha ("Thai sriracha" — ugh, so redundant …) on the side.
I'll show you how to make these bra eggs later in 2013. You pick a cup size; I'll show you the way.
THE SALTIEST: HOMEMADE SALTED DUCK EGGS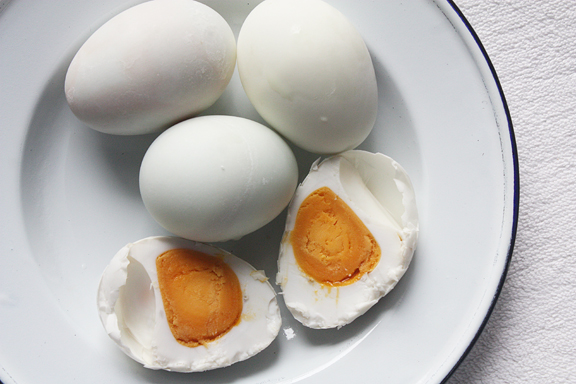 If you follow me on Facebook, you're probably sick to death of hearing about how much I love these salted duck eggs and how the quality of imported salted duck eggs in Chicago is nowhere near where it should be. What can I say? Complaining is useless. DIY is the only way.
DIY in this case means days of spending my life with duck eggs. But it was worth it. Look at these salted eggs I made. They're pretty and delicious, if I do say so myself.
THE MOST EVIL: FRIED SUN-DRIED FISH WITH SPICY SHIMEIJI MUSHROOM SALAD, KALPAPRUEK, BANGKOK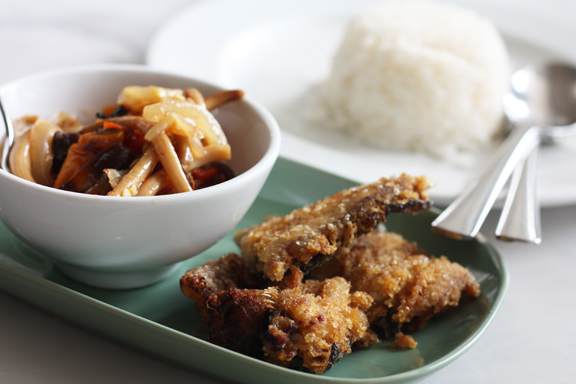 Has this happened to you? You visit a restaurant that you've been to many, many times over the years. This time you vow you'll order something different, because every single time of the many, many times over the years, you always order the same darned thing. You sit down. You study the menu. You find something kind of interesting on the menu — something new — that you want to order. The server approaches your table with a notepad. Your resolve is iron-clad. This time you will NOT order the same thing. Then, for reasons that probably won't become clear without years of psychoanalysis, you hear yourself order the same thing you've always ordered. Once the server leaves the table, instead of letting out a weary groan or doing a *headdesk*, you actually anticipate the arrival of that same thing with glee.
That's the story of me, Kalpapruek (กัลปพฤกษ์), and its meal combo of rice, fried sun-dried fish, and spicy, tart, smoky shimeiji mushroom salad. This happens every time I'm in Bangkok. Not just in 2012. Every time.
This meal combo has had me firmly in its talon — this evil, evil meal of rice, fish, and mushrooms.
THE BEST CURRY: SOUTHERN CURRY OF FRESH THAI MACKERELS, OR TOR KOR MARKET, BANGKOK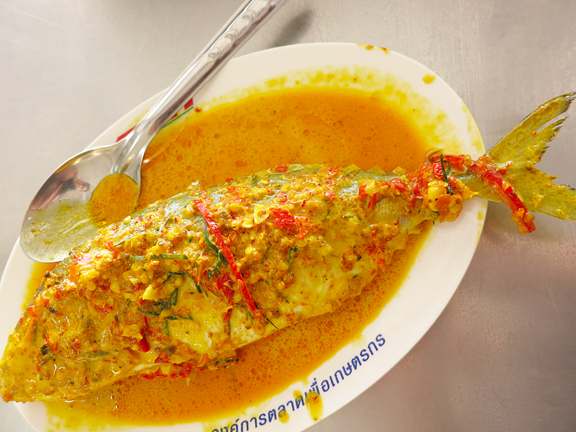 Or Tor Kor Market has become a bit touristy in recent years, but it's still as dear to me as always. In fact, every time I go there, I find something new which I like. Or Tor Kor is not just about fresh produce stands; it's got some excellent take-home food vendors as well. Case in point: this rice-curry shop (a metonymic term as it offers more than just rice and curries) right next to the eating area. I fell hard for its turmeric-heavy southern-style fish curry. If you ever visit Or Tor Kor, you should try this.
THE BEST VEGETARIAN FOOD: VARIOUS THAI DISHES, ARAWY, BANGKOK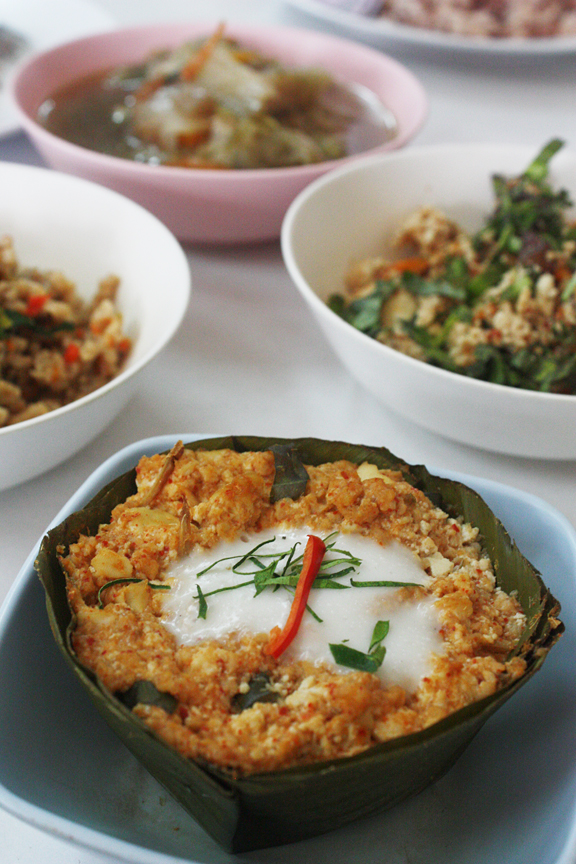 One Sunday afternoon, my best friend T, T's girlfriend K, and I foolishly traveled to the Giant Swing (Sao Ching-Cha) area from our respective homes (which are nowhere near that area) to K's favorite Thai restaurant, Chote Chitr, only to find that it was closed that day. So we walked all the way to one of the branches of Krua Apsorn, another traditional Thai restaurant, on Din So Road. Not until we were standing right across the street from it did we realize that Krua Apsorn was also closed on Sundays.
Famished, we just walked into a place we, a bunch of non-vegetarians, had never thought of walking into: Arawy (pronounced "a-roi") Vegetarian Food, located across the street from Krua Apsorn. It proved to be a good decision.
There were no ersatz meats. Nor were there greasy stir-fried noodles pretending to be health food just because they're meatless. There were lots of tofu-based dishes, though, and lots of vegetable dishes. I still don't know whether hunger had anything to do with it, but we absolutely loved what we had there. In the picture above, you see tofu hor mok (RTGS: ho mok). Right behind it on the left is tofu pad ka-phrao and, on the right, tofu laab. All the way in the back is a mixed vegetable stew. Everything was devoured.
Next time I go there, it will be because I want to go there, not because the other places are closed.
THE OLDEST: KHANOM FARANG KUDICHIN: PORTUGUESE-INFLUENCED THAI CAKES, BANGKOK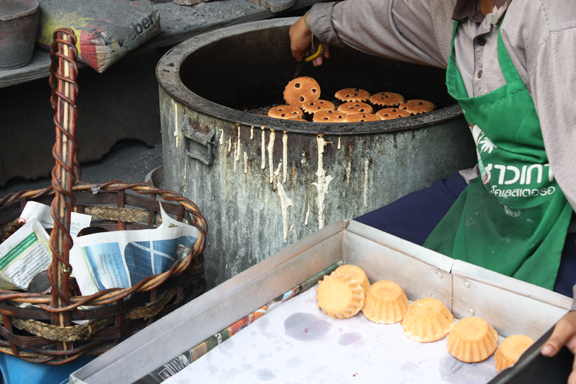 The way many food items in Bangkok are marketed as "ancient" (boran โบราณ) these days is laughably precious and affected at best and outright deceptive at worst. I think the term "ancient food" is still not clearly defined (how old is "ancient"?), and it doesn't help that some food writers are throwing it around willy-nilly. I'm not going to get into that now. But let's just say, if you want "ancient" food, then you want these cakes which have been made according to the Portuguese tradition in Thailand for more than 200 years. Now that is ancient.
I'll write a post on these cakes and the old community by the Chao Phraya river where they're made in a few weeks.
THE BEST: STIR-FRIED LONG BEANS WITH SHRIMP PASTE AND CRISPY DRIED SHRIMP, CHAN POCHANA, CHANTHABURI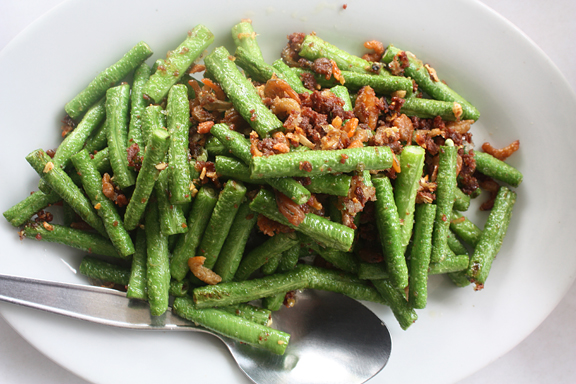 It's funny how many great dishes were discovered this year when I was with T and K. Could be because we were hanging out quite a bit this past year and good things often happen when we're together. This dish was one of those good things.
On the way to K's newly-acquired mangosteen orchard, we stopped for lunch at Chan Pochana (จันทรโภชนา) which is a renowned restaurant in Chanthaburi, serving regional dishes which you can't find elsewhere in the country. K had been raving about a local dish, a hearty sweet-and-sour pork stew made with the leaves of a local plant (kaeng mu bai cha-muang แกงหมูใบชะมวง), so, right away, she knew what to order. I ordered a spicy pork stir-fry with young cardamom stems, another local specialty which I had been wanting to try. T, on the other hand, went there with nothing in mind. He was fidgeting with the menu for a while before deciding on this strange-sounding dish of stir-fried long beans with dried shrimp and shrimp paste. Why this particular menu item appealed to him, we still can't figure out.
But, man, oh, man. This turned out to be the best thing on the table. In fact, I am declaring this dish right here the best thing I ate in 2012.
I'm going to try to replicate this dish and share the recipe with you here in 2013.
THE BOOZIEST: THAI BLACK STICKY RICE WINE, BANG PLA MA, SUPHANBURI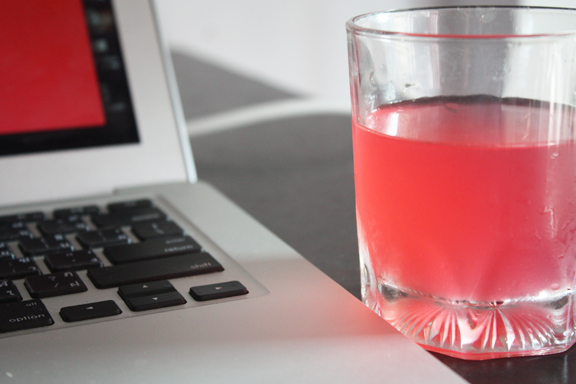 Steamed black/purple sticky rice (the kind used to make black sticky rice pudding with coconut cream) is fermented with a local strain of yeast to achieve this refreshing nectar that's also very pretty to look at. This sticky rice wine or sa-toh (สาโท RTGS: satho) isn't widely available in Thailand; you kind of have to look for it in the right places. In fact, it's pretty unlikely that someone like me who doesn't drink much alcohol would stumble upon this gem. But I did. And I think I'm in love. Served ice-cold, this is better than all the wine coolers I've had.
THE MOST NOSTALGIC (#1): AYUTTHAYA-STYLE BOAT NOODLES, RAAN LUNG, BANGKOK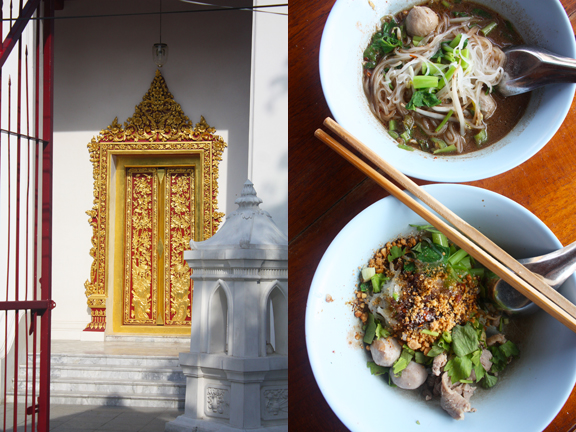 Schlepping my rear end all the way to Khruea Wan Temple (วัดเครือวัลย์) on the Thonburi side of Bangkok is like killing two birds with one stone. Wait. Is it like killing two birds with one stone? Did I mess up an English saying again? Never mind. What I mean is that not only do I get to visit an old, beautiful temple that is closely connected to my family, I also get to enjoy really, really good boat noodles, made in the tradition of Ayutthaya province (one of the best places to have boat noodles) at Raan Lung (ร้านลุง), a stall right across the street from the temple.
Go early (yes, have boat noodles for breakfast!) or mid-afternoon, if you want to beat the crowd. Otherwise, be prepared to wait for a long time for a table. If you don't know Thai, be sure to have someone who does with you. This is because their ordering system has you write down what you want on a piece of paper and hand it directly to the cook. Try to change this system and you'll find out in no time that 1. you can't and 2. you're not getting any noodles that day.
Did I mention they also have really good pork satay ?
THE MOST NOSTALGIC (#2): PORK-LIVER-SQUID PAD THAI, PRATHUMTHIP PAD THAI, BANGKOK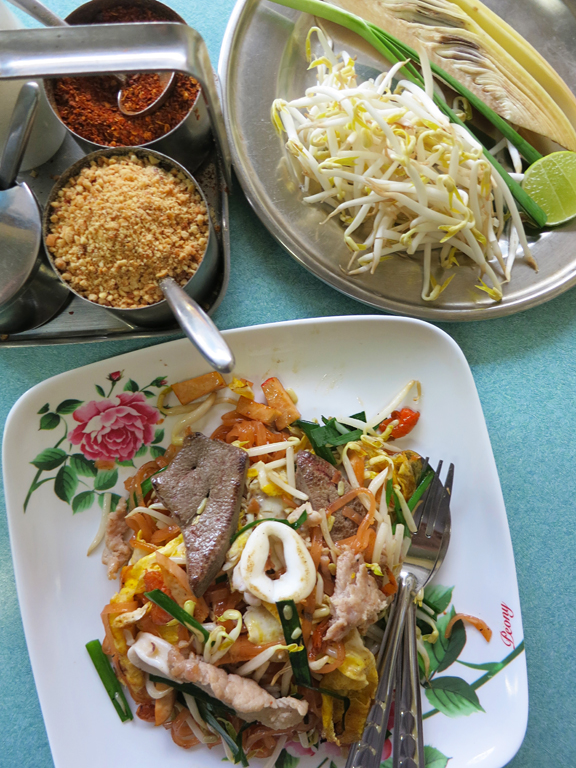 I alluded to this pad thai place in an earlier post on Thai tea ice cream and coconut ice cream at Tipparos without naming it. Now you know.
I grew up eating at Pad Thai Prathumthip (ผัดไทยประทุมทิพย์), and I'd always loved it. My favorite cousin and I still talk about this place fondly every time we get together, even though neither one of us goes there very often these days for our lives no longer revolve around that part of town. But out of curiosity to see whether the place is still "the best pad thai place in the entire universe," I visited Prathumthip and ordered exactly what my cousin and I always ordered: pad thai with pork, pork liver, and squid.
You see, this is — or at least used to be — what sets Prathumthip apart from others: these unusual meat combos not commonly associated with pad thai (in addition to everything else they do right over there).  The dish, especially during the time when I was a little kid, is traditionally made with no meat other than the little dried shrimp. And if any meat is added, it's almost always fresh prawns. The kind of beef and chicken pad thai you get in the US? Unheard of. (That is, unless you go to a place where they make pad thai for tourists.) But at Prathumthip, apparently, they had intentionally broken the rules a long, long time ago with their various surf 'n turf versions of pad thai.
Is it still the best pad thai in the universe? Well, it's still very, very good. I like my pad thai on the non-greasy, dry-ish side, so I like the way they do it at Prathumthip. The seasoning is also as great as I remember it. But would I go out of my way for this? Probably not, unless my cousin comes with me for a walk down memory lane.
THE MOST REFRESHING: FRESH RIPE PAPAYA WITH A SQUEEZE OF LIME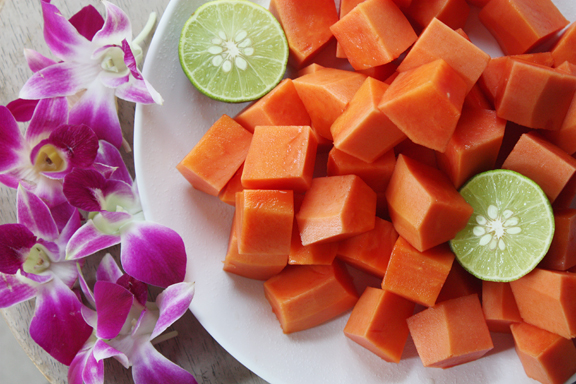 I've always liked papaya, but I'd never realized until earlier this year how much better I feel by starting my day with fresh ripe papaya. I didn't used to like eating nothing but fruit for breakfast as I'd get dizzy and hungry by mid-morning. But for some reason, fresh ripe papaya seems to keep me satisfied well into the afternoon. It tastes good and it makes me feel good. I should have done this long time ago.
Could it be the enzyme papain? Vitamin A? I don't know. All I know is that this has given me an idea: I should try having som tam for breakfast. It's a fruit salad, after all.
THE MOST ADDICTIVE: SUN-DRIED BANANAS, PHITSANULOK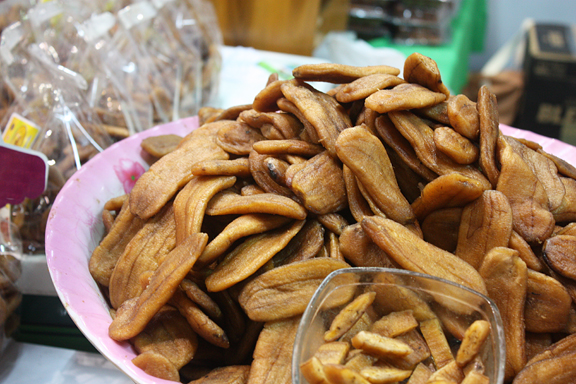 These sun-dried burro bananas are so good that I don't trust myself around them. I can eat these all day. In fact, I have been using these bananas to motivate myself to work more diligently on the book which I'm writing. I bought a bag of them, voluntarily surrendered it to a friend, and had him feed me one plain sun-dried banana for every 100 words I write and one chocolate-covered sun-dried banana for every 200 words. I've been very productive, because I'm the type of person that would do anything for dried bananas.
What's the best thing you've eaten in 2012?