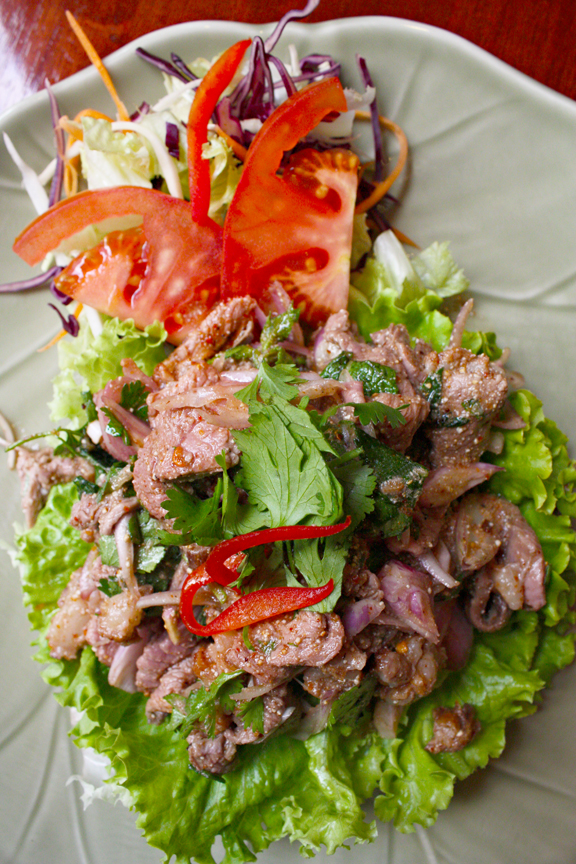 Three of my colleagues who were in Lyon, France, last week, decided to try out Bangkok Royal, said to be one of the best Thai restaurants in the city. They were so impressed with the dinner that they went back the next day to interview the owner and the chef. Here's the scoop, composed by me according to their account. ~ Leela
*****************************************
In all the years of traveling through Europe and sampling the foods at several Thai restaurants across the continent, we had been more disappointed than delighted. Every now and then we come across some rare gems that knock our socks off, but that is few and far between and mostly limited to highly-populated cities with large Southeast Asian communities. Cynicism was in the air when we discussed amongst ourselves the possibility of having dinner at a Thai restaurant in Lyon that night.
But after many consecutive days and nights of bouchon cuisine — as spectacular as it is — even a plate of rice and watered-down Thai food would be a welcome respite. Also, this place called Bangkok Royal was only a couple of bus stops away from where we stayed. With a craving for Thai food this intense, it wasn't a time to be choosy. Even so, it took some digging deep for us to approach a random Thai restaurant in Europe as if we had never been hurt before. Browsing their website in search of signs that our cynicism was groundless only ended up doubling said cynicism (tarte tatin was listed on their website, accessed on 07-11-2013, as the only dessert on the menu).
All that is to say that we went to Bangkok Royal with low expectations.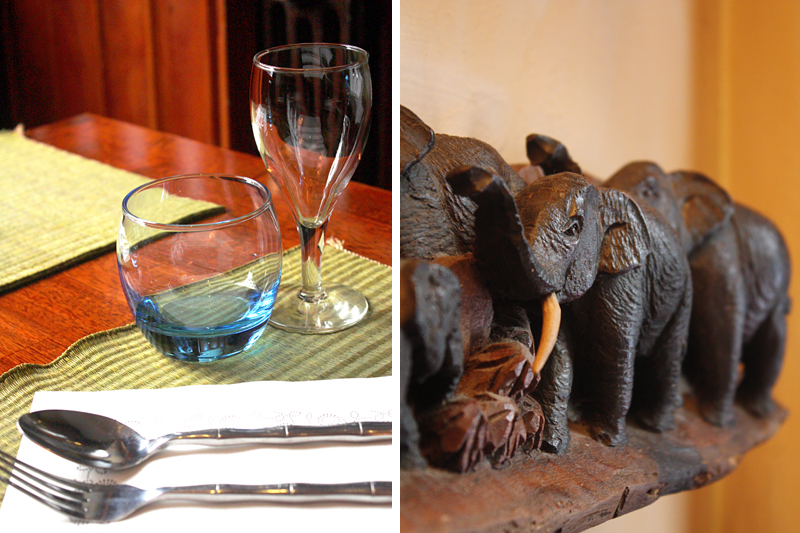 We didn't expect the service to be impeccable. We didn't expect the food to be prepared so quickly and so well. We didn't expect to be wowed by their pad thai when we — admittedly — ordered it out of curiosity to see how it would fare against the underwhelming versions we'd had in other places in Europe and North America (to be fair, one of the worst pad thais outside Thailand which I've ever had was in Seoul, South Korea; this is not a European or North American thing ~Leela). We didn't expect that one of us would order another serving of rice — when all the food was gone — so that he could use it to sweep up the remaining liquid of the curry that still clung to the brass serving pot after all the solids had long been devoured. Surely, we didn't expect to say to each other that we would probably come back here before our time in Lyon was over. But those were exactly what happened that night.
Also, there were several items on the dessert menu to choose from. And, no, tarte tatin wasn't one of them. Here's another case supporting the notion of how you can't judge a book by its, er, website.
It was quite embarrassing, actually, when the server came to collect the plates and bowls from our table which had been wiped clean. We ate every last drop and morsel. We even ate the garnishes. And we're not the type that eats garnishes.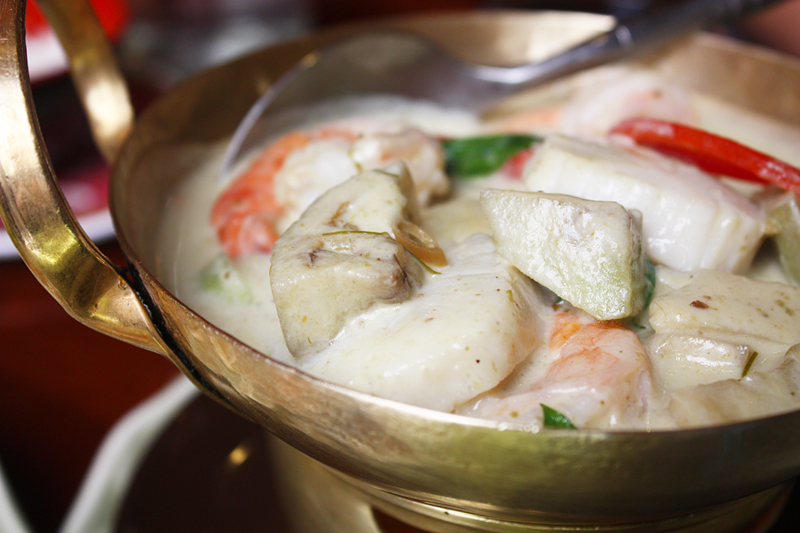 Seafood green curry starring plump scallops and shrimp, aubergine, and bamboo shoots
The highlight of the meal?
Duck laab
. Gorgeous. Well done. Satisfying. This dish, according to
Phanuphong Worrawat
, chef and owner, is one of the specialties of the restaurant and one of the most frequently requested dishes by the local patrons. France produces high-quality ducks, and the French sure love their duck meat. Duck
laab
also happens to be a specialty of the northeast of Thailand, Phanuphong's birthplace. We've got a nice intersection of two duck-loving worlds here.
Phanuphong isn't a duck laab expert solely by virtue of being a northeasterner, however. He actually has decades of experience making laab ped (RTGS: lap pet) under his belt, starting since he was a teen growing up in a big family of rice farmers in Chaiyaphum province. When things went well, the family of nine focused on their rice farm; during the hard times due to Chulabhorn Dam inundation when the paddies were completely destroyed by flooding, the older children looked for odd jobs in town to support the family. That was when Phanuphong started making Isan-style spicy duck salad at a local eatery — a job that went on for years. His responsibilities included everything from slaughtering the ducks all the way to making and serving the dish. In other words, he knows his laab ped.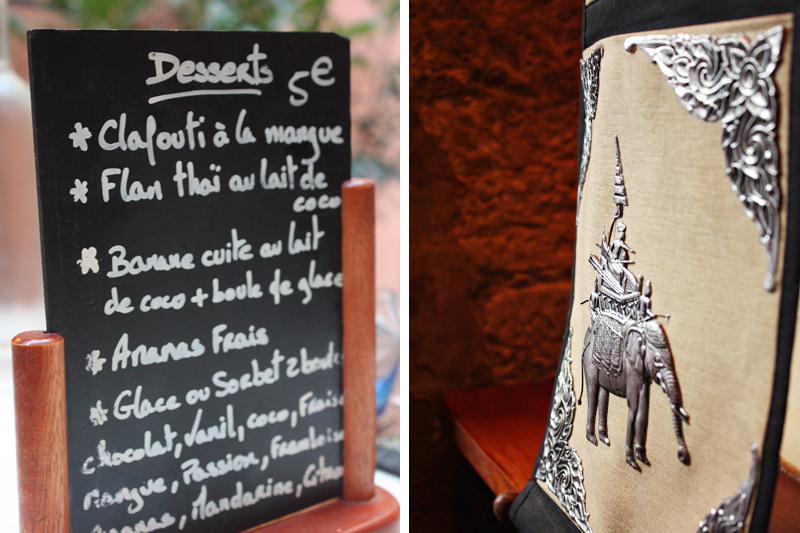 In fact, it wouldn't be a stretch to say that this very dish has formed the foundation of his career as a chef/restaurateur. After laboring day in and day out in that Isan duck salad eatery, one of his sisters found Phanuphong a job as a line cook in a Chinese restaurant in Bangkok. One thing led to another and over the subsequent years, Phanuphong found himself working as a commis in the Thai kitchens of different upscale hotels in the capital city.
But it was at a Thai restaurant in Paris where he developed his skills as a chef making refined Thai food for Western patrons. Years of working different kitchen stations under constant pressure, Phanuphong says, helped him develop not only cooking skills but also perseverance, patience, tenacity, mental toughness, and all the other necessary ingredients that facilitated his transition from a chef to a chef/restaurateur. When he opened Bangkok Royal in Lyon back in 2003, he felt ready for the challenge.
Having family around certainly helps. Two of Phanuphong's sisters, chefs in their own right, work with him in the kitchen. The task of making spicy duck salad, the restaurant's crowning glory and a nod to the chefs' birthplace, has been relegated to his older sister, the beautiful Chef Phatcharaporn Worrawat, who has shared the recipe with us.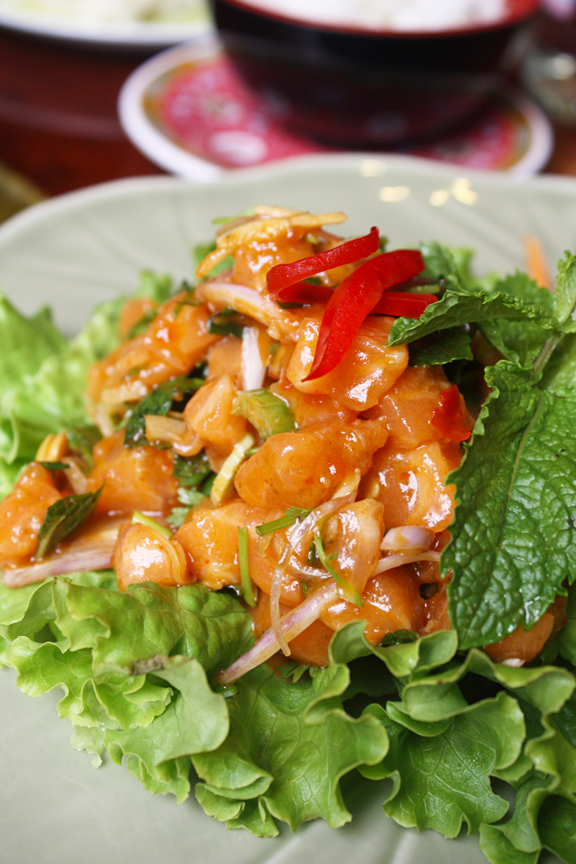 Salmon Tartare, Isan-style, is another menu highlight.
This is not the hardcore Isan version made with duck meat, fat, cartilage, and offal all chopped up together until you can no longer tell where the skin covering the neck ends and the gizzard begins. This is a friendlier version made with a beautiful, voluptuous French duck breast — sliced instead of chopped so as to preserve the virtues of the magret.
Bangkok Royal's duck salad is made according to the standard northeastern-style laab procedure. What makes it special is the homemade toasted rice powder which carries the scent of lemongrass, galangal, and kaffir lime which Chef Phatcharaporn adds to her glutinous rice as she toasts it. (You can do this by following my basic recipe for toasted rice powder. Add one stalk of lemongrass, one inch of fresh galangal, both cut into thin slices, as well as 3-4 torn kaffir lime leaves or a couple of 1-inch strips of kaffir lime rind. Once the rice turns light brown, remove and discard the herbs and grind the rice as instructed. ~Leela) The chef also uses prepared tamarind pulp as a souring agent in addition to fresh lime juice resulting in a more complex flavor that made us go 'wow' at the first bite.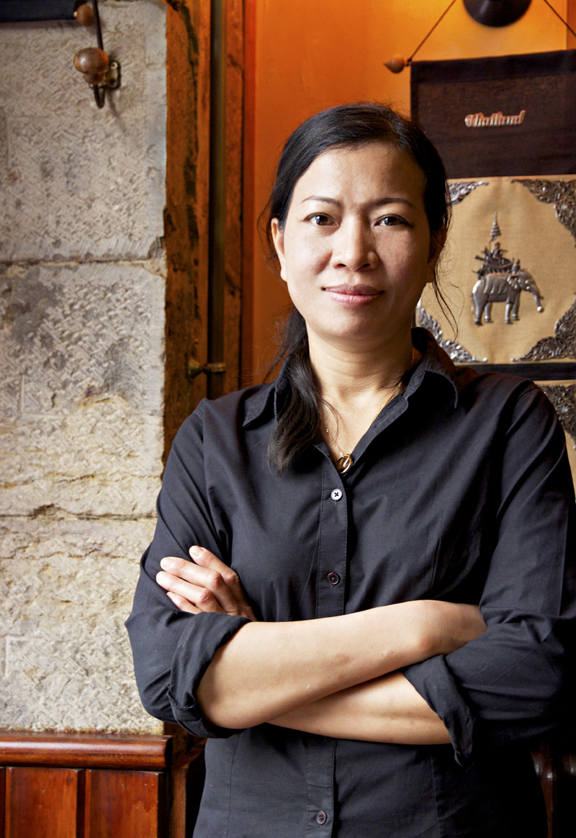 Chef Phatcharaporn Worrawat
The chef also emphasizes that the success in making this dish lies in
the searing of the duck
which not only removes some of the gaminess that some people find off-putting about duck meat, but also renders out some of the fat and crisps up the skin creating a pleasant textural contrast in the dish. Lastly, all that hard work, says the chef, would be in vain if you overcook the duck. This means that you need to keep a watchful eye on the duck meat at the sauté stage. Take the pan off the heat
when the meat is still slightly pink
and let the residual heat finish it off.
Laab is a warm salad. Enjoy it as an entrée with warm Thai/Lao sticky rice or jasmine rice along with fresh vegetable crudités such as cabbage wedges, trimmed yard-long or green beans, or cucumber slices. Though the salad is already intrinsically herbal, some fresh Thai basil on the side wouldn't hurt.
Northeastern-style Spicy Duck Salad (ลาบเป็ด) by Bangkok Royal Restaurant in Lyon, France
Recipe type:
Main Course Salad
Ingredients
One skin-on large duck breast or 2 skin-on smaller ones, totaling 1½ pounds
¼-1/2 cup chicken broth (see notes) or water
One large shallot, weighing 1½-2 ounces, peeled and sliced thinly lengthwise
One tablespoon fish sauce
2 tablespoons lime juice
1 teaspoon packed grated palm sugar or brown sugar
One tablespoon tamarind pulp (see notes)
One tablespoon toasted rice powder (see notes)
Dried red chili powder, to taste
½ cup loosely-packed chopped cilantro leaves
½ cup loosely-packed chopped mint leaves
Green lettuce and tomato slices for garnish, optional
Instructions
Score the skin of the duck breast(s) and sear the duck, skin side first, in a skillet set over medium-high heat until the skin side is golden brown, some fat has been rendered, and the meat side is browned on the outside. This should take a total of 3-4 minutes. The duck breast(s) should still be raw inside.
If you work with one large duck breast, cut it lengthwise into 4 pieces and slice each piece thinly crosswise. If you deal with two smaller duck breasts, halve each lengthwise and cut each half thinly crosswise. Reserve the juices.
Measure the reserved juices. You should have roughly ¼ cup of it. But if you end up with less, that's okay. Add just enough chicken broth or water to the reserved duck juices so that the combined liquid measures a total of ½ cup.
Transfer the duck slices to a medium saucepan or skillet set over medium-low heat. Add the juice-broth mixture to it. Saute just until the duck is barely pink. (Duck laab really tastes better when it's slightly undercooked.)
Take the saucepan off the heat.
Add the shallot slices, fish sauce, lime juice, sugar, and tamarind pulp; mix well. Taste and adjust the seasoning as needed. The salad should be primarily sour, followed by salty with just a hint of sweet.
Stir in the toasted rice powder and dried red chili powder. Taste again to see if more heat is needed; if so, add more chili.
Once the salad tastes good to you, stir in the cilantro and mint. Plate (with the garnishes, if desired) and serve immediately.
Notes
If the broth which you use contains sodium, adjust the amount of fish sauce accordingly.
You can use store-bought tamarind concentrate or make your own tamarind pulp: https://shesimmers.com/2010/05/how-to-prepare-tamarind-pulp-for-thai.html
You can use store-bought toasted rice powder or make your own: https://shesimmers.com/2009/04/khao-kua-how-to-make-toasted-rice.html (read the post on how the chef at Bangkok Royal spikes her toasted rice powder)