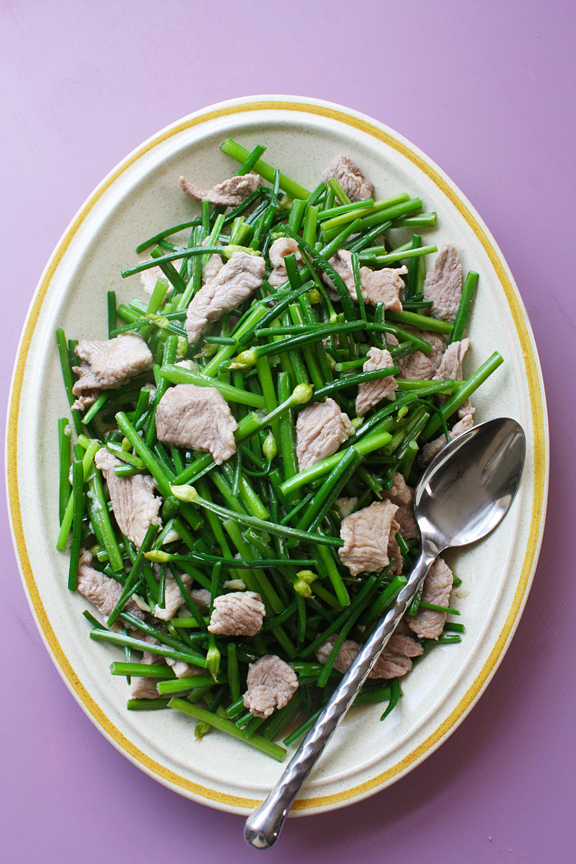 If you have had pad thai as it's made in Thailand, you are already aware of the unfailing presence of the main aromatic ingredient and a side garnish/crudité: the leaves and tender stalks of garlic chives. And if you regularly wander the streets of Bangkok a little further beyond pad thai stalls, chances are you have seen or tasted Chinese steamed chive dumplings or fried chive cakes wherein the leaves of Chinese chives are used.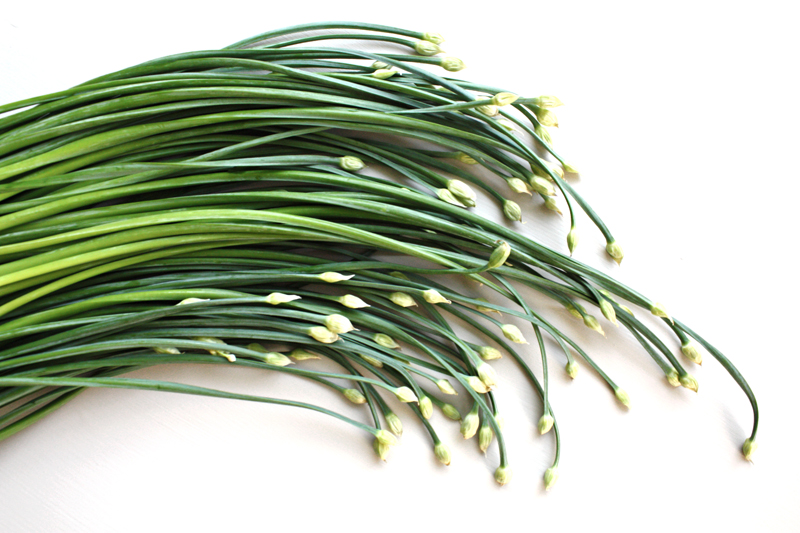 But there's another part of garlic chives that you'll see used in Thai food only if you a regular patron of local rice-curry shops or school cafeterias and/or live in a Thai household (or with a Thai): garlic chive buds and their tender, crunchy bud stems. The simple stir-fry of "broomsticks" (the unofficial but frequently-used term that the Thai have designated specifically to these particular parts of garlic chives) and meat is hardly ever served in a restaurant — the kind where you're handed a menu upon being seated; this is a rice-curry shop staple and a dish that is firmly rooted in the Thai homes.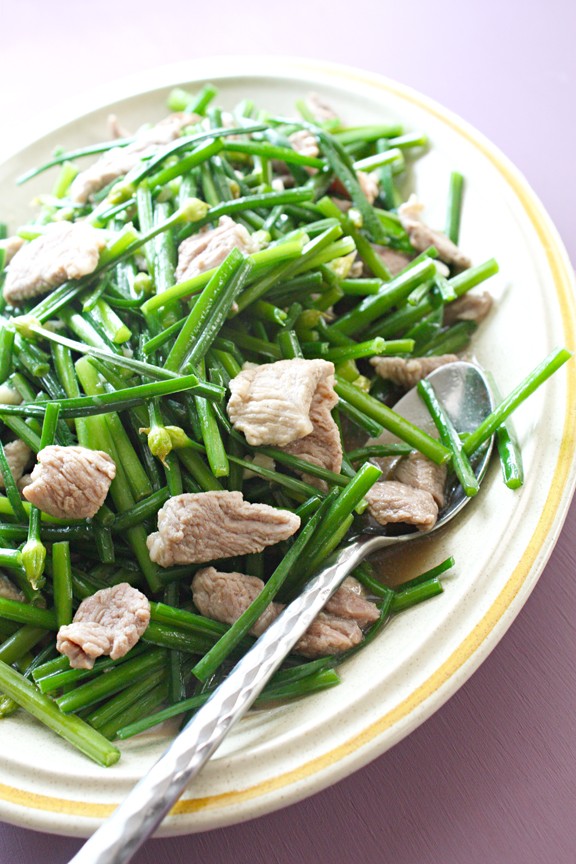 Garlic chive bud stems can be found easily anywhere in Thailand; they are inexpensive yet come with the kind of bold flavor that far exceeds their market value. When you cook with garlic chives, you'll realize that you don't need a lot of meat or seasoning ingredients in order to create a flavorful dish. As an example, when a Thai cook makes a simple vegetable (or vegetable and meat) stir-fry, he typically starts by frying minced garlic in vegetable oil until the garlic becomes fragrant which is when the meat is added, followed by the vegetable(s). This is more or less the standard procedure which most people, including me, adhere to. In the case of garlic chives, however, that initial frying of garlic is not necessary at all to me. This doesn't mean that it is not done by others or that it shouldn't be done; I personally find that step superfluous in this case, because garlic chives hardly need that extra help, thank you very much.

Stir-Fry of Flowering Garlic Chives and Pork (ผักไม้กวาดผัดหมู)
Ingredients
2 tablespoons vegetable oil
6 ounces a quick-cooking cut of any meat you like (boneless chicken breasts, boneless chicken thighs, pork loin or boneless country ribs, pork tenderloin, peeled and deveined shrimp, chuck steak, prepared squid, or -- this is extremely common in Thailand -- pork liver), sliced thinly into bite-sized pieces (no need to slice shrimp)
1 pound flowering garlic chives, cut into 1-inch pieces
1 tablespoon light soy sauce
1 tablespoon fish sauce (add only ½ tablespoon first and add the remainder later if it's not salty enough -- but remember that this is to be served with bland rice)
½ teaspoon granulate sugar (optional but recommended)
½ teaspoon ground white or black pepper
Instructions
Set a wok or a 14-inch skillet on medium-high heat. When the wok is hot add the oil.
Add the meat and light soy sauce; stir-fry until the meat is cooked, about 1-2 minutes.
Crank up the heat to high; add the garlic chives and the fish sauce; stir-fry until the vegetable is tender but still bright green and crunchy, no more than a minute.
Don't let the dish cool in the wok; plate it immediately to prevent the residual heat from cooking the chives beyond the tender-crisp point. Serve with rice.