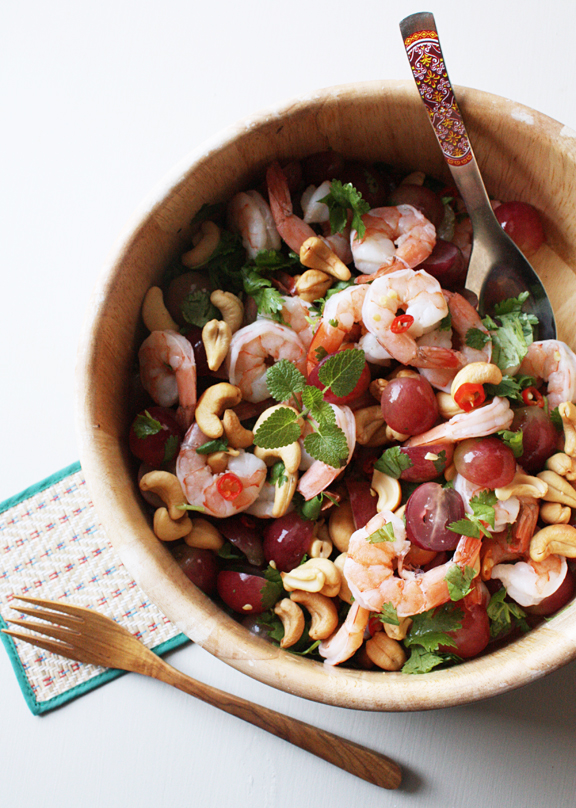 The Thai people don't use grapes in savory dishes, including salads, very much. In fact, the only savory dish containing grapes I had growing up was an everything-but-the-kitchen-sink salad my grandmother used to make which was similar to this one. She'd take some sour green grapes, peel them one by one, and make a quick salad out of them and whatever leftover meat we had in the fridge (mostly grilled chicken breasts, because members of our family were the type that fought for chicken butts but pretty much ignored the breasts). The herb that usually went into Grandma's grape salad was usually fresh mint or cilantro, because we always had too much of both in the garden.
I had thought nobody else but our family made grape salad until I came across the book, Rattanakosin Dishes (1982), which includes a grape salad recipe by M.L. Terb Xoomsai, one of Thailand's culinary greats. I don't have the book with me at the moment, and I no longer remember what exactly goes into M.L. Terb's grape salad. I do remember, though, that there are grapes, shrimp, young ginger, and toasted cashews. So I thought I would try to recreate M.L. Terb's version based on a faint memory; I could have made my grandmother's grape salad, but it came in so many forms that nailing down the ingredients would prove difficult.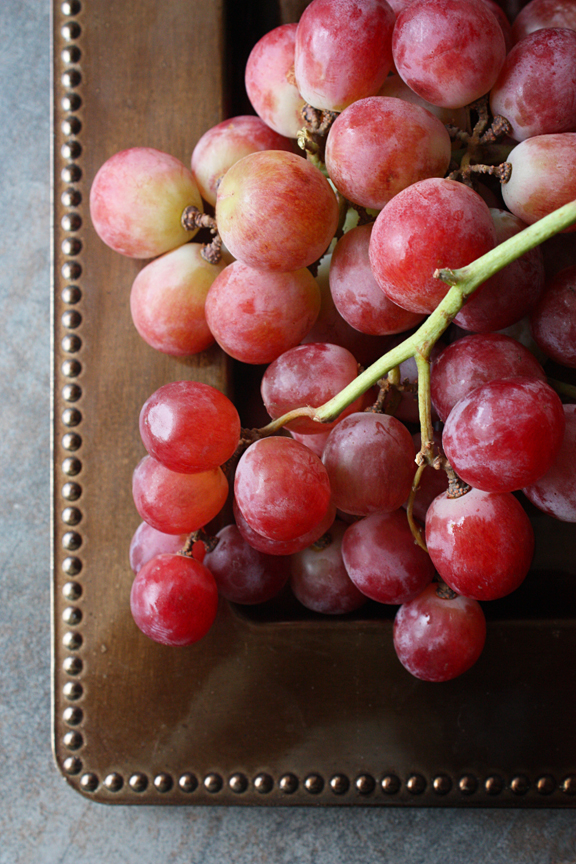 Some remarks:
1. I didn't add any ginger to the salad, because 1. it's impossible to find young ginger where I live and 2. I was certain that I would hate mature ginger (i.e. the kind of ginger with light brown papery skin that you see at the supermarket) in this salad. If you think ginger is a good idea, by all means, peel and cut some fresh ginger into thin matchsticks (1/4 cup, packed, I'd say …) and add them to the salad.
2. I used Red Globe grapes here, because I love them. They're larger than the more common varieties such as Thompson or Flame, so I usually halve them. This works well, because Red Globe grapes usually come with seeds, and by halving them (lengthwise), you can remove the seeds with the tip of a paring knife. If you think this is too much work, use smaller grapes.
There's no need to peel the grapes. I don't even know why my grandmother did that.
3. In general, a typical Thai salad is sour first, then salty, and only slightly sweet. With grapes as one of the main ingredient, I don't think you even need any added sugar. This recipe also assumes that your grapes are on the sweet side, so if you deal with a bunch of sour grapes (literally), you may want to go easy on the lime.
4. Poach the shrimp well. Don't overcook them. I have embedded Chef Michael Pardus's video demonstration on how to poach shrimp properly onto my Tom Kha Gai post. If you haven't seen it, check it out. For this recipe, I poach the shrimp in one quart (4 cups) of water, seasoned with 1/2 tablespoon table salt.
5. I used unsalted roasted cashews. If your roasted cashews are salted, reduce the amount of fish sauce.
6. I used cilantro in this. I tried to recall what made me grab a sprig of lemon balm on my window sill and plopped it in the middle of the salad when I took the cover photograph, but I'm still drawing a blank. I don't recommend that you mindlessly plop things on your food (or your anything, for that matter).
Well, that's about it.

Grape-Shrimp-Cashew Salad (ยำองุ่นกับกุ้งและเม็ดมะม่วงหิมพานต์)
Ingredients
One pound grapes (see post for more information), washed and patted dry
One pound medium shrimp, peeled, deveined, poached (see post), drained, and cooled
2 tablespoons lime juice (see post on how the amount depends on your grapes)
1 tablespoon fish sauce
3 Thai bird's eye chilies or 1 Serrano pepper (more or less depending on your heat tolerance), sliced thinly crosswise
½ cup chopped cilantro leaves
¾ cup unsalted roasted cashews
Instructions
Place grapes and poached shrimp in a large salad bowl.
Add the lime juice, fish sauce, chilies, and cilantro; toss everything together. Taste and adjust seasoning accordingly (the salad should be sour first, then salty with the sweetness coming from the natural sugar in the grapes).
Fold in the roasted cashews. Serve immediately.