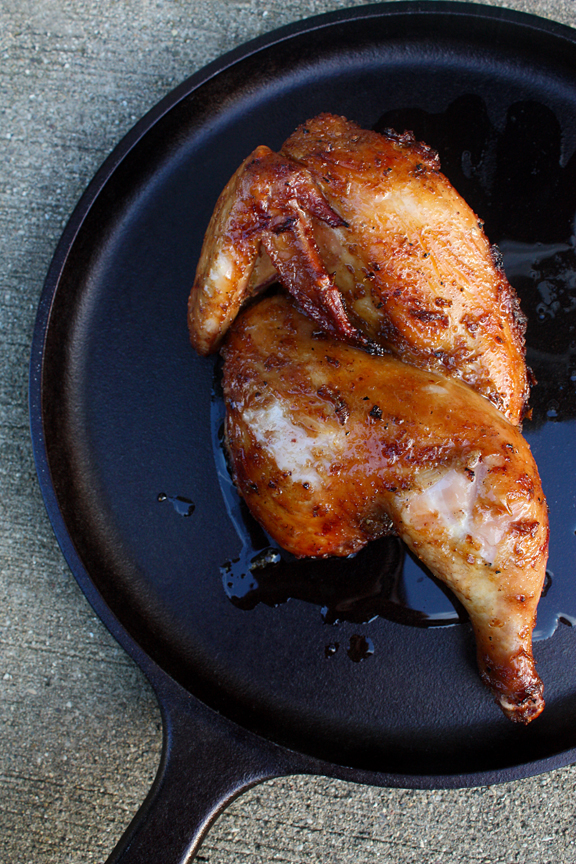 Now that the basics have already been addressed, let's dive into the first recipe of our Thai Grilled Chicken: The Heroine Upstaged by Her Sidekick series: my mother's lemongrass grilled chicken. This grilled chicken is not made according to any regional tradition or restaurant (though fans of Sirichai Kai Yang in Bangkok would probably see some resemblance).
The chicken is seasoned with the basic Thai marinade with the Thai aromatic 'trinity' at its core. Fresh lemongrass provides additional herbal flavor. It's a very simple recipe which, according to her notes, Mom had used since 1979.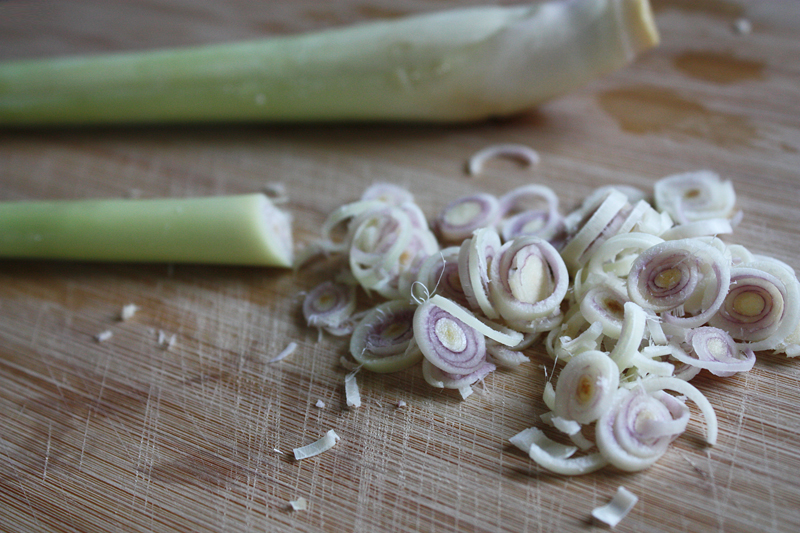 A few remarks before we begin:
1. Use fresh lemongrass. Slice off the leafy part and the root end. Remove the tough outer layers until you see the smooth, pale inner core. Slice the stalk as thinly as possible, starting from the root end until the purple rings disappear. Throw the rest away (it's just roughage with not much essential oil) or save it for an infusion soup such as tom yam or tom kha.
2. From my experience, the smaller the chicken, the better the result. A chicken weighing between 2.5-3 pounds is best. A large roaster is not a good choice (doubling the marinade to accommodate a larger chicken does not work very well). If you can't find a small chicken, use two Cornish game hens, weighing about 1.5 pounds each.
3. To gild the lily (I've done that with the grilled chicken you see here), slice up two additional stalks of lemongrass (following the same instructions in #1) and fry it over low heat in 3/4 cup vegetable oil until the lemongrass slices are crispy and golden brown. Strain out and discard the lemongrass. Use the lemongrass-infused oil to brush the chicken while it's grilling.

Thai Grilled Chicken: Lemongrass Grilled Chicken (ไก่ย่างตะไคร้)
Ingredients
2 stalks of lemongrass, trimmed and slice thinly
5 large cloves garlic, peeled
2 teaspoons white peppercorns
2 cilantro roots or 2 tablespoons finely-chopped cilantro stems
One chicken (weighing 2.5-3 pounds), spatchcocked and halved
2 tablespoons oyster sauce
2 tablespoons fish sauce
3 tablespoons packed grated palm sugar or 2 tablespoons packed brown sugar
Instructions
Make a fine paste out of the sliced lemongrass, garlic, peppercorns, cilantro roots using a mortar or a mini-chopper.
Put the chicken in a large mixing bowl and prick it all over with a fork.
Add the aromatic paste to the chicken along with the remaining ingredients. Rub the seasoning into every nook and cranny of the chicken.
Cover and chill for 3-4 hours.
Grill over low heat for about 30-35 minutes until golden brown and juices run clear.