Sometime last year, you might have seen a woman sitting alone in front of a building on Samsen Road in central Bangkok, tranquilizing herself with fried sweet potato balls, rocking back and forth, and mumbling things. That was me giving myself a prep talk.
I didn't take a selfie, but I think I must have looked like I could use some extra-strength Metamucil. Weird, because there were no good reasons for it.
First of all, I was in the neighborhood where my mother and her siblings were born and raised. Their childhood accounts were always fun and vivid that every time I'm in the area, I can see with my mind's eye their joyful little footprints all over the sidewalks. This, as far as I'm concerned, is a happy place.
Also, after lunch, I knew I'd spend the whole afternoon in the dark archives of the National Library nearby — the activity which, to me, is akin to frolicking in a field of daisies on a sunny day with an ice cream cone in one hand and a stick of cotton candy in the other.
Most importantly, I was just moments away from having lunch at Krua Apsorn, one of my favorite traditional Thai restaurants in Bangkok after a fairly long period away from it. Not only that, I was planning on asking Krua Apsorn's head chef to share with me some cooking tips. An opportunity to introduce yet another bright spot in my hometown to my readers should have filled me with joy like it always had.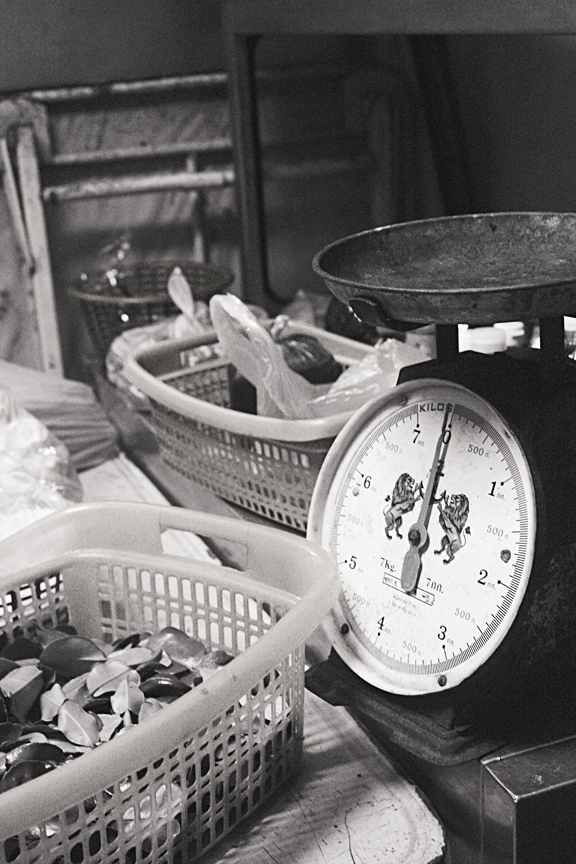 But I think it was an interview request gone awry a few days prior that painted my day gray. Rejections abounded during those days. And though I'd come to accept that I got rejected more often because I asked more often, that realization did little in taking away the sting. It shouldn't have affected me, but – and keep this strictly between us, okay? – it did. So as I was waiting for Krua Apsorn to open for lunch, I wasn't my bravest self.
You see, I was about to ask Chef Chanchavee 'Auntie Daeng' Skulkant to allow me access into her kitchen. To understand my apprehension, you need to know that this is a lady whose reputation of being no-nonsense, perfectionistic, very strict, and extremely particular precedes her. What if I did something to tick her off and got shooed out of her kitchen with a broom or slapped with a spatula? Or – much worse — what if I made one wrong move and got banned from my favorite restaurant for life?
But then I came to realize that the questions in my head were all wrong. What if the opposite happened? What if she said yes? What if I could walk out of that place with a story, some cooking tips, and a recipe or two for my readers? What if there were great things to be had and I preemptively talked myself out of them?
That change in attitude must have helped for by the time I walked into Krua Apsorn, I was ready. My proverbial face, the symbol of dignity in the Thai culture, was concrete-fortified and triple-coated with asphalt; forget slapping me with a spatula, Auntie Daeng could run her SUV on the surface of my countenance and it would be okay.
And there she was, pacing behind the counter, directing things, making orders to the kitchen crew, inspecting huge piles of lunch sets that merit-makers would offer to the monks at Rachathiwat Temple next door by 11:00. Orders for more lunch sets to be delivered to the House of Representatives also came in at that time, adding even more pressure to the crew. The phone was ringing, and diners were pouring in. Each worker, it seemed, was doing the kind and amount of work that required at least 10 hands.
That was 10:40 am, mind you — a mere 10 minutes after they had flipped the sign over from "closed" to "open."
And though the bustles in the rear of the restaurant didn't spill over into the calm and comfortable dining area, the pressure came in a different form.
I was seated at one of the only two unoccupied tables. My rear end hadn't even settled fully into my chair yet when pieces of paper with names of patrons with reservations got taped to one corner of the vinyl tablecloth by my server. "Somebody has reserved this table for 11:00," she said politely with a smile. Translation: We're glad you came, Miss. Make yourself comfortable. Enjoy the food. But after 20 minutes, kindly disappear.
I ordered a plate of rice, a boob of crabmeat-filled omelet, and a bowl of sand smelt jungle curry all of which came in just a few minutes. I scarfed it all down, looking over my shoulder all the while for any visible indicators of Auntie Daeng's mood.
Finally, my meal came to a close. With every bit of courage I could muster, I introduced myself to the chef and asked her point blank for an interview.
What followed was a long, cold stare that made me glad that not only had I steeled myself mentally, but also emptied my bladder. Then just when I was about to run sway, squealing like a piglet …
"I saw you when you walked in," she said.
Piglet froze. Her voice. Her majestic voice — teetering at the edge of charismatic and intimidating. Even diners at the table nearby stopped talking and leaned in to listen. Oh, sure. Who wouldn't notice a lone diner who charges in just after opening time, orders without looking at the menu, and finishes in less than 20 minutes a meal that's big enough for 3 people? But where is she going with this?
"I like you," she declared. Ordering a lot of food usually endears you to a chef—I can see that. Her tone was short, though, and her face didn't display even half a smile, so I didn't know what to make of that. But it didn't matter, because the heavenly hosts suddenly erupted into cheers and the cherubim gave each other high-fives for, behold — "Whatever you want, ask."
Piglet didn't even care to mentally go over what accidental, involuntary, irreproducible things she might have done to be found endearing. No. Piglet wisely shut the heck up to eliminate any chances of the chef's opinion swaying the other way by the awkward, dumb things Piglet's prone to saying. After a moment of joyous silence, Piglet decided if there was a time to push her luck, this was it. She then proceeded to ask Auntie Daeng for everything.
*******************
And that's how I found myself in the sanctum sanctorum of Krua Apsorn, one of my top five favorites among the old-fashioned, traditional, unpretentious, home-style, all-around Thai restaurants in the city of Bangkok. That's also how I found out what a sweet person Auntie Daeng really is. Both she and Krua Apsorn's General Manager, Sirichai Pinniam (a cook in his own right one of whose contributions to the restaurant's menu is a bestseller, southern sour curry of lotus shoots แกงเหลืองไหลบัว) were there to give me a tour and a cooking demo.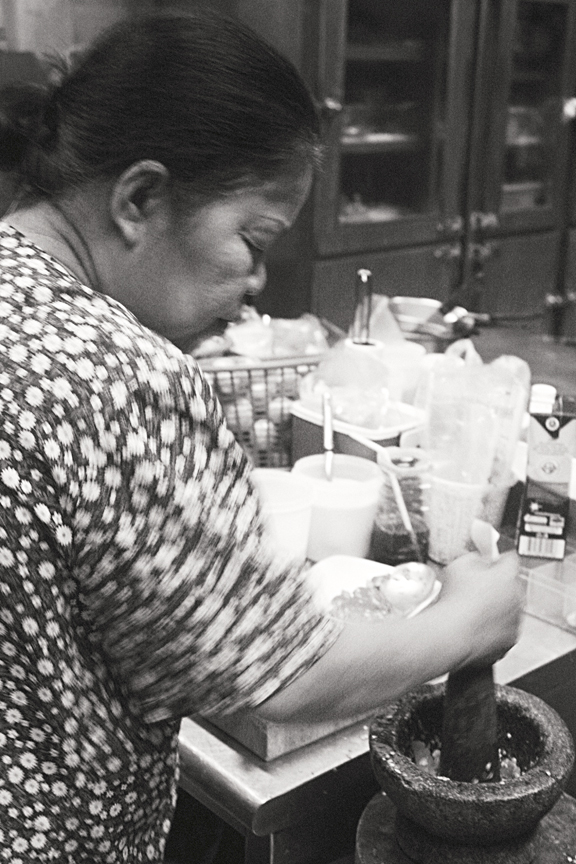 One thing I learned right away is how a restaurant like this prepares its curry starters. At all times, there are gigantic pans in which the mixture of coconut cream and prepared curry paste bubbles away. Once the raw, harsh taste of the fresh herbs in the paste cooks out and the mixture becomes fragrant and 'splits' (I've covered this 'split' or 'crack' thing in my easy Thai green curry post), it becomes a starter for every order of curry that comes in. To make one portion of, say, red curry, the cook heats up some of the starter in a pot, adds the fresh ingredients to it, cooks the whole thing through, and plates it. To ensure freshness, they make just enough curry pastes and starters to use in one day. The next day, the whole process starts all over again.
I took this opportunity to ask Auntie Daeng to imagine herself cooking in the United States where fresh tropical ingredients can be hard to come by. Actually, I presented to her a hypothetical situation: Imagine yourself opening a branch of Krua Apsorn in the US with the exact same menu – can you pull it off?
She responded with an oooh-that's-a-toughie wince. It would be different, said Auntie Daeng. But she was sure she'd figure out ways to doctor up commercial curry pastes with whatever fresh herbs and spices she could find, she said while giving kudos to my readers and Thai food enthusiasts worldwide who have learned to get resourceful in working around these limitations.
Well, that's got to be comforting to victims of the curry guilt-mongers.
What about canned coconut milk that has gone down in the quality department these past few years? The stuff they've added to it to make it thick and viscous prevents the cream from separating – how would you deal with that? I'd fry the paste in oil and add the coconut milk in later, said Auntie Daeng. So, readers, now you know.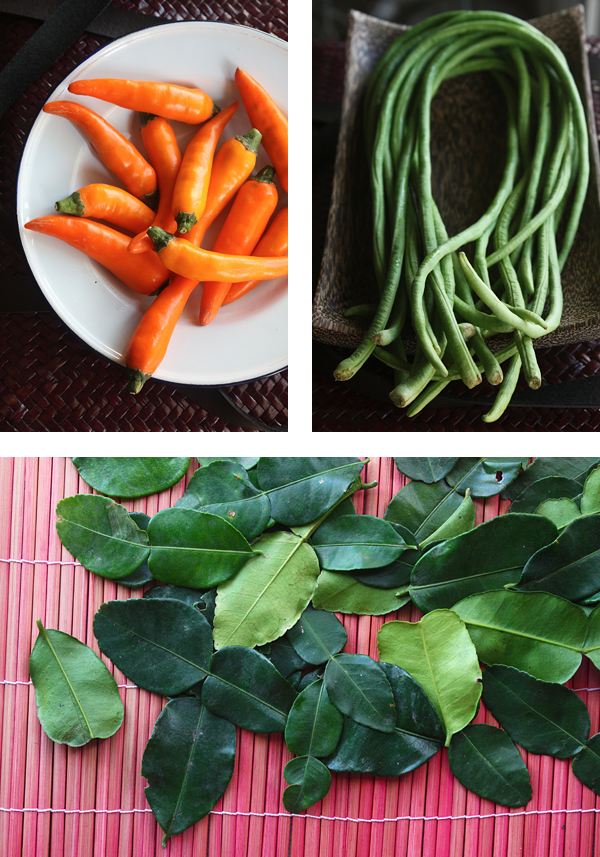 Auntie Daeng's career started at the Irrigation Department where the wives of the department officials voted for her to represent them in preparing a meal for the late Princess Mother on the occasion of her visit. Having impressed the princess with her cooking skills, Auntie Daeng began cooking private meals for both the Princess Mother and the king's late sister, Princess Galyani Vadhana both of whom took her under their wings, providing her with constructive critiques and guidance as she learned to tweak her already solid cooking to be more consistent with the way of the palace.
The menu offerings at Krua Apsorn are the culminations of those years during which Auntie Daeng cooked for the royals.
The royal seal of approval is definitely a huge honor for Krua Apsorn. However, I don't evaluate a restaurant based on its history or who else likes it; I can only judge it according to its performance in the present and what I think of it. In the case of Krua Apsorn, I think the hype is justified. I like this restaurant, because it makes good food. Period.
But enough of that. We've got some cooking to do: one of Krua Apsorn's most famous dishes, jumbo lump crabmeat stir-fry with Thai "yellow" (orange, actually) chilies (เนื้อปูผัดพริกเหลือง). Yes, Auntie Daeng has revealed her recipe, the one used at all four branches of Krua Apsorn, to all of you.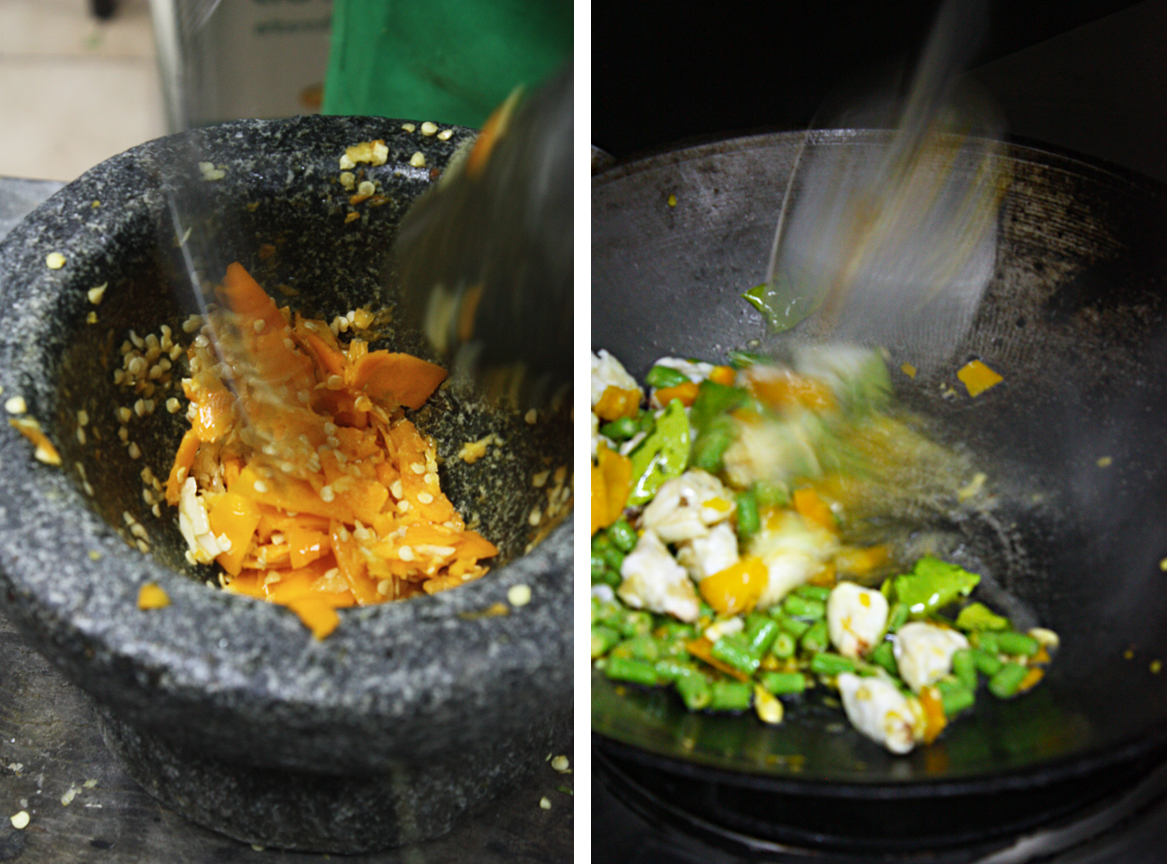 "One of the most important things about Thai cooking is knowing your ingredients," says Auntie Daeng. This is true of any cuisine, however. "You need to understand what each ingredient has to offer." That understanding helps you determine how to take advantage of its properties, she said.
To sum up what Auntie Daeng was saying, let me use my own analogy: As a cook, you take on the role of a good manager who not only knows how to assign tasks to your team members according to their skills, but possesses discernment about who works well with whom and in what circumstances.
For example, let's look at the main ingredients in this dish: jumbo lump crabmeat, yard-long beans, Thai yellow chilies, and kaffir lime leaves.
The crabmeat is tender, sweet, delicate protein which, though delicious, does not impart much savoriness to the sauce, because 1. it's already cooked and 2. being delicate, it can't hang out in the wok longer than just enough to be heated through. So we need some help: chicken stock. What about the chilies and the kaffir lime leaves? Their job is to perfume the dish. Chopping up the chilies is not going to do for we want that juice — that essential oil which is best coaxed out through the chilies being pounded in a mortar. So that's what we do. The kaffir lime leaves get hand-torn and bruised just enough to get them to release the fragrant essential oil. Why not make a chiffonade out of them? That would be too overpowering for the delicate crabmeat. And, yes, add both to the wok early to get the fragrance going. Once the crabmeat goes in, it's immediately perfumed (this is important for crabmeat, as stated above, can't stay in the wok too long). Lastly, yard-long beans. We like them for the crunch factor. What does that mean? It means we cook them quickly — just enough to get them tender-crisp. When the dish is plated, we want them to still remain crisp and retain their bright green color.
The point? Know your ingredients. Then you know why this dish is made the way it is. Eventually, you, too, can devise Thai dishes just like Auntie Daeng has done for her restaurant. In one fell swoop, the chef is both giving us a fish and teaching us how to fish.
For the recipe, please proceed to the next page (link at bottom).
Krua Apsorn
Samsen Road Branch
0-2241-8528, 0-2668-8788
10:30-20:00, closed Sundays
Din So Road Branch
0-2685-4531, 080-5500310
10:30-8:00, closed Sundays
Sanam Bin Nam Branch
0-2967-1733, 081-6851386
10:30-9:00, closed Mondays
Vimanmek Palace Branch
087-0155101, 086-3301996
10:30-4:00, closed Mondays