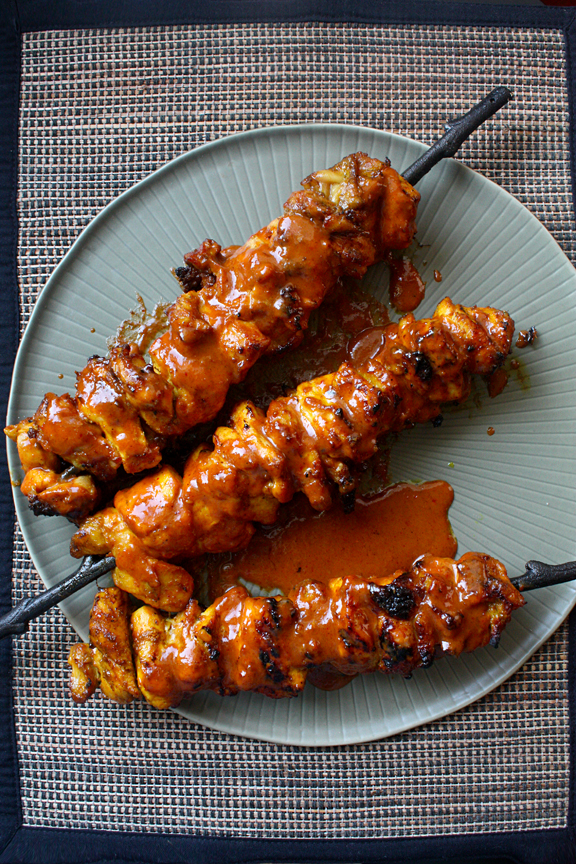 Several emails have come in since I made a remark about how ubiquitous and prominent grilled chicken is in Thailand and how, quite quizzically, the sauce that is made to go with it – its sidekick, if you will – has somehow become more well-known internationally than the grilled chicken itself. Quite a few have expressed agreement; they have noticed the same thing; they want to know why. And all I can offer is the only explanation that makes the most sense to me: 1. Thai grilled chicken is not recognized internationally because most Thai restaurants overseas, the de facto ambassadors of Thai cuisine, do not serve it [*], and 2. due to its versatility, Thai sweet chili sauce (aka the dipping sauce for chicken) is used extensively in several chicken- and non-chicken-related ways.
Good thing it's easy to make your own Thai-style grilled chicken at home.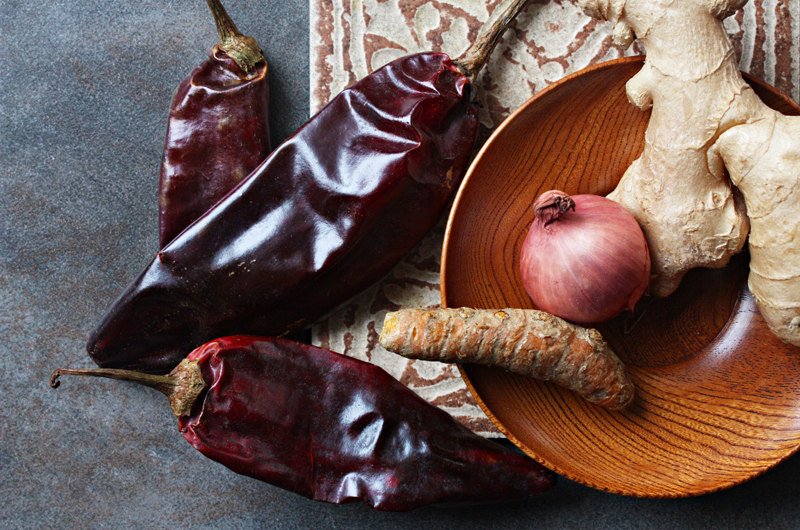 Some of the paste ingredients: (L to R) dried red peppers, turmeric, shallot, ginger
Here's another gem to add to your repertoire of Thai grilled chicken: curry-basted grilled chicken made according to the tradition of the predominantly Muslim part of southern Thailand. If you have never heard of or eaten this dish, know that this type of grilled chicken is somewhat foreign to a lot of non-southern Thais as well. Compared to the more prominent northeastern-style grilled chicken, this curry-basted grilled chicken is much harder to find in Bangkok and elsewhere outside the south.
What makes this southern grilled chicken special is the curry sauce that is used as both the marinade and the basting sauce. The marinated chicken is either threaded onto bamboo skewers or secured with partially-split bamboo sticks and grilled. In the process of grilling, the chicken is dipped into a sweet-sour curry sauce — 3 times, as they say — so that the flavor of the sauce is grilled into it. Some of the curry sauce is often reserved to drizzle over or brush on the finished dish before serving.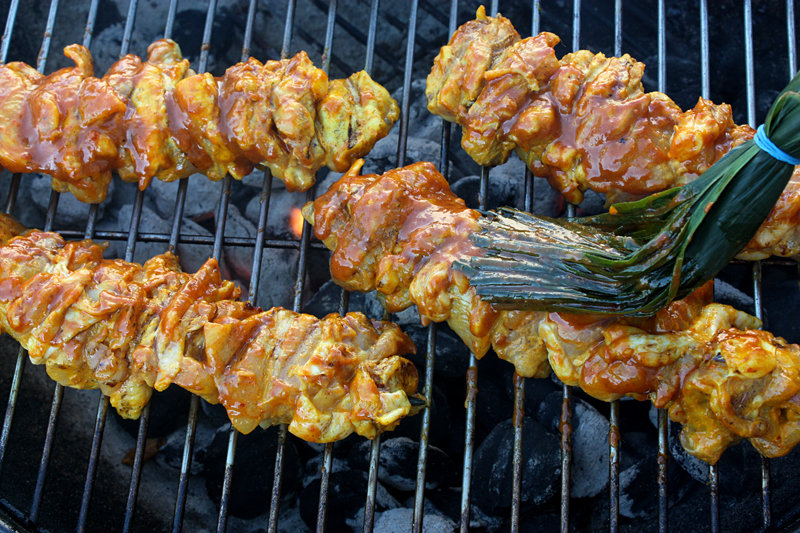 However, this whole dip-and-grill thing works best when you make large amounts of grilled chicken and enough curry sauce to fill a deep pot in which to dip your skewered chicken which is what the vendors do. At home, it's far more practical to brush the sauce onto the chicken as it's grilled (if there is indeed something mystically sacred or inviolable about dipping the chicken in the sauce 3 times, its effects are lost on me).
Also, I think chicken thigh meat is the best. It's up to you whether to leave the skin on or not. I like the taste of grilled chicken skin, so I keep the skin on. I cut my boneless chicken thighs into 2-inch cubes, because I like to use my cast-iron skewers which transfer heat very well to the center of the meat. But if you use regular bamboo skewers, I would cut the meat into one-inch cubes (and soak my bamboo skewers for about an hour as well). Regardless of the size and type of your skewers, the chicken pieces should be squeezed tightly together as explained and illustrated in my post on Thai grilled pork on skewers.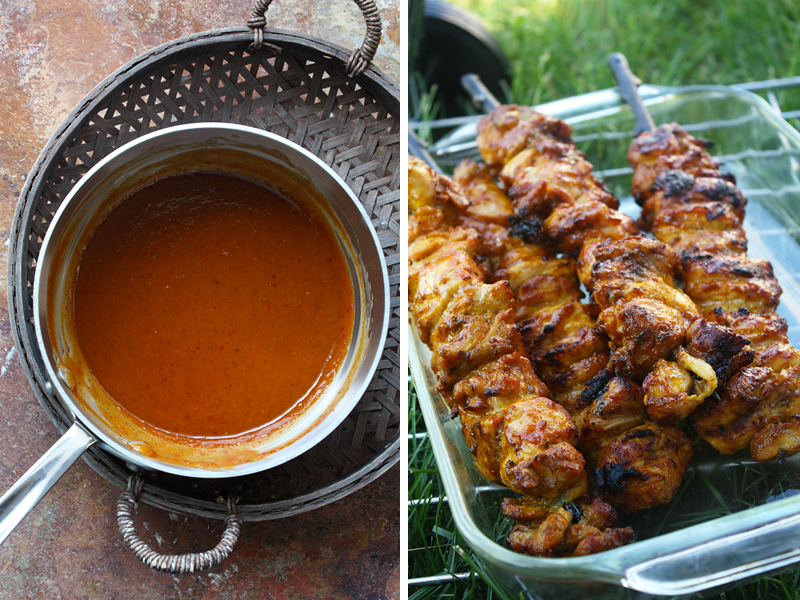 For the curry paste, it's best if you can make your own. Like many dishes that come out of the Muslim communities, this curry sauce is influenced by South Asian cuisine (notice the ginger; you don't see that in red or green curry pastes) and calls for ingredients that are fairly easy to find. The only thing which you may have a hard time finding is fresh turmeric, but the good news is that ground turmeric can be used in its place without any perceptible difference.
This grilled chicken is delicious. It may look spicy, but it's only mildly so (traditionally, it's not supposed to be hot). If you like chicken satay with peanut sauce, you will like this dish. The sauce doesn't contain peanuts, but there's something about the way it's seasoned that will vaguely remind you of Thai-style peanut sauce. Try it and let me know if you agree.
As opposed to northeastern-style grilled chicken which goes spectacularly with steamed sticky rice, southern-style curry-basted grilled chicken (or anything from the south, for that matter) is usually not served with sticky rice. Plain jasmine rice is a better choice. Better yet: coconut rice.
______________________________
[*] Not owning a restaurant, I won't pretend to know why that is the case. However, with grilled chicken requiring not only a special expertise and special equipment but also special attention to the cooking process and holding temperature, I can see how costly the set-up and impractical the entire process must be. I can see how it's easier to just deep-fry the chicken instead of grilling it when an order comes in. I can see how it's safer to just focus on the tried-and-true canon of Thai restaurant menu items many of which already require a special expertise all their own. But these are just hypotheses based on imagination as opposed to any first-hand experience.
______________________________
PRODUCTS THAT HELP YOU CREATE THIS RECIPE
Thai Grilled Chicken: Southern Curry-Basted Grilled Chicken (ไก่ย่างกอและ)
Ingredients
7 large dried red long peppers (guajillo)
2-inch piece of fresh ginger, peeled
4 large cloves garlic, peeled
One teaspoon ground coriander
One teaspoon ground cinnamon
2-inch piece fresh turmeric, peeled, or one tablespoon ground turmeric
1 shallot, weighing one ounce, peeled and sliced
2.5 pounds boneless chicken thighs cut into 2-inch or one-inch cubes (see post for explanation)
2½ cups coconut milk, divided
2 teaspoons salt, divided
⅔ cup, packed, grated palm sugar or light brown sugar
2 tablespoons coconut or vegetable oil
2 tablespoons prepared tamarind paste
Instructions
Stem, deseed, and cut the peppers into quarters crosswise. Soak the peppers in warm water for 30 minutes. Drain off the water and squeeze the peppers dry.
Put the peppers, ginger, garlic, ground coriander, cinnamon, turmeric, and shallot in a granite mortar or mini-chopper; grind until smooth.
Put the chicken in a mixing bowl along with half of the prepared paste, ½ cup of the coconut milk, and one teaspoon salt; mix well, cover, and chill 30 minutes up to overnight.
Make the basting liquid. Put the remaining curry paste in a one-quart pot along with the coconut or vegetable oil; set it over medium heat and fry until the paste become fragrant, about 2 minutes. Stir in the remaining 2 cups coconut milk, the remaining one teaspoon salt, sugar, and tamarind. Bring the sauce to a gentle boil and let it simmer about 3 minutes; remove from heat. Split the sauce into two equal portions. Use one portion to baste the chicken as it's grilled; reserve the other portion to drizzle over the chicken once it's done.
Thread the chicken onto the skewers (see post for instructions). Grill the chicken over moderate heat, basting it with one portion of the sauce. When the chicken is done, drizzle the reserved sauce over it and serve immediately.