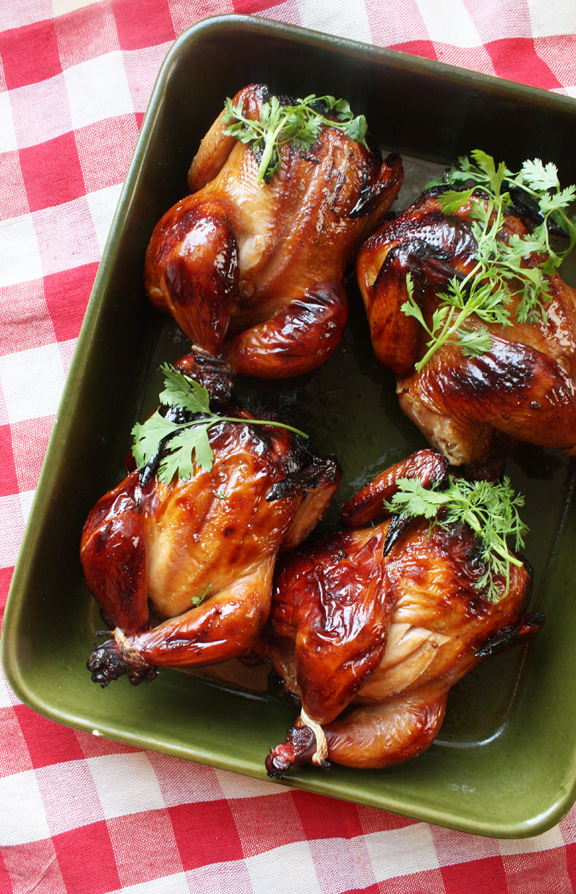 About two years ago, a reader who was about to move back to his native Australia, wrote me lamenting a life without the rotisserie chicken which he had enjoyed five times a week for the past six years of living in Bangkok. I can commiserate as I, too, am an unabashed fan of this famous Bangkok-based franchise (whose name in English rhymes with knife-scar chicken). So I've been trying to clone some of its flagship products for the past two years. So far, I've had success with a couple of those products. But there's one that has still proven elusive. And though I think I'm getting warmer, my path so far has been dotted with numerous failures.
But here's the thing about this project: even the failures taste good. One failure in particular — this one — has become a favorite of mine. I hope you'll give it a try.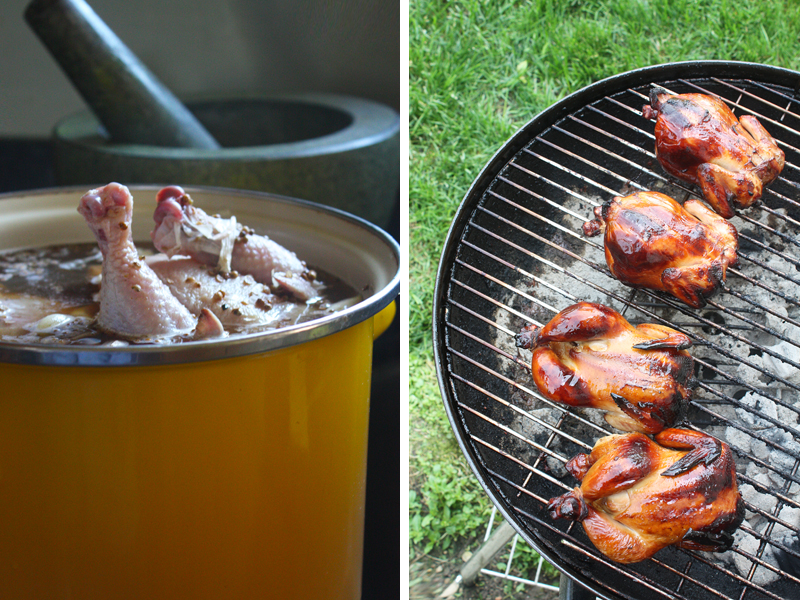 Notes:
1. I forced this synchronized swimmer pose on one of the hens just so you can see in the photo above that there are some birds in the pot, but the hens are supposed to be fully submerged in the brine.
2. The best brining vessel, in my opinion, is a smallish stockpot which is narrow and tall, ideal for keeping things submerged in the least amount of liquid necessary. This 8-quart enamel-on-steel stockpot is perfect for brining four Cornish game hens. If you use a container that is more shallow, wider, or larger, you may have to adjust the amount of the brine accordingly.
3. Due to the sugar content of the brine, the wing tips tend to darken and/or burn before the entire bird is cooked through. I don't eat those parts anyway, so I just snap them off and discard them before serving. But if this bothers you, you can wrap the wing tips with aluminum foil before cooking the hens. Be warned that you will end up with another problem (?): tan hens with pale wing tips. Think white tanning goggle marks around the eyes on a tan face. Or you can just chop off the wing tips before brining or cooking the birds.
4. I use local Thai rum in the brine. Feel free to use any type of rum you have. Brandy or tequila works well too. If you don't want to use any alcohol, omit the rum and make up for the loss of liquid in the recipe with more plain water.
5. I very much prefer apple wood chips for this recipe, because they're mild. (The ideal material is actually not wood chips at all. I'll talk about that in a future post.) For this recipe, you'll need about 2 cups of wood chips.
_________________________________________
This post is the fifth part of the ongoing
Thai Grilled Chicken Series
.
Part One –
What? The Chicken Sauce Is More Famous Than the Chicken?
: Introduction
Part Two –
The Basics of Thai Grilled Chicken
Part Three –
Mom's Lemongrass Grilled Chicken
Part Four –
Southern Thai Sweet-and-Sour Curry-Basted Grilled Chicken
Thai Grilled Chicken: Smoked Soy-Honey-Rum Cornish Game Hens
Ingredients
2 quarts water
1 cup rum
1 tablespoon whole coriander seeds, cracked
1 tablespoon white or black peppercorns, cracked
1½ cups honey
10 large cloves garlic, smashed
¼ cup table salt
½ cup soy sauce
4 1.25-lb Cornish game hens
Instructions
Put all of the ingredients, except the hens, in an 8-quart stockpot; stir to dissolve the salt and the honey.
Put the Cornish game hens in the brine making sure the birds are fully submerged.
Refrigerate 12-24 hours.
Remove the birds from the brine and pat them dry with paper towel. Discard the brine.
Tie the legs of each bird together. Smoke them using your favorite method and equipment, following the manufacturer's instructions. See post for tips.