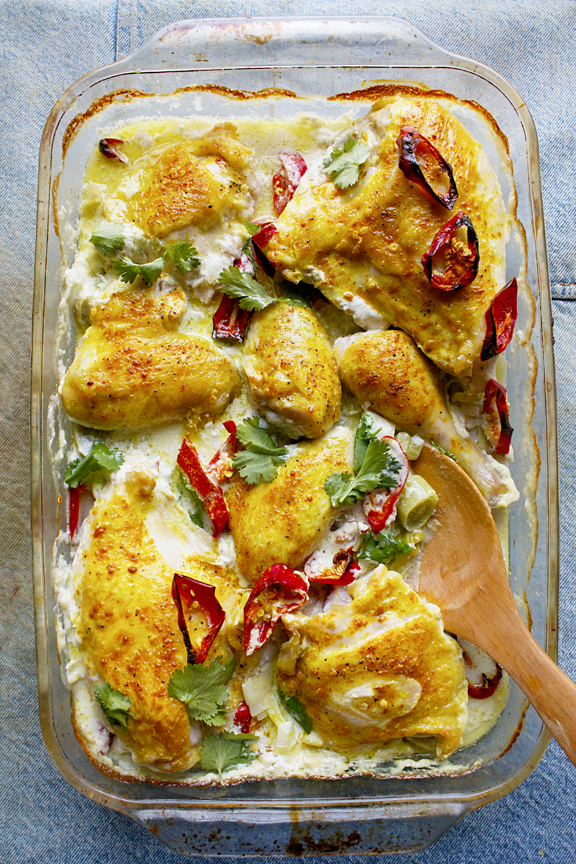 The house I grew up in was only a short distance away from Kasetsart University, one of Thailand's premier colleges known for forestry, agriculture, and food science. And we never missed the school's annual fair, a large outdoor exhibition/farmers' market/food fair where you'd get to see a wide range of produce and plants and sample delicious things.
My dad, who grew orchids as a hobby, would look forward to finding new types of orchid to add to his greenhouse; my mom, who was deeply fascinated by cold-climate crops (especially beetroots), would look forward to buying and figuring out a way to cook unfamiliar "Western" produce; I, who loved food on sticks, would look forward to walking around the fairground with grilled meatballs or grilled pork on bamboo skewers in my little hands.
Kaset Fair, as the event is called, was a big deal. At least to us.
That was also where my mother and I first discovered a vegetable called leek many years ago. Prior to that, we'd never seen it anywhere. My first reaction was that it must have been an oversized green onion. This was, of course, incorrect, but it was based on the fact that most Western vegetables I'd seen seemed to always be bigger than the Thai-grown cultivars. To understand what went through my mind when I first saw leek, imagine yourself as someone who has lived all their life in a(n imaginary) place where the only member of the Brassicaceae family they've ever seen is Brussels sprouts. Now, imagine being face to face for the first time with a big head of green cabbage. Part of me felt like I'd unknowingly been living in a miniature world.*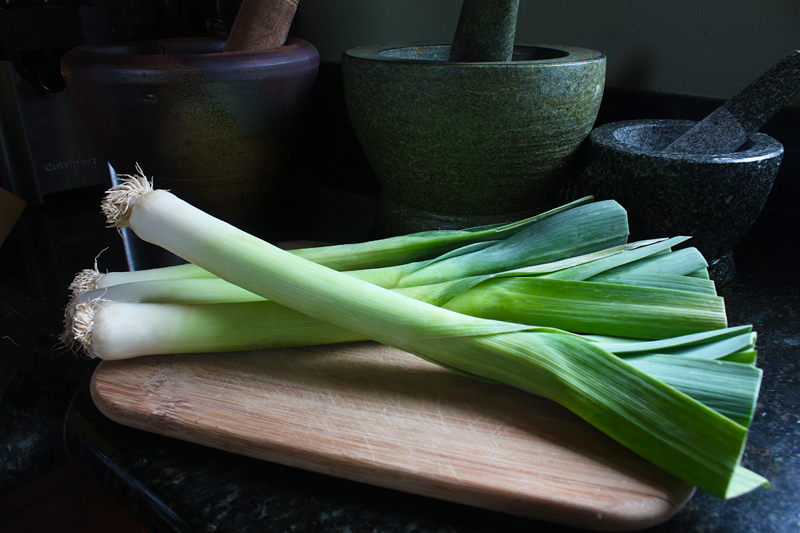 Mom bought a big bunch of leek. I asked her what she planned to do with these colossal green onions; she said she had no clue.
But with Mom being Mom, she figured it out. We had just purchased a big countertop oven** so Mom thought she'd cook something "the American way." And by that she meant cooking large chunks of meat in a casserole dish in an oven as we'd seen in many recipes in the American cookbooks we'd bought from the various yard sales in Bangkok.
She sliced up some of the leek and baked it with cut-up chicken and coconut milk. We ended up with a delicious dinner of tender chicken in a creamy and naturally sweet sauce that we spooned over rice and enjoyed with extra nam pla prik on the side.*** The only thing Mom didn't like was that the chicken looked too pale. So she made the same dish again with the remaining leek, adding some ground turmeric to the coconut sauce as well as on top of the chicken for both color and flavor.
At Kaset Fair the following year, my dad, who grew orchids as a hobby, would look for leek first before thinking about getting new types of orchid to add to his greenhouse; my mom, who was deeply fascinated by cold-climate crops, would scan the market for leek before she would even start looking for any other unfamiliar "Western" produce; I, who loved food on sticks, would ignore grilled meatballs or grilled pork on bamboo skewers until I could find leek.
__________________________
*Having grown up with Chinese celery (great in stir-fries, soups, and salad; HORRIBLE choice for ants on a log) and Thai long green eggplant, that was how I felt when I first met Pascal celery and purple eggplant too.
**An oven wasn't a common kitchen appliance in Thailand when I was a kid. Even now it's still not nearly as common as it is in North America and Europe.
***This is, in fact, the dish that has inspired my baked salmon in lime-coconut cream sauce.
__________________________
Baked Chicken and Leek in Turmeric-Coconut Sauce
Ingredients
1 3- to 3½ chicken with the backbone trimmed off and cut into 2 bone-in breasts, 2 thighs, 2 drumsticks, and 2 wings
1½ tablespoons fish sauce
3 cups, packed, ½-inch slices leek (from about 4 medium, only the white and light-green parts)
1½ cup coconut milk
2 teaspoons ground turmeric or curry powder
3-4 red Thai long chilies, jalapeño, fresno, or Serrano peppers, sliced crosswise on a slight diagonal about ¼ inch thick
¼ cup cilantro leaves
Instructions
Prick the chicken all over with a fork and rub 1 tablespoon of the fish sauce into the flesh. Cover and chill 1-2 hours.
Put a rack on the lower third of the oven. Preheat the oven to 375°F.
Scatter the leek slices all over the bottom of a 9x13-inch baking pan.
Stir together the coconut milk, the remaining ½ tablespoon of the fish sauce, and 1 teaspoon of the turmeric; pour the mixture all over the leek.
Arrange the chicken, skin side up, on top (if there's any liquid at the bottom of the bowl, pour that into the pan as well). Sprinkle the remaining 1 teaspoon of the turmeric on the chicken skin. Scatter the pepper slices on top. (Pouring the coconut sauce over the chicken may seem more logical, but I don't recommend that unless you use freshly extracted coconut milk. Canned coconut milk, even a good brand, would form an unsightly white paste on top of the chicken which is the same phenomenon I've explained on page 161 of Simple Thai Food.)
Bake, uncovered, until the chicken is done, the leek has become meltingly tender, and the coconut sauce has reduced somewhat and browned slightly around the edges; this should take around 40-45 minutes.
Remove the pan from the oven. Tent the chicken pan with foil or large kitchen towel and leave it for 15 minutes. Scatter the cilantro on top. Serve warm with jasmine rice.