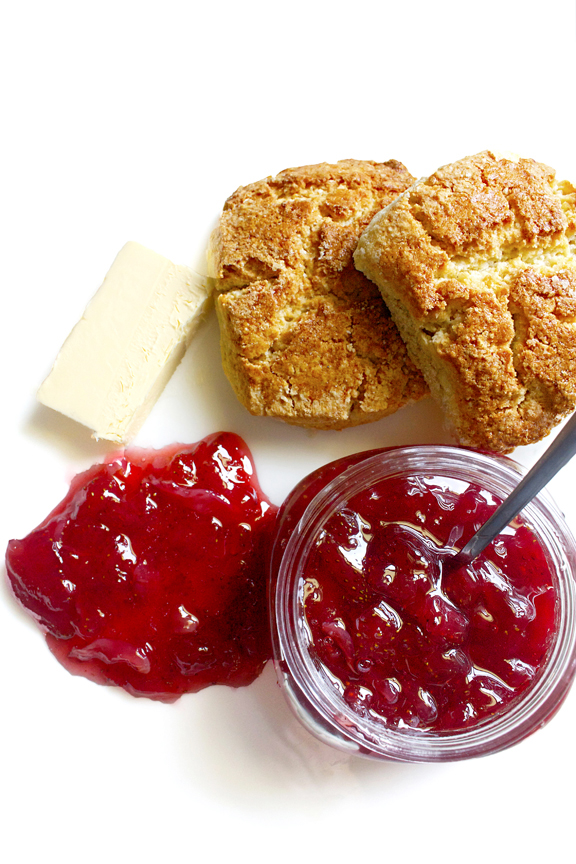 When I was a kid growing up in Bangkok, fresh strawberries were few and far between. Imported strawberries could be found in some high-end supermarkets, but more often than not, they looked like they were about to join the choir invisible. The freshest strawberries we could find would come from farmers who grew them in the colder northern region. If our family timed our trip to Chiang Mai right, we would see these farmers on both sides of the road with shoe boxes full of just-picked strawberries—a joyous sight indeed. And though we knew from experience that as fresh as those strawberries looked, they would always be more tart than sweet, we loaded up the trunk with as many of them as we possibly could anyway. Buy first, figure out what to do with them later was our family's motto when it comes to rare food items. Even now when the lack of fresh, sweet strawberries is no longer an issue in my life, I still have the tendency to overbuy them.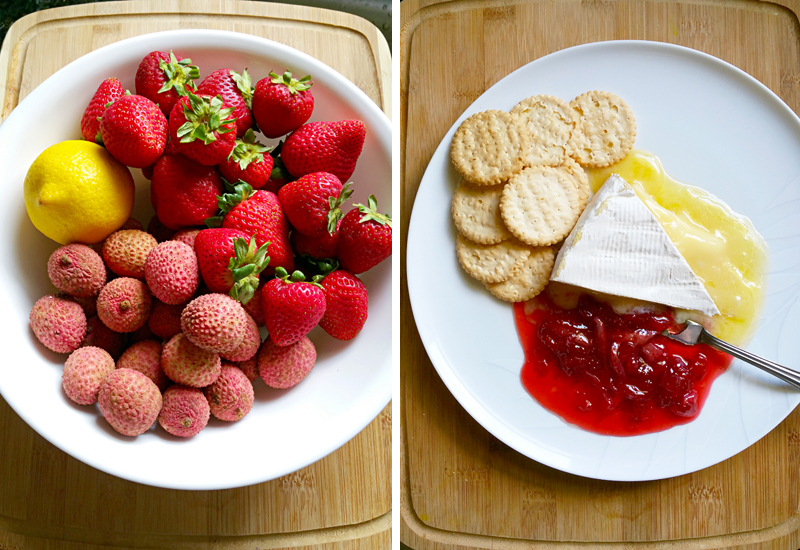 When I first moved to the States, fresh lychees were almost nonexistent. Once in a while, I'd see some at the Asian stores in town. Invariably, they'd look like they were ex-lychees, ready to push up daisies. The skins would look brown, and when I cracked one open, it would be dripping with juices—sour, fermented juices, one-step-away away from becoming lychee wine. When it comes to fruits, there's good juicy, and there's bad juicy. That was very bad juicy.
Thankfully, things have changed. As I'm typing this, my neighborhood Jewel is offering whole jackfruits and Ataulfo mangoes. Right next to strawberries was also something I'd never thought I'd see at a mainstream supermarket in the US: a large bushel of beautiful, taut, rosy pink lychees. My feeling when I saw those things the other day wasn't much different from my feeling from years ago when I saw fresh blackberries and blueberries at supermarkets in Bangkok for the first time.
This jam represents how my two worlds have come together. Also, strawberries and lychees go very well together.
Strawberry-Lychee Jam
Serves:
About 3 half-pint jars
Ingredients
1 pound strawberries, hulled and cut lengthwise into ½-inch wedges
12 ounces lychee, peeled, pitted, and torn lengthwise into ½-inch slices
3 cups sugar
1 cup water
3 tablespoons lemon juice
1 tablespoon grated lemon zest
1 tablespoon Grand Marnier or Cointreau, or 2 teaspoons vanilla extract
2 tablespoons pectin powder, optional
Instructions
Combine the strawberries, lychee, and sugar in a 14-inch sauté pan or 4-quart saucepan; leave it alone for 1 hour.
Stir in the water. Put the pan over medium-high heat and bring to a boil, stirring often. Boil over medium-high, stirring often, until the mixture registers 200°F (94°C).
Stir in the lemon juice, zest, and liqueur. Continue to cook until the mixture registers 220°F (104°C). The whole process should take about 45-60 minutes depending on the dimensions of your vessel (the wider and more shallow, the shorter the time). Neither strawberries nor lychees have a lot of pectin, so this jam will be somewhat loose—which is just the way I like it. To make the jam more congealed, stir in the optional pectin powder at this point and boil it, stirring constantly, for another minute.
Bottle the jam while hot and process it using the hot water canning method for longer storage at room temperature (you'll need 3 half-pint jars). Alternatively, cool it down then store in a clean, lidded container. If you use a clean spoon every time, the jam should keep about a month in the fridge.