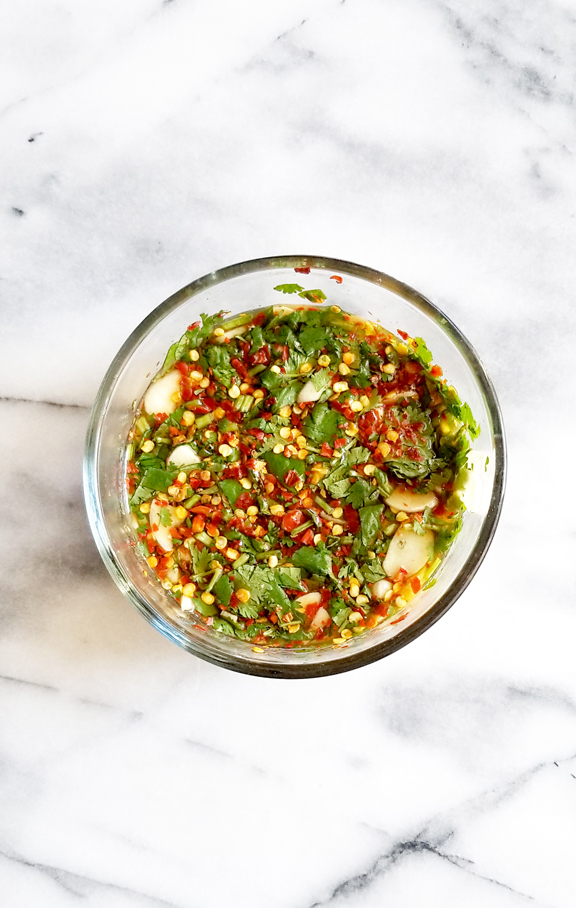 Here's a simple dipping sauce that I made the other day just as I've done hundreds of times in my life. It's very easy to make; it doesn't require special ingredients; it is extremely versatile.
How versatile? Let me count the ways.
1. Can't think of what to make for lunch? Make a small pot of rice. Boil up some eggs and cut them in half. Arrange the eggs on a plate and drizzle some of this sauce over the top. Boiled-egg salad! (This works for fried eggs as well.)
2. Low on budget? Your oven is broken? No time to roast a chicken? Buy a plain, minimally seasoned rotisserie chicken from a store. Make some jasmine rice (or better—sticky rice). Any vegetables lying around in the fridge? Broccoli perhaps? Cut it up and steam it. Meanwhile, split the chicken into quarters and arrange them on a platter. Put this sauce in a small bowl and place that in the midst of the juicy chicken. Dinner's done.
3. Got your hands on some fresh seafood? This sauce goes well with anything from pan-fried salmon to steamed clams to poached shrimp to steamed crab legs to baked lobster tails.
4. Tired of a rib-eye steak or strip steak covered in a rich sauce? How about putting some of this sauce on top of your medium-rare steak, sliced thick?
5. Nothing to cook with but frozen chicken breasts? Thaw them up. Flatten the thickest parts. Pan-fry or broil them. Slice them up and drizzle this sauce on top.
6. Anything you can think of.
How to Make the Sauce
In a small bowl, stir together 1/2 cup fresh lime juice with 3 tablespoons (packed) roughly chopped cilantro leaves and set it aside for a few minutes (this step helps ensure that the color and flavor of the cilantro stays vibrant over the next several days; it's not necessary if you plan to finish the sauce in one sitting). Meanwhile slice 8 large cloves of garlic thinly crosswise. Add the garlic to the cilantro mixture along with 1/3 cup fish sauce and 1 1/2 teaspoons grated palm sugar (or 1 teaspoon brown sugar). Stir until the sugar dissolves. Stir in as much or as little dried red pepper flakes as you'd like. The sauce is done. Use it right away or store it in an airtight container in the refrigerator where it stays fresh for one week (provided that you don't dip stuff into it and use a clean spoon to get as much as you need out of the container each time).
To make it more interesting:
1. Replace the cilantro with sawtooth coriander (culantro) or a mixture of both.
2. Roast the garlic over the burner flame until reasonably charred on the outside and only slightly softened. (If you use the smaller Thai garlic with more delicate skin, there's no need to peel it. In the US, your regular supermarket garlic has thick skin; you'll need to peel it.)
3. Before using the red pepper flakes, toast them in a small skillet over low heat until they're as darkened as they can be without being burnt. (If you go this route, you probably want to keep the garlic fresh instead of roasting it as suggested in #2.)
4. Grate some fresh galangal finely—like you would fresh horseradish. Stir in about 1/2 teaspoon of it.