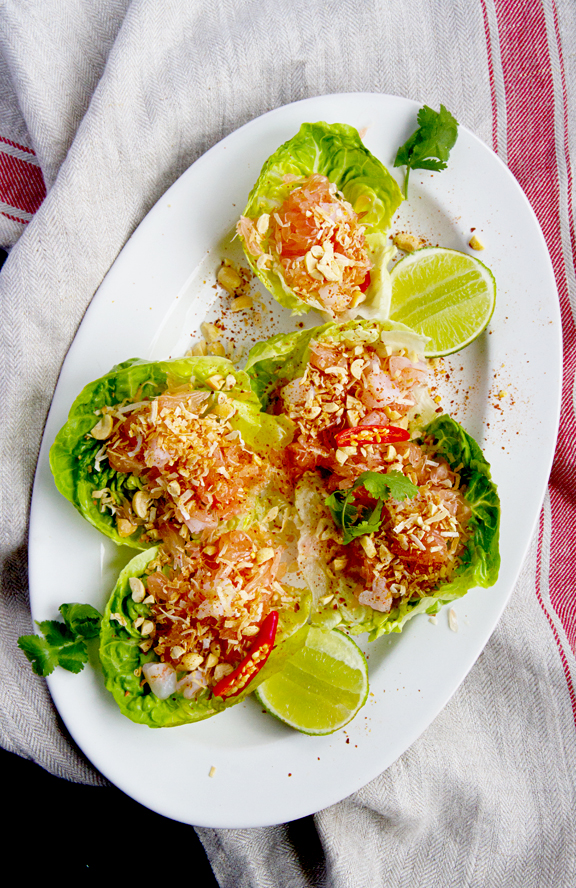 Pomelo Salad Bites, Page 46, Bangkok cookbook
About seven years ago, I published on YouTube a video that showed how to prepare a pomelo. I took it down at one point, as I was planning on replacing it with one that is of better quality. Regardless, when it first went up, a few emails came in wondering why I had to complicate something that was supposed to be so easy and if I even knew how to prepare a pomelo. I was more surprised than offended. '
Is there another way to do it?
' I remember thinking to myself. One of the people who emailed me said there was a better way to prepare pomelos that even her legally blind grandmother could do in much less time, so I asked her to please enlighten me. Her reply came with nothing but a URL—you could see an eye roll and hear an annoyed sigh—to a website that showed you how it was done, and I went, '
Ah
.'
I can't link to that web page, because it no longer exists. But it basically showed you how to prepare a pomelo the same way you suprème an orange just like how J. Kenji Lopez-Alt shows you here.
Nevertheless, I learned something that day.
What I learned, though, was not a new method of preparing a citrus fruit. That's a classic and well-known method that they teach you in culinary school. And it's certainly a useful method that people should know. I prepare my oranges and grapefruits that way too.
What I learned is that we all are, to varying extents, the product of our environment and that, also to varying extents, we've come to think of that environment as the center of the universe. (I call it "the Green Banana phenomenon" after an essay by Donald Batchelder.)
In Thailand, there's only one way to prepare pomelos for eating and for cooking—which is what I'm showing you here. Go to any place selling prepared pomelos in Thailand—on the streets and in every supermarket—and you'll see that pomelos are prepared this way. Hand a pomelo to a Thai person and asks her to prepare it for you and she'll prepare it this way. Go work in a restaurant that has pomelos on the menu either as part of a fruit plate or as a salad, and they'll train you to prepare them this way. I grew up seeing pomelos prepared no other way but this way. It had never occurred to me there was a different way to do it but this way—the center of my universe. I assume in the center of that lady's universe, slicing all citrus fruits into suprèmes or segments is also the only way.
So, yes, in that sense, you can say there are multiple ways to do something and you do whatever works best for you.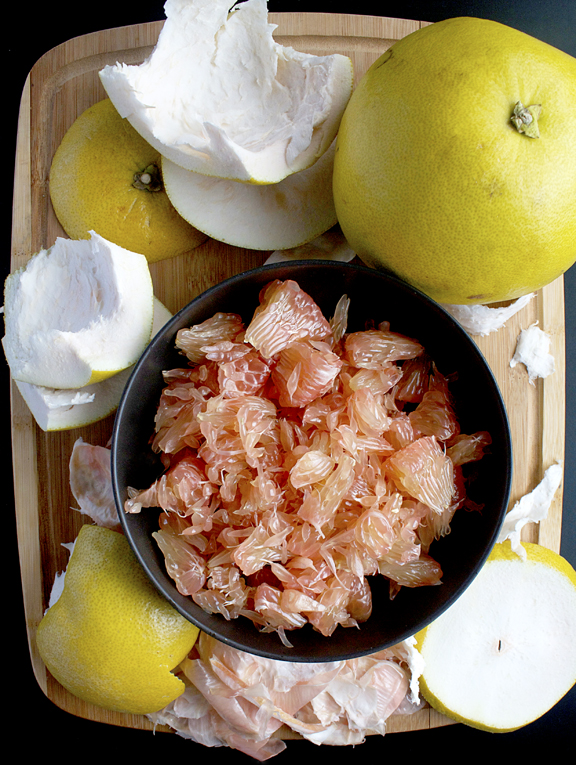 However, if you're preparing a pomelo for traditional Thai pomelo salad, things get much less subjective. In fact, I'm going to say it's imperative that you prepare a pomelo in the way I'm showing you here. And that's because, to keep the salad from being wet and watery—a characteristic that's considered bad in the context of Thai pomelo salad—you need to keep the juice sacs of the pomelo intact. This means, no, you cannot simply use a knife to slice a pomelo into segments.
With all that out of the way, let's talk a bit about pomelo.
1. Not all pomelos are the same.
This is kind of like how the different varieties of apple are good for different applications.
If you're in Thailand, any of the "white" varieties mentioned on page 45 of Bangkok book works great. That said, I haven't come across any variety of pomelo at the market in Thailand that is poorly suited for this particular task. In the US, however, you have fewer choices. In fact, I've only seen two varieties.
One is the yellow-fleshed variety (see the 4th photo from the top) that is, as I was told, imported from Taiwan. You'll see them most often at Asian markets, including mega-markets like H Mart. This variety, in my opinion, is great eaten out of hand but too soft, tender, and juicy for Thai pomelo salad. They tend to yield less volume of flesh as well (see point 2 below).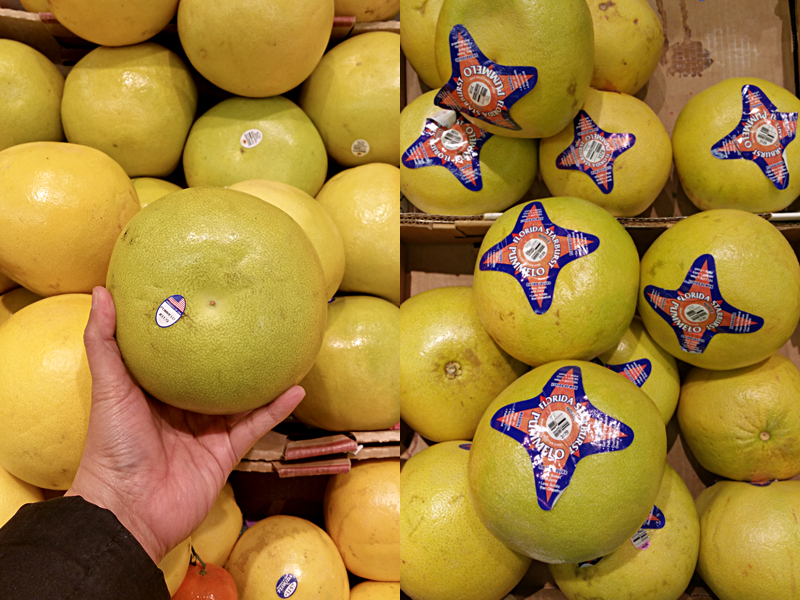 The other is the pink-fleshed variety from Florida. Oh, man, I love this. It's the closest thing to my favorite varieties in Thailand I've found to date. (Florida, you've made it possible for me to make great pomelo salad in the US. Thank you, thank you, thank you!) It's sweet and tart with no bitterness. The flesh is firm yet juicy and not too dry and not too wet—it's the Goldilocks of pomelo. At least in the Chicagoland area, you'll find this variety at any mainstream supermarket that carries pomelos. Caputo's and all of its sister stores have them.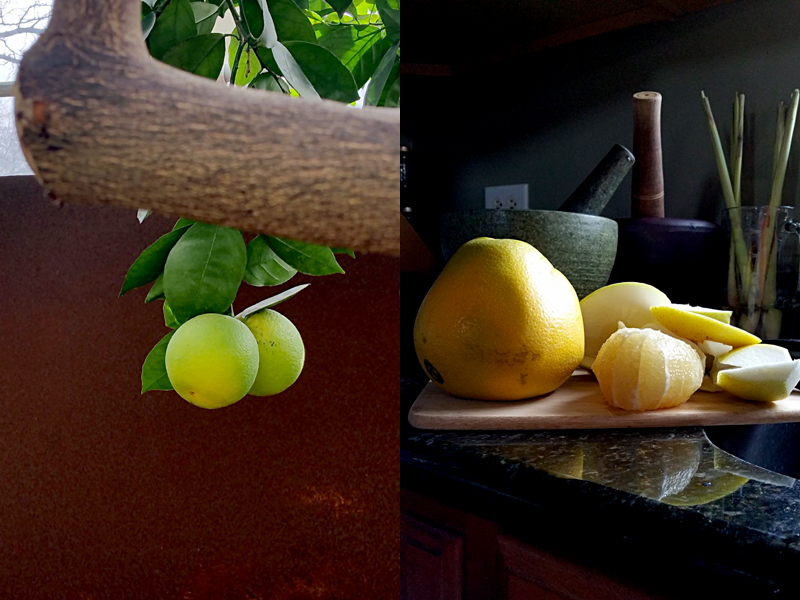 2. Always buy more pomelos than you need.
Pomelos are, for lack of a better way to describe them, the push-up bras of the fruit world. You see them hanging there and you think you know their actual, usable volume. But, no, you don't. You buy a pretty sizable pomelo—larger than a grapefruit—but you also buy a lot of cushioning, i.e. the mesocarp layer of the fruit. And you won't know how thick the mesocarp is until you peel it. Even recipes that specify the weight of each whole pomelo still won't protect you from this sad reality.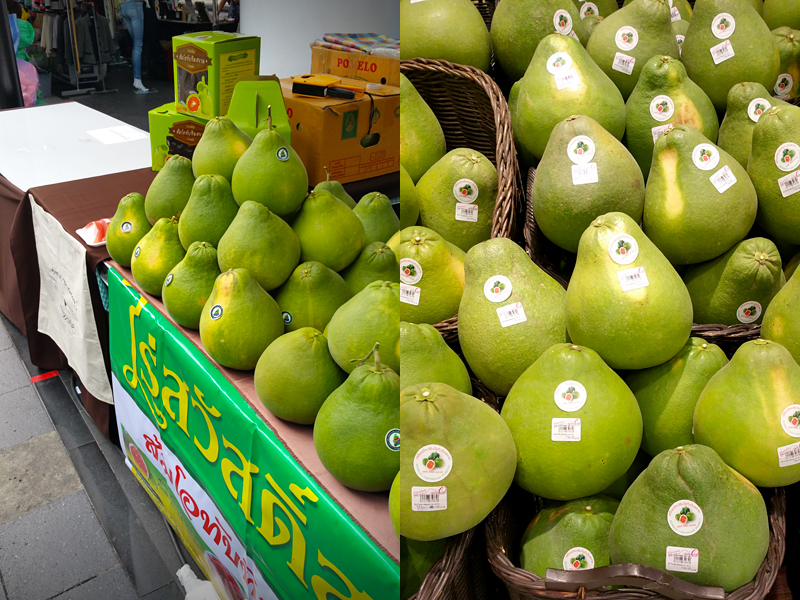 The thapthim sayam or "Siamese Ruby" (from Nakhon Si Thammarat province in southern Thailand—not available overseas), shown above, is another example. These guys have domed tops which are all mesocarp and no juice sacs. They look big on the outside (and, at US$25 each, expensive!). But once you slice that domed crown off one and strip him of his fluffy princely garment, the pomelo sits exposed on your countertop, small, blushing, and avoiding eye contact.
So, yeah, to make sure you have enough for a recipe, buy more than you think you need.
3. Age your pomelos.
This has more to do with the texture of the pomelo pulp than flavor. Since most Thai pomelo cultivars have drier, crisper juice sacs, aging isn't necessary. The pink-fleshed pomelos from Florida have slightly softer juice sacs, but they become easier to work with after you've let them sit on the counter for at least 2-3 days (assuming the pomelos your supermarket carries come looking fresh and taut on the outside as they should). That's what I suggest for the pomelo salad bites on page 46 of Bangkok, but I've been known to age my pomelos for longer than that—sometimes over a week.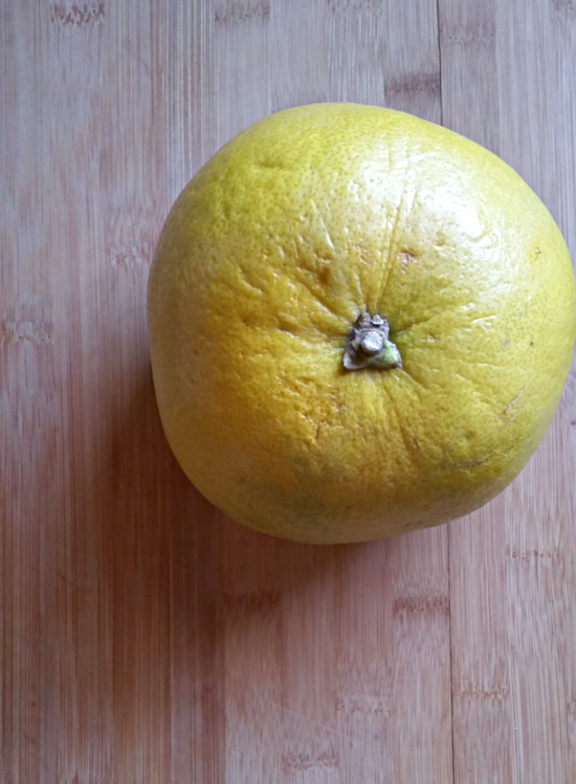 You know a pomelo has been sufficiently aged but not a day too old when its skin has just reached the point where it's wrinkly and leathery. When a pomelo is fresh, the skin will be firm, taut, and smooth—you can see the glow. And when you try to puncture it with a fingernail, it will go right in and probably cause the pomelo skin (exocarp) to release what looks like a light mist of essential oil. When it's aged, the glow is gone; the skin looks somewhat matte and becomes so leathery that if you try to puncture it with your fingernail, it will cave in but not break.
I've found that when a pomelo has reached this stage, the flesh is firmer and the white membranes covering it thinner, drier, and easier to detach from the flesh—all this with the flavor staying the same. This makes separating out the segments without breaking the juice sacs a much easier task.
*************
Now the actual preparation. (Sorry about the quality of the photos. These were all taken with my phone, often with one hand.)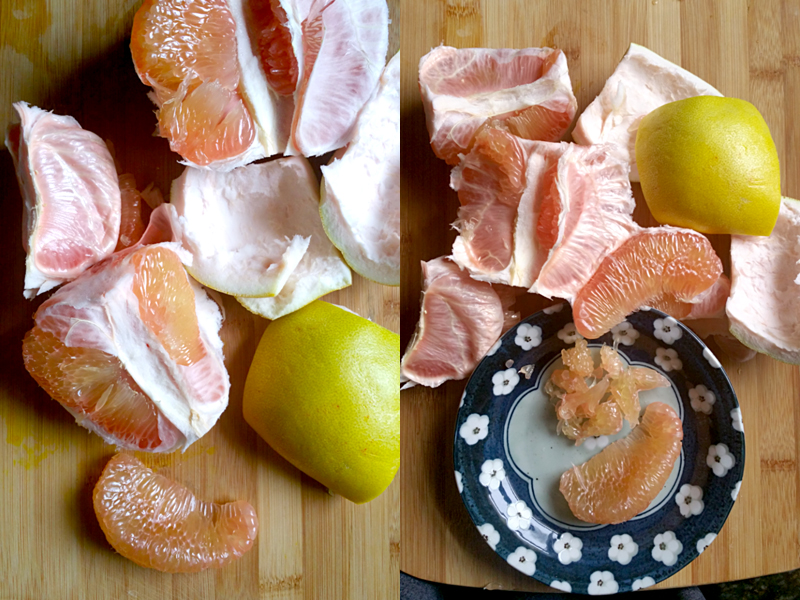 Before you begin, know your goal—and that is to release pomelo segments from the prison of white, bitter membranes and spongy cushion. And they must get out unscathed. That means the juice sacs must stay intact so that you can later break them up into smaller clusters. Your countertop should not be wet with pomelo juice after you're done. (If you've seen prepared pomelo at any supermarket in Thailand, you'll know that this is the only form it comes in: whole segments with all the white membranes removed.)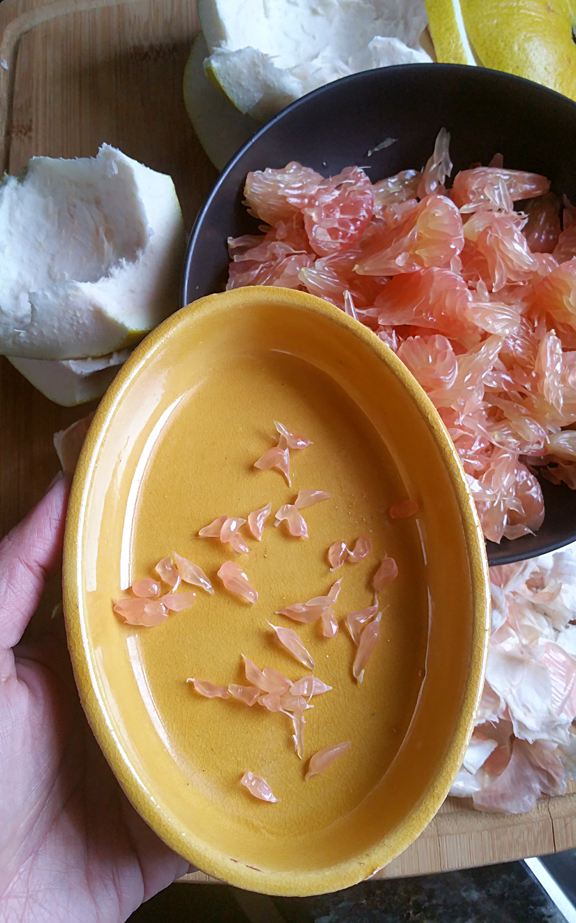 I'm showing you here what pomelo juice sacs in their whole, unbroken state look like. It doesn't mean you have to separate the segments into individual juice sacs like this; most recipes have you crumble the segments into small pieces—clusters of 5-6 juice sacs. My recipe in Bangkok book isn't fussy about this. As long as the segments are crumbled up into small pieces (of whole juice sacs), it's fine.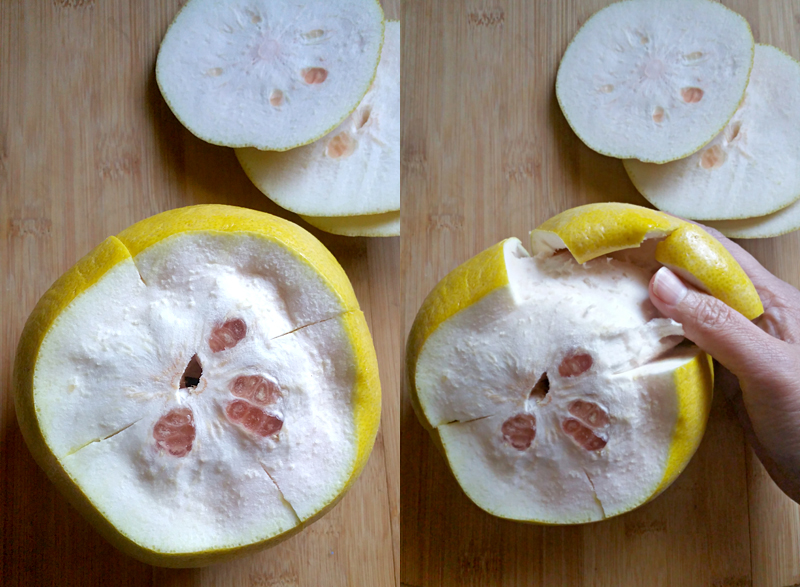 First, slice the mesocarp off the top to get to the flesh. Since there's nothing on the outside to tell you where the cushion ends and the flesh begins, keep cutting a thin slice of the mesocarp off the top of a pomelo until you get to the point where the flesh peeks through (as you can see, I had to do this three times). Ideally, you will stop short of cutting into the flesh which will break the juice sacs. In reality, though, some juice sacs will have to take one for the team. But try to keep the number of casualties to a minimum.
Now, make 4-5 longitudinal cuts about 1/2 of the way from the top, doing your best to make each cut only as deep as the thickness of the cushion since you now know how thick the mesocarp is.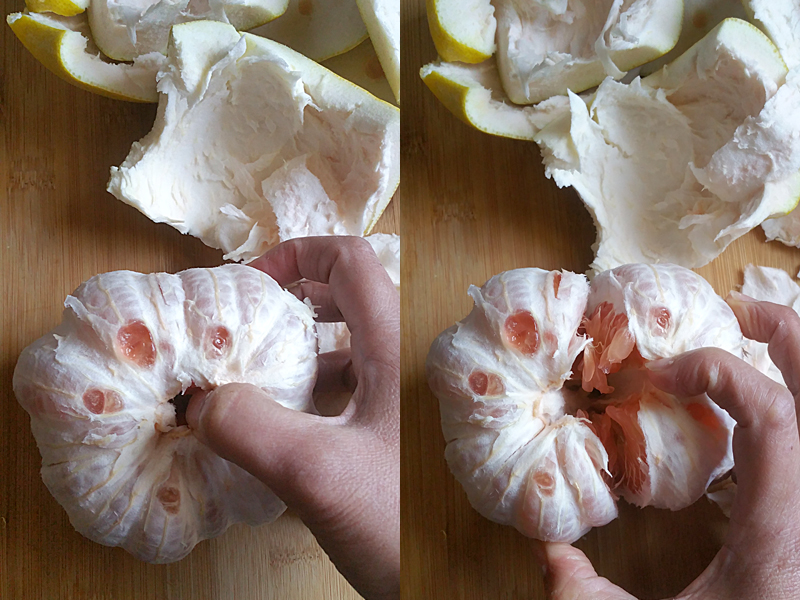 Then dig your thumb—right at the center of each "petal," about 1/2 inch into the point where the cushion touches the white membrane covering the flesh, grab it tightly, and pull that petal down. Repeat with the other petals until your pomelo is stripped down to its white gossamer gown. (Don't throw away the skin; you can confit it.)
Holding the near-naked pomelo with both hands pointed downward, dig both of your thumbs into the hollow in the center and pull the pomelo apart to separate it in half.
Now separate the fruit into segments (still covered with the white membranes), using the narrower side (the core side) of the segments as the point of separation (If you try to separate them from the wide side, you will crush the juice sacs).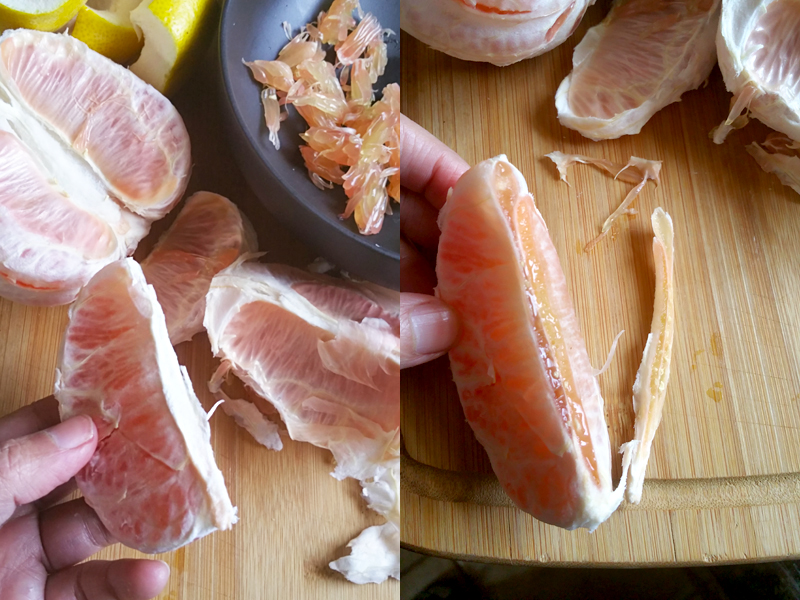 Take one segment and, with the tip of a very sharp knife or a pair of scissors, trim as little as possible off the white membrane on its core side to open the "pouch." Gently, peel off the white membranes on both sides of the segment.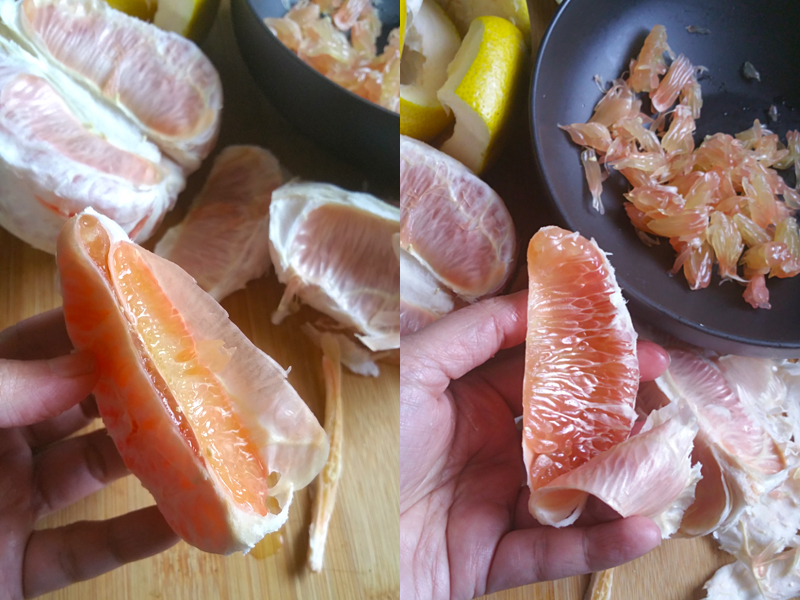 The side membranes should detach easily from the flesh; the part that's a pain in the neck to remove is the center vein that runs along the "spine" of the segment. You will have to be careful and patient.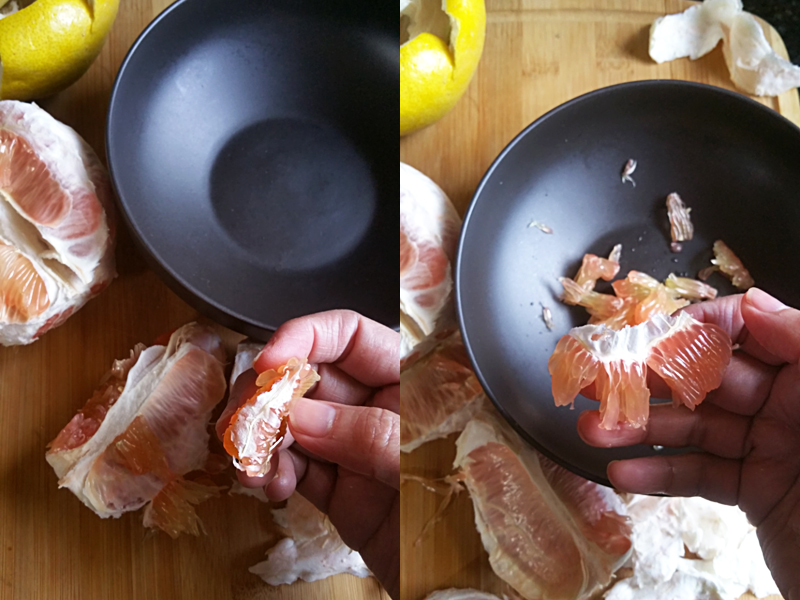 If you're doing this for the first time, you may have to pull each naked segment apart at the center and free it from the evil talon of the white vein one half at a time. If you work in the produce department of a supermarket in Thailand, your supervisor won't like that your pomelo segments are no longer whole. But, hey, this is your home. Also, since the goal here is to use it in a salad, you're going to have to break the segments up into smaller pieces anyway.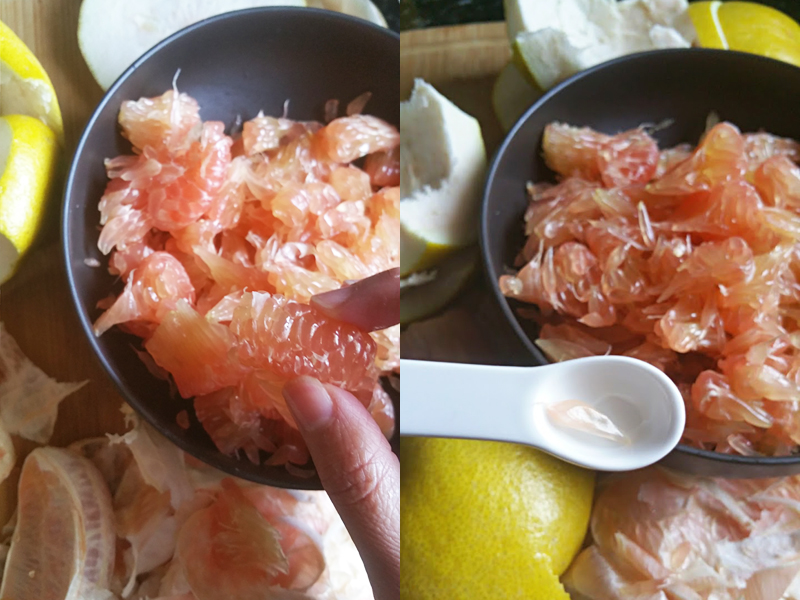 Repeat with the remaining segments. And you're done! See how the segments are membrane-free and how each juice sac remains whole? Your pomelo segments are now ready to be eaten or used as directed in a Thai pomelo salad recipe.
Once prepared, pomelo segments should be used quickly. Even when prepared well with all the juice sacs intact and no bruises, even when stored in an airtight container in the refrigerator, pomelo segments have a short life. I wouldn't store it longer than 8-12 hours. They get soggy quite easily. Eat it or use it as soon as you can.