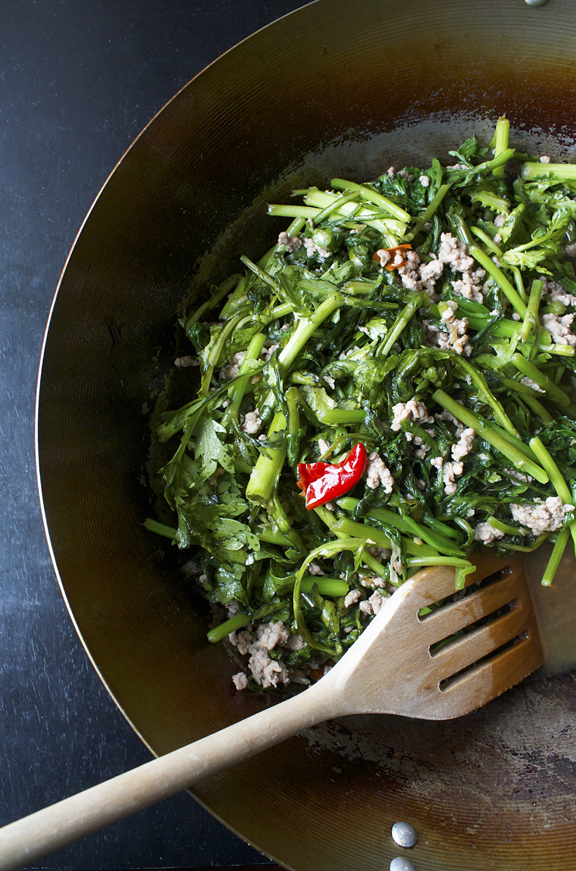 Have you had garland chrysanthemum? If you haven't, you may want to give this inexpensive—though a bit hard to find—vegetable a try. If you live near an Asian grocery store with a lush and bountiful produce section, surely you have seen garland chrysanthemum (Glebionis coronaria) before. It's also referred to as chrysanthemum greens, crown daisy, shungiku (Japanese), tangho (Chinese), sukgat (Korean), and tang-o (Thai).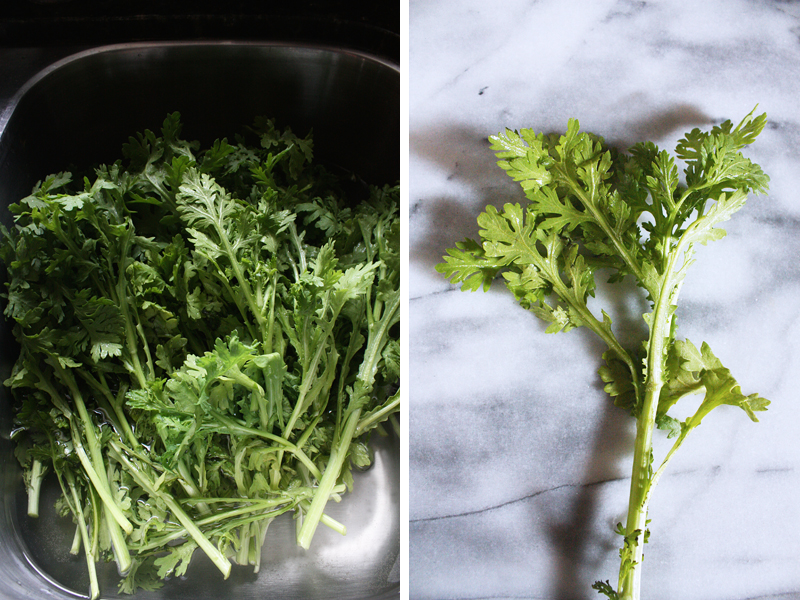 What does garland chrysanthemum taste like? I'd say it's a cross between water spinach/Chinese morning glory (ong choy) and Chinese celery (both in terms of taste and texture). There's no bitterness whatsoever; just a light, clean, delicate taste.
With its leaves tender and its stems crunchy, garland chrysanthemum is, in my opinion, better stir-fried quickly in a hot wok or added to a pot of soup just before you shut off the stove than stewed or braised for a long time. That way, the best of what it has to offer is still preserved.
Here's one simple way to prepare garland chrysanthemum. Easy. Done in a flash.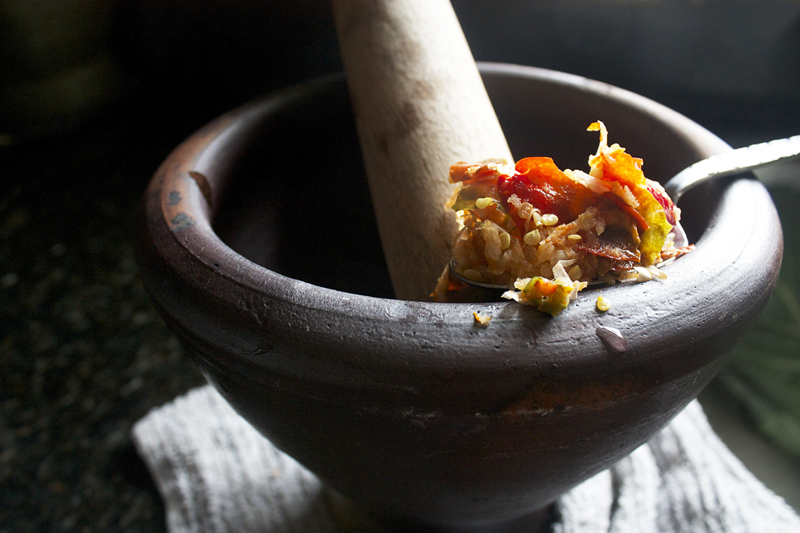 Stir-Fried Garland Chrysanthemum with Ground Pork (ผัดตั้งโอ๋หมูสับ)
Ingredients
4 large cloves garlic, peeled
3-4 fresh bird's eye chilies
2 tablespoons vegetable oil
½ pound ground pork (Ground chicken or ground turkey also works well.)
1½ pounds garland chrysanthemum, cut into 1.5-inch pieces
2 tablespoons oyster sauce
1 tablespoon fish sauce
Instructions
In a mortar, pound the garlic and chilies into a chunky paste. (You can also smash them with the side of the blade of a large knife and chop them coarsely.)
Put a large wok on high heat. When the wok is hot, add the oil and the garlic-chili paste; stir-fry quickly and constantly to keep the paste from burning.
When the paste is fragrant and the garlic turns light brown, about 1 minute, add the ground pork and stir-fry, smashing it into smaller chunks with the blunt end of a wooden spatula as you go.
Once the pork is cooked through, add the garland chrysanthemum, oyster sauce, and fish sauce; stir-fry just until the vegetable is wilted, about 2 minutes.
Serve with rice.