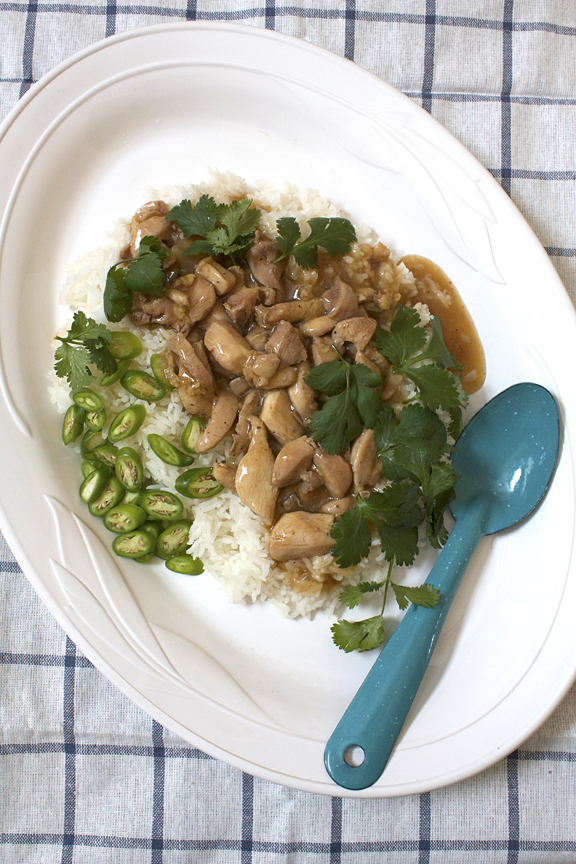 I've been wanting to start a series of photo-based posts featuring dishes, or samples of family meal ensembles, that you can create from Simple Thai Food (which I'm sure my long-time readers have a copy of). I hadn't had a chance to do so until now.
Debuting the series is one of my top favorites in the entire repertoire of what the Thais refer to as "one-plate meals": khao na kai (also informally spelled khao na gai).
This is one of the old-fashioned Thai-Chinese dishes that are very well known among those who are deeply familiar with Bangkok. My generation grew up eating this; our parents and grandparents loved it so much that even though they had to herd their kids and grandkids into the car and drive to specific restaurants on the other side of the city for good versions of it, they never hesitated (I know, because I was one of those kids).
Not all comfort foods are easy to make as, to be 'comfort,' they often require long, slow cooking. Not this one where the active cooking time is less than 15 minutes. The ingredient list is pretty darned short as well. It's one of those things that seem so ordinary that some people probably look at and go, 'What's the big deal?'But looks can be deceiving.
A simple recipe for it can be found on page 146 of Simple Thai Food. Feel free to top it with a crispy fried egg (page 194) and/or add some dried, sweet Chinese sausage (lap cheong), sliced and seared crisp, as done by one old Bangkok-based restaurant.