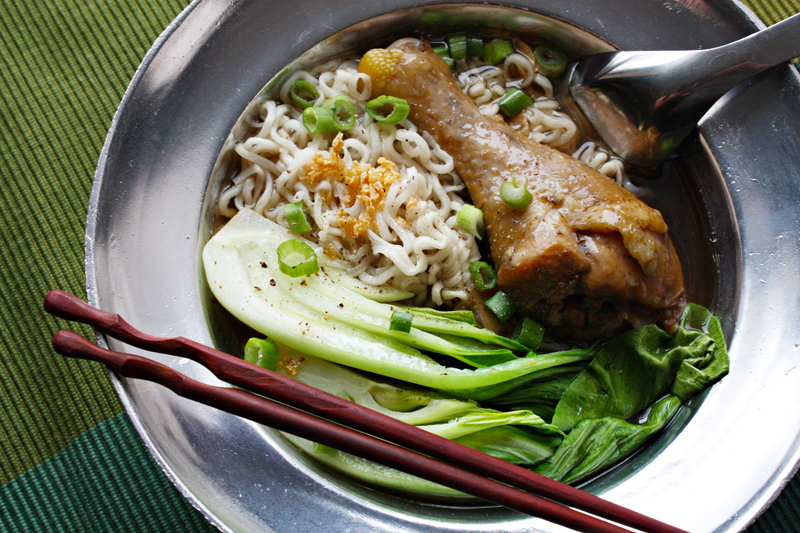 So you've made some boat noodles from Pok Pok Cookbook, right? Are you wondering what to do with the remaining 2 quarts of spiced broth* you have in the refrigerator/freezer, the leftover fried garlic and its oil, and some of the table seasonings? Wonder no more. You use them to make egg noodle soup with spiced broth, stewed chicken drumsticks, and baby bok choy.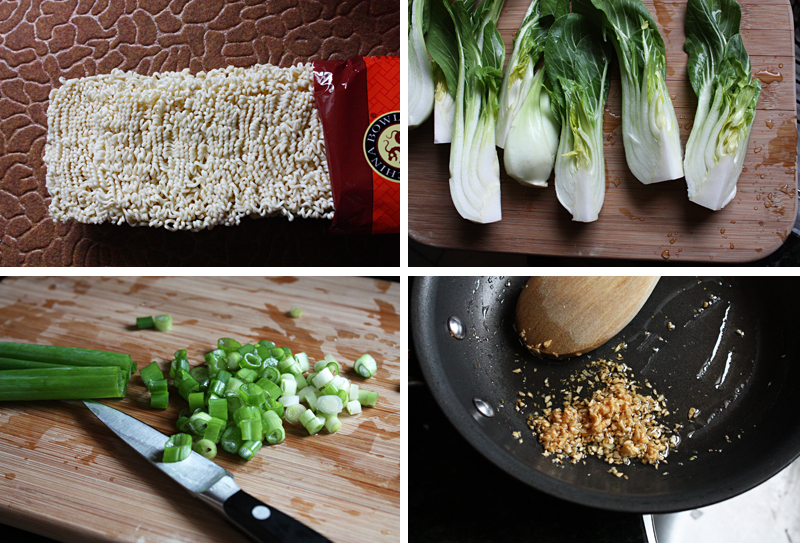 1. Put the broth in a large pot and bring to a boil over high heat. Once the broth comes to a boil, add 4 large chicken drumsticks to it. Close the lid and adjust the heat so the liquid is boiling gently. The chicken should be tender in about 30-45 minutes. Keep warm once it's done.
2. Half-fill a one-gallon pot with water and bring it to a boil. Quarter 2 large pieces of baby bok choy lengthwise (I keep the cores intact so the leaves are held together, but you can remove them). Blanch the bok choy in the boiling water for 1 minute; remove, shake off excess moisture, and keep warm. Do not turn off the heat yet; keep the water boiling.
3. Cook (or blanch — whichever applies) 4 servings' worth of fresh or dried egg noodles or dried ramen noodles in the boiling water until soft. Drain. Rinse in hot running tap water. Shake off excess moisture; set aside.
4. Take one green onion and slice it thinly, crosswise.
5. Divide the cooked noodles between 4 large bowls. Put one chicken drumstick and 2 quarters of baby bok choy in each bowl. Ladle the broth into the noodle bowls. Top each bowl with a teaspoon of fried garlic and fried garlic oil. Sprinkle the chopped green onion on top. Dust with some ground white or black pepper.
6. Serve with the table seasonings of fish sauce, vinegar with pickled chilies, dried red chili powder, and sugar.
*The recipe produces approximately 12 cups of spiced broth. Only 4 cups are used to make 4 servings of boat noodles (not very brothy). This means you should have about 8 cups (2 quarts) of broth left which should be enough for 4 servings of this noodle soups (much brothier than boat noodles).