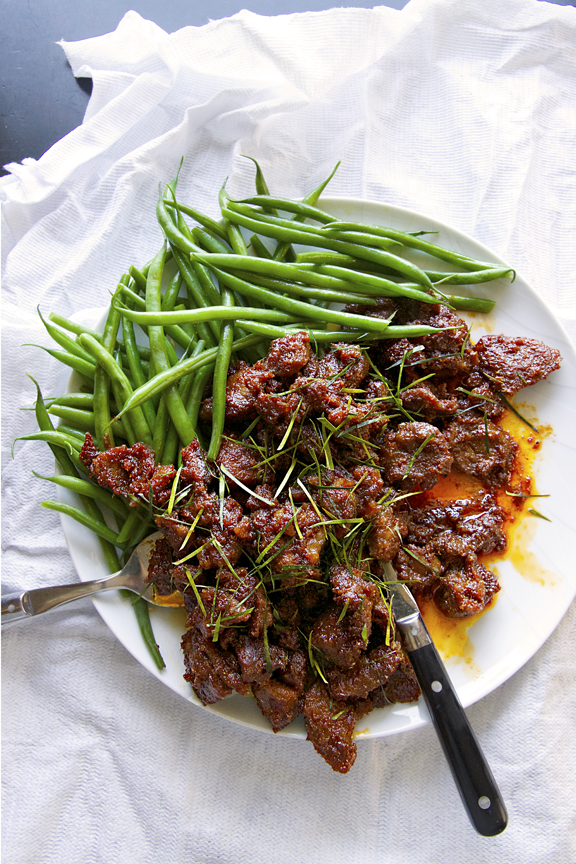 This is one of the recipes from Simple Thai Food that I'd like you to try especially, if you haven't already. There's no photo for it in the book, so I thought I'd add this recipe to the Simple Thai Food Recipe Photos category.
Instead of long beans which are traditionally used in Thailand, I've used French green beans here—just because they were there (I could have used green beans which would work just as well). And since haricots verts are more slender and tender than either long beans or green beans, I left them whole. They were lightly steamed and presented on one side of the platter instead of mixed into the dry curry as I've told you to do in the book. Some restaurants and rice-curry shops in Bangkok present the dish this way as well; some even add the yolks of salted duck eggs on the side just to provide something salty to balance out the sweetness of this dry curry.
The recipe can be found on page 98, in the chapter on Rice Accompaniments. If you choose to use dried shrimp flakes—and I highly recommend that you do—please be sure to add it along with the oil and the curry paste right at the beginning. To form a simple samrap (explained in the introduction of the same chapter), I suggest you make a pot of clear soup with silken tofu and chicken dumplings on page 83 and serve both with rice.