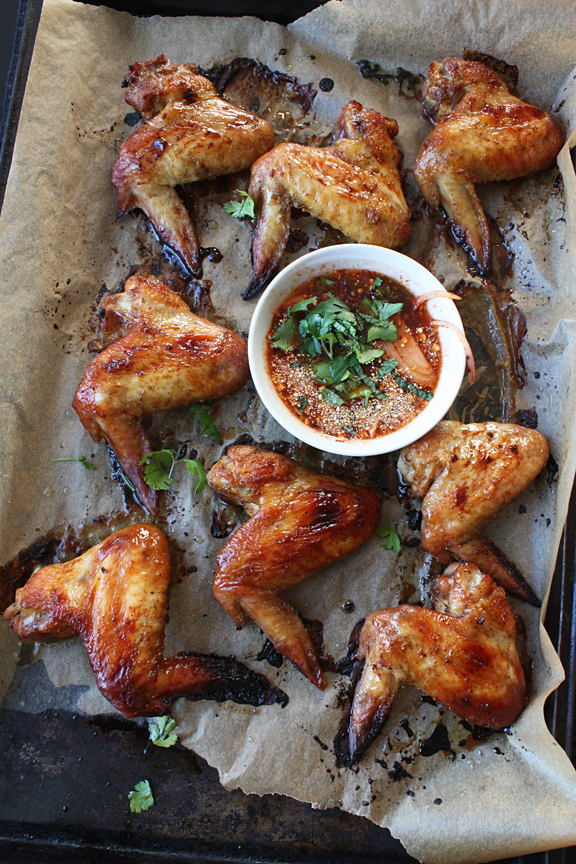 This post is brought to you by excitement at the level that is so unreasonable it's awkward. I just made these wings less than a couple of hours ago. The kitchen and my clothes still smell like them as I'm sitting here, writing.
(Whispering, because the wings are within earshot) These wings would have been much better grilled, in my opinion. But where I am, the weather is not yet warm enough to grill outside. So I went for the next best option: baking.
To make these lemongrass baked wings, prepare the wings the same way you would my lemongrass grilled chicken, using 3 pounds of chicken wings instead of a 3-pound whole chicken. Spread the wings on 2 parchment- or foil-lined baking trays, leaving about an inch of space between them, and bake at 375F until they're golden brown, about 30-40 minutes. Be sure to rotate the trays and switch them from one rack to another, half way through (which is the point where you want to brush the wings with the rendered fat that collects on the parchment to make them look glossy).
Serve these wings with warm sticky rice and jaew (modified RTGS: jaeo). Green papaya salad definitely wouldn't hurt. If you have young children or people who prefer their dipping sauce not spicy, Thai sweet chili sauce would work perfectly here. Those with Simple Thai Food book, you can serve the wings with a lesser-known (but delicious!) variant of dried chili dipping sauce: roasted tomato jaew (pp.112-3).