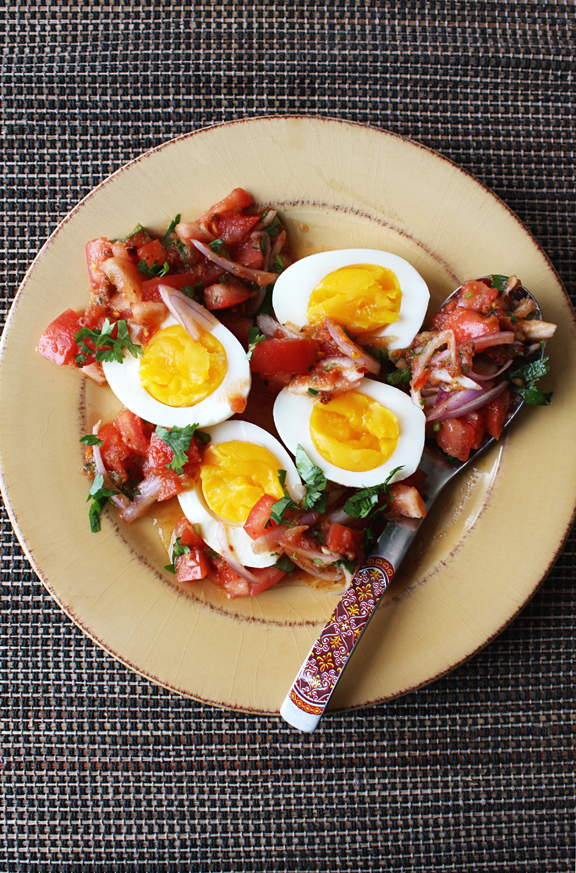 A few weeks ago, I had a short conversation with @dawnwow on Twitter who said to me that she had always felt like pico de gallo was a flavor short of being Thai. I completely agreed with her. In fact, if you're familiar with both Mexican and Thai cuisines, surely you've noticed some similarities as well (compare the roasted tomato sauce accompanying "crying tiger" in Simple Thai Food with roasted tomato salsa, for example).
That dialogue reminded me of a quick relish I frequently made when I was a new student in the US which, for some reason, I don't make nearly as often any more. Back then, though, I practically lived on it. There would always be a batch in the refrigerator, ready to be used on anything I could afford to make or bring home. As a cash-challenged student, those things usually included a Thai omelet, some hard-boiled or medium-boiled eggs, or a store-bought rotisserie chicken one of which would last me for 3-4 days.
There were a small repertoire of quick, simple, affordable, and highly versatile dishes like this relish that saw me through those days when I had very little time and even less money. In many ways, I feel I owe my life to them.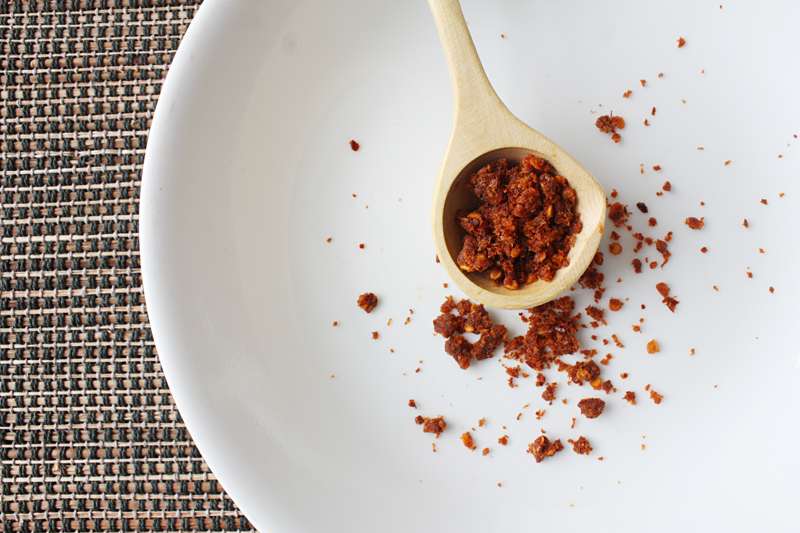 This spicy relish is made with fresh tomatoes, making it indeed very similar to pico de gallo. The difference is the presence of fish sauce and some spicy, fishy flakes which I add to it for extra umami.
I guess this is a good time to introduce a new condiment to you. Most of you have already been familiar with nam prik pao (RTGS: nam phrik phao), Thai chili jam. I'm sure the more adventurous among you have even been making and eating the iconic central Thai condiment: shrimp paste relish. If you're looking for another condiment to add to your pantry, may I suggest the versatile nam phrik narok (น้ำพริกนรก)?
The narok part in its name means 'hell' in Thai, so when I refer to it as hell relish, I'm just following tradition. I could euphemize it to 'heck relish' but that would sound a bit silly. You're going to have to bear with me. As for why it's called that – I guess it's because it's red and burning hot. (That doesn't make much sense to me, because I can think of many other relishes and condiments far redder and hotter than it. But, oh well.)
Regardless, it's basically a relish in dry granule or flake form that is made primarily of fish (sometimes shrimp) meat and chilies and seasoned with the usual suspects: fish sauce, tamarind, palm sugar. Recipes vary from cook to cook and from brand to brand, of course, but they don't veer too far from this formula.
You can sprinkle some over or mix it into warm rice to flavor it. You can doctor it up by adding fish sauce and lime juice to it to make a simple sauce that goes with just about anything (particularly good with plain grilled or fried meat dishes). You can use it as a composite ingredient to make a relish like what I've done here. Be careful not to use too much as it's hot (you know, hell relish). Like most spicy Thai condiments, it's not supposed to be eaten by itself by a spoonful, but to be used sparingly and usually with rice as the vehicle (you already know how to khluk, remember?)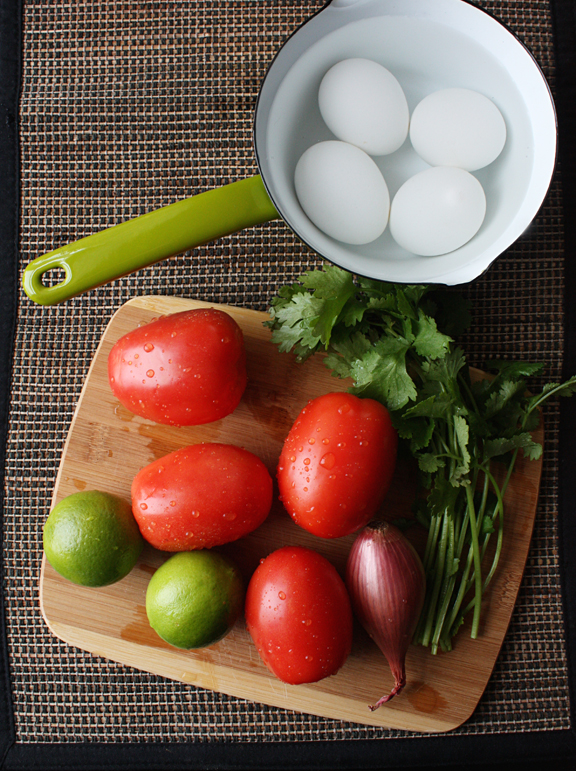 I will show you how to make hell relish soon. It's not very difficult and the ingredients aren't hard to find at all. But for now, it's probably more convenient to buy it (online or at most Asian grocery stores). Maesri, Mae Pranom, and Pantai all offer a version of it in a small glass jar. (Look for the word narog on the label which is how these brands romanize the Thai word for hell. And don't be confused if you see that they all call this condiment a chili paste even though there's nothing pasty about it. Thai brands tend to indiscriminately apply the term chili paste to anything in the chili-based relish category.) Those in Bangkok, you can find it at any Tops. A few vendors at Or Tor Kor also sell it by the kilo.
For this spicy fresh tomato relish, if you don't have a jar of hell relish in the pantry, use plain dried red pepper powder (to taste). The end result won't have that funky, umami punch, but it will taste great with just the fish sauce (perhaps if you have some dried shrimp in the pantry, you can grind a tablespoon of them until they turn flaky and fluffy and stir that in for both body and umami).
Use this base recipe as a guide and have fun with what you have on hand. The main point here, after all, is about simplicity and making the most of scarcity – pretty much the theme of my life in school. And even now, actually. I try to make it that way, at least.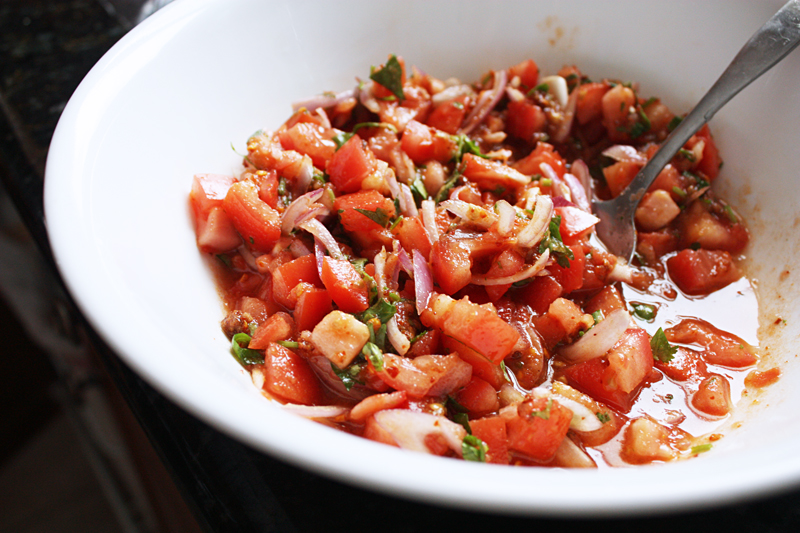 __________________________________________
PRODUCTS THAT HELP YOU CREATE THIS RECIPE
Spicy Fresh Tomato "Hell" Relish (น้ำพริกมะเขือเทศ)
Ingredients
4 Roma tomatoes (about 3 ounces each in weight) or any of your favorite tomatoes (total weight ¾ pound)
1 large (1 ounce) shallot, peeled and thinly sliced lengthwise (you can also use ⅓ cup, packed, thin slices of red onion)
¼ cup hell relish (start out with half, if you're new to it)
1½ tablespoons fish sauce
2 tablespoons lime juice
½ teaspoon of brown or white sugar
3 tablespoons finely chopped cilantro leaves
Instructions
Cut the tomatoes into ¼-inch cubes. Set aside ¼ of the tomato cubes and purée them. Mix both the puréed and cubed tomatoes in a mixing bowl.
Add the remaining ingredients and mix well, pressing some of the tomato cubes against the side of the mixing bowl with a spoon as you go just to bruise and soften them a little. Correct seasoning as needed. Tomatoes taste differently at different times of year, so you have to play by ear. The end result should be predominantly sour and spicy, then salty, with just a hint of sweet.
Once the relish tastes right, cover it and and let it sit at room temperature for 15 minutes before serving. This, from my experience, makes it taste better. In fact, this relish tastes even better the next day upon storage in the refrigerator (it keeps in the fridge for 3-4 days).