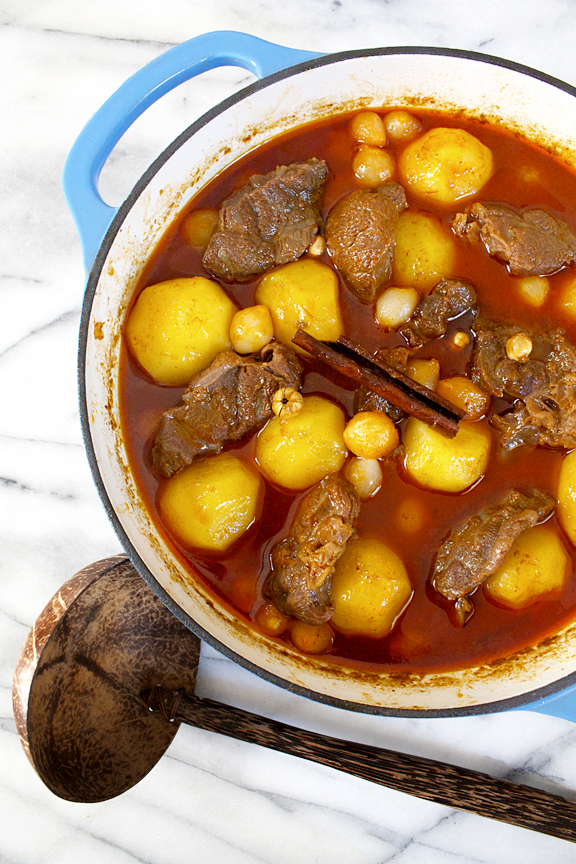 To continue the series of photo-based posts from Simple Thai Food, here's matsaman (massaman) curry made with beef shank.
I made this with fresh coconut milk from a mature coconut which I grated with the coconut bunny and extracted myself. Because of this, the coconut fat splits more readily and the curry broth, though certainly rich and full-bodied, doesn't have the creamy, homogenous appearance that it usually does when canned or boxed coconut milk is used.
I didn't have any yellow or white onions around when I made this batch of matsaman, so I went with the tiny pearl onions I had in the freezer. To compensate for the undersize onions, I –and, trust me, this made perfect sense at the time– cut the Yukon Gold potatoes into larger-than-usual chunks. But now I'm looking at the size disparity between the two, and I'm just as confused as some of you may be. None of this affects the taste, though.
Lastly, if you look closely, you will spot tiny little ivory/light golden-colored (or are they black and blue?), Siamese cardamoms which are used routinely in Thailand (I've mentioned them in the glossary), at least in the central Thai version of the curry. If you can find them, by all means, use them. If not, green cardamoms which you can find at most Middle Eastern and South Asian grocery stores will work just fine.
You can find the recipe for beef shank matsaman curry on page 108 of Simple Thai Food.