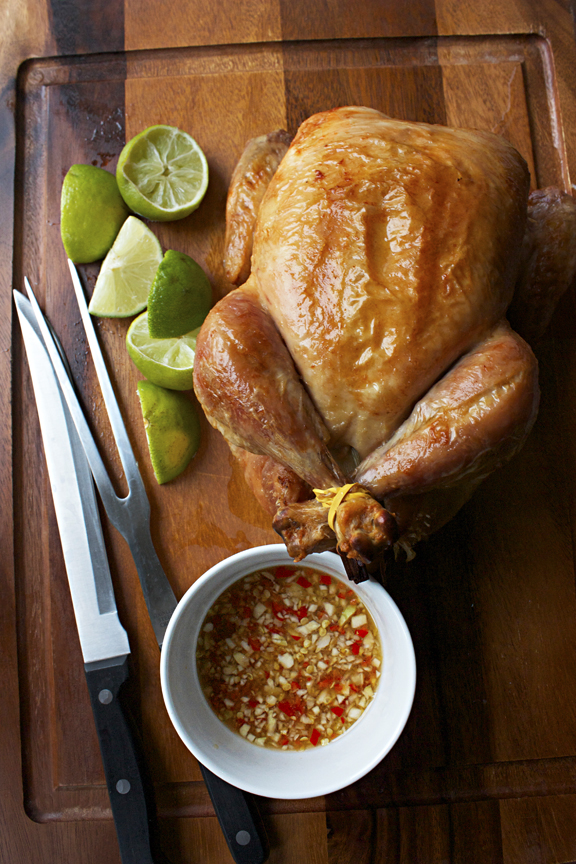 If the first quarter is any indication, 2015 is slated to be the year I roast more chickens than any of the previous years of my life. I don't have an explanation for this, and if there was one, I'm sure you'd find it earthshatteringly boring. But if I had to guess, I'd say laziness would be the most likely culprit.
Roasting a chicken is easy. The bird requires little babysitting as it cooks. The juices at the bottom of the pan become the sauce, requiring no further effort on your part to embellish it. The whole process also leaves you with only one or two containers to wash. All you have to do is put a whole chicken in front of you, stare at it for a while, look through the herbs and spices in your cupboard and refrigerator, return your gaze to the chicken, nod to yourself reassuringly, and assign a flavor theme to it. Your theme du jour can be anything that you like or can create with the spices and aromatics you have on hand.
Well, one day, I had a lot of fresh lemongrass on hand.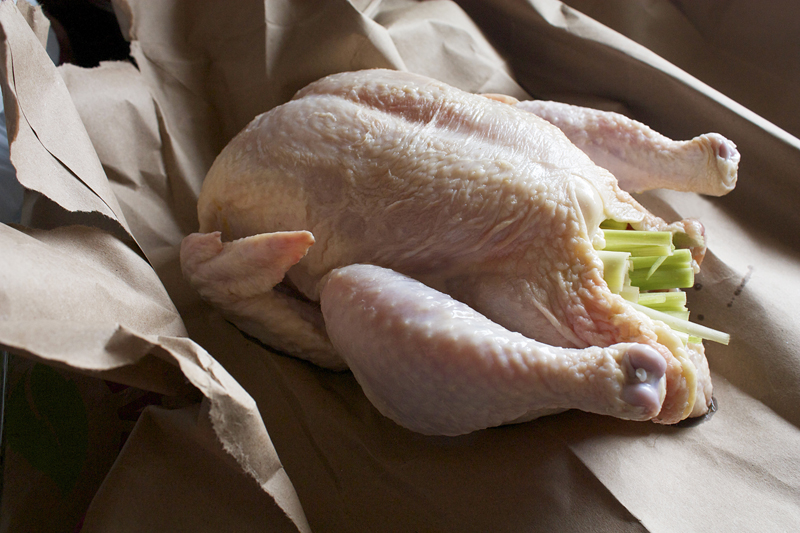 I started out by rubbing this 3-pound chicken all over—inside and outside—with about 1 tablespoon of salt, covered it, and refrigerated it for 3 days, Zuni Café-style. When the time came to roast it, I took the chicken out of the refrigerator, let it come to room temperature, and wiped it dry—really, really dry. Then I bruised 5-6 lemongrass stalks—pretty bad—with my granite pestle, folded them up into a bundle and stuffed the chicken's cavity with them.
I rubbed the outside of the chicken with about a tablespoon of vegetable oil, tied its ankles together with a silicone rubber band, tucked the wings, and placed it in a shallow baking dish (breast-side up). I roasted it at 375ºF until done, about 45-50 minutes, basting it occasionally (if the juices at the bottom of the pan start to burn around the edges, I usaully add some water to the pan). Then I let the cooked chicken rest for 30 minutes (yes) before removing and discarding the lemongrass and carving it.
When the chicken was in the oven, I got caught up on Veep and made a pot of rice. And since this chicken was very simply seasoned, I decided to serve it with a spicy dipping sauce which I made during the time the chicken was resting (the sauce is usually served with seafood, but that's okay, because the purists weren't looking). It was a good meal.
Notes:
1. Those with Simple Thai Food, see page 206 on how to keep your lemongrass fresh for weeks.
2. This different—but equally delicious—dipping sauce goes well with this chicken too.