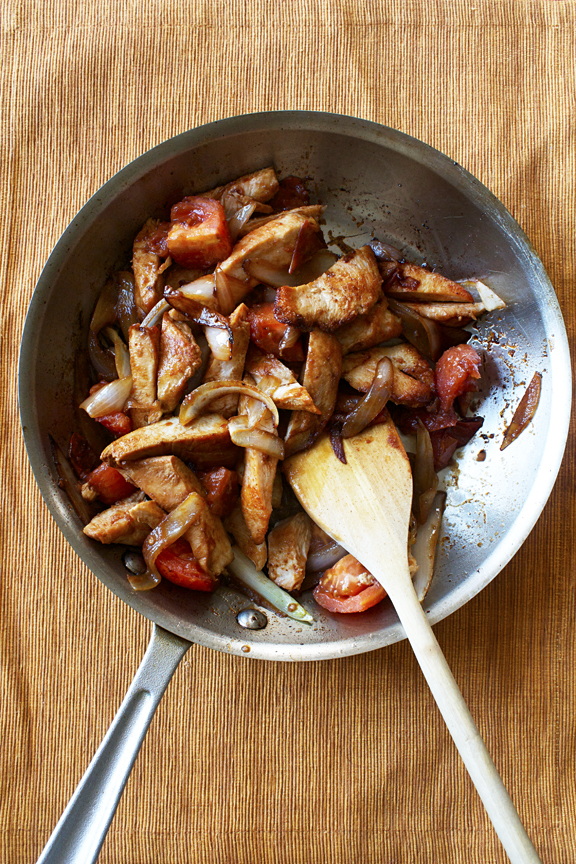 A couple of years ago, I was planning on starting a new series in which I ask people what Thai dishes they like to eat or make. But that didn't happen back then, because my life was pretty much taken over by my book project. But it looks like it's going to happen—no, has happened—now. Back in February, I asked writer Mike Sula what he liked to eat, and he said turmeric egg rolls. Today, I'm chatting with Akrapol "Kong" Suetrong, a London-based Thai national who is a Cordon Bleu-trained pastry chef, cooking show host, TV personality, theater enthusiast, avid home cook, and proud owner of a very cute French bulldog. As difficult as it is to pick just one, Kong has chosen an easy home-style dish that he makes at home all the time, the so-called "Mistake Stir-fry," to share with you.
But, first, I asked Kong a few questions.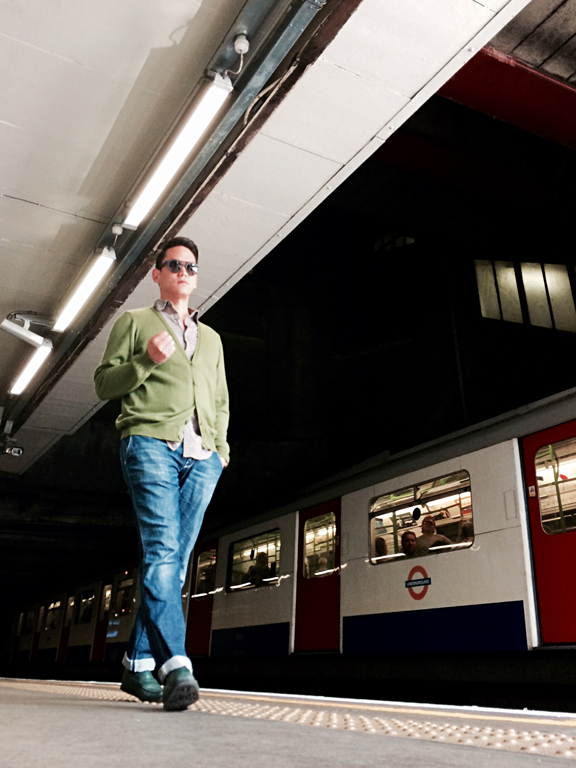 I know you're a pastry chef and your expertise lies in the area of dessert and pastry, but I've heard that you started cooking with your parents since you were a teen. What kind of food did you guys make at home?
Growing up, I remember that my mom didn't cook all that much; it was my dad who was always in the kitchen, making something. Whenever my dad discovered a new dish he liked when we went out to eat as a family, he'd always try to replicate it at home, adapting it to suit our taste. And I think it's because of my dad that I've developed the passion for observing the various types of food out there, interpreting them in my own kitchen, and coming up with dishes that reflect my style—things I can call my own.
On weekends, we usually made easy, home-style Thai dishes like pork noodles, chicken noodles—things like those. Our family preferred our food to be moderately seasoned (as opposed to the street versions of the same dishes that are sometimes seasoned with titillation as the main goal ~Leela). Our homemade stir-fries or clear soups tend to be seasoned simply with fish sauce—not so much soy sauce, seasoning sauce, or oyster sauce.
Do you make Thai food often at home in London? Is it difficult to find fresh ingredients?
I make Thai food very often—almost every night! Cooking is not a chore; it relaxes me. Finding Thai ingredients in London is not a problem at all. The city has pretty much everything I need—even the kind of thin, wispy cilantro and fragrant, tiny cloves of garlic flown in from Thailand. It's easy to create a Thai dish the exact same way it's made and presented in Thailand. We've got everything here—well, except for giant river prawns with rich, oozing tomalley.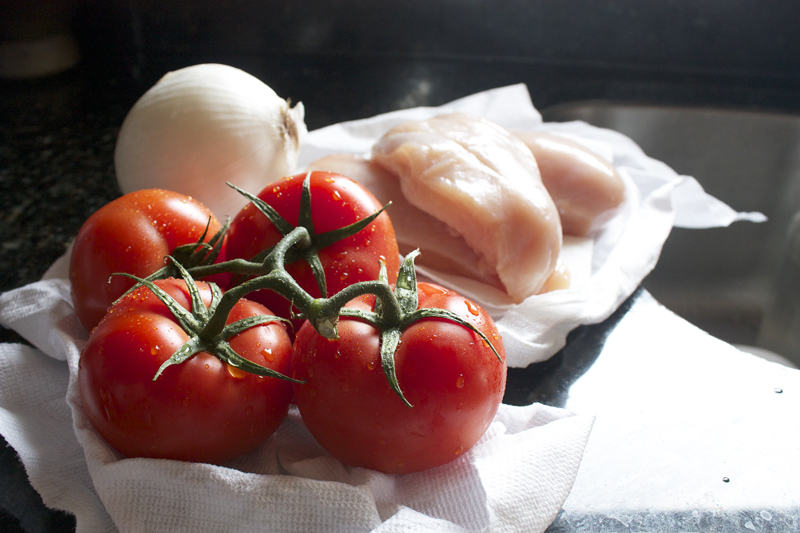 What kind of food do you eat when you visit Thailand then?
Simple, comfort food like "red" barbecued pork with gravy on rice (khao mu daeng), poached chicken on rice (khao man gai), boat noodles, stir-fried noodles with dark soy sauce (pad see-ew), and stir-fried flat rice noodles with chicken that's fragrant with wok hei. There's also a shop close to my parents' house where they make really good Chinese braised geese—I've got to go there every time I visit Bangkok. Also, MK Suki—I must have my MK. (MK is Bangkok's most famous hotpot chain restaurant. ~Leela)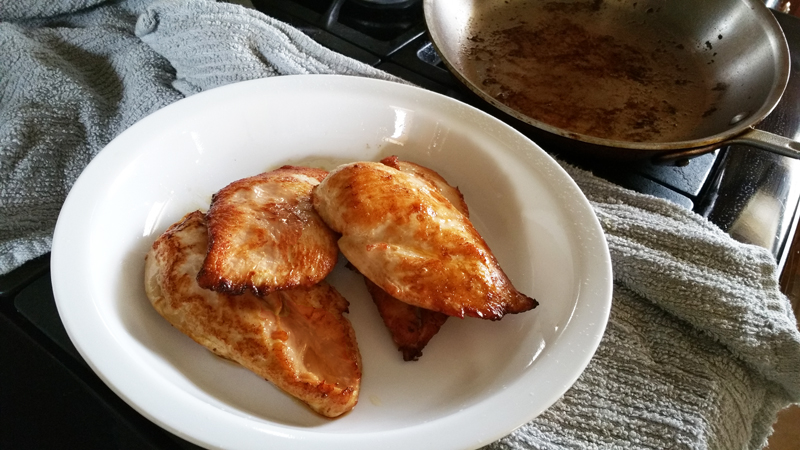 I feel that the generation of Bangkokians who are roughly between the ages of 30 and 40 don't cook at home that much. Do you think it's because this is a generation that grew up in the face of the proliferation of restaurants, street eateries, food carts, and fast-food chains (like KFC). For example, a typical get-together of friends almost always takes place at a restaurant and hardly ever at someone's home where homemade food is served. When you ask people how to make their favorite dishes, more often than not, they draw a blank. But if you ask them about the best places in the city to have those dishes, they have a long list of recommendations for you, including places deep in a secluded alley that no one has heard of. It's almost like Thai home cooking is skipping a generation. What's your take on this?
In my opinion, this goes back to the time when our parents were young professionals with both the husbands and the wives working outside the home. The responsibility of cooking fell on the live-in help. Back then, unless you were really interested in cooking, you wouldn't be cooking at all. So most people in our generation grew up eating out and never learning how to cook for themselves and their families. Making traditional Thai dishes is particularly difficult and complicated for them. That's why—have you noticed?—people who didn't grow up cooking usually have pasta as their go-to dish to make instead of something as simple as a vegetable stir-fry.
But I think that things are changing for the better. For one thing, help is a lot harder to find these days. Younger Thai families have adopted the DIY way of life from the West more and more. You can see that people have become more interested in health and well-being as well. These factors are taking us back into the kitchen. Also, people between 30-40 years of age are old enough to experience the old-school Thai eateries they frequented with their parents when they were children. So with the majority of those places now extinct, we're putting effort into recreating the dishes of our childhood just so we could bring back those fond memories.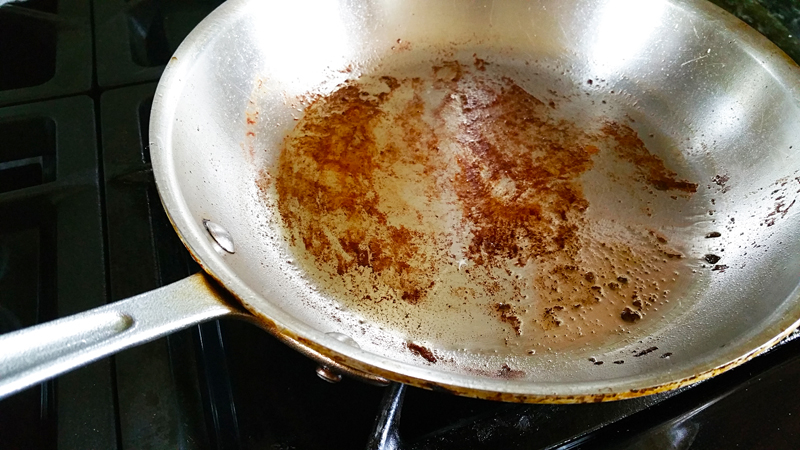 Speaking of food from childhood that gives you happy nostalgia, Kong is sharing a recipe with you. It's a dish that was referred to in his household as "Mistake Stir-fry." This was something that always confused Kong—how is this stir-fry a mistake? Nobody knows for sure, but people in his family think that the most plausible explanation is that it was a mispronunciation of "meat steak stir-fry." Still doesn't make a whole lot of sense, says Kong.
He also adds, "It may not look very appetizing, but it's good." But, hey, it's the taste that counts, right?
This is a dish that was served at one of the so-called "cook shops" in Bangkok which, in short, are places run by Chinese immigrants who make a variety of dishes that incorporate the characteristics of Western food, Chinese food, and Thai food. I'll tell you all about them in due time.
Anyway, Kong loved this mistake stir-fry, and he ate it at home at least once a month when he was growing up. Kids love this kind of flavor the way they do American Fried Rice, he says. This mistake stir-fry is good with warm jasmine rice. However, Kong adds that his family's help who was from isan suggested that they try it with sticky rice. "It's even better!" Kong says.
Kong likes to use boneless, skinless chicken breasts, but he says that some people may find chicken breasts to be too tough and dry for this dish that requires the meat to be cooked twice. So, you can use any quick-cooking meat you like. (I've made another batch after this one with boneless, skinless chicken thighs, and I liked it too.)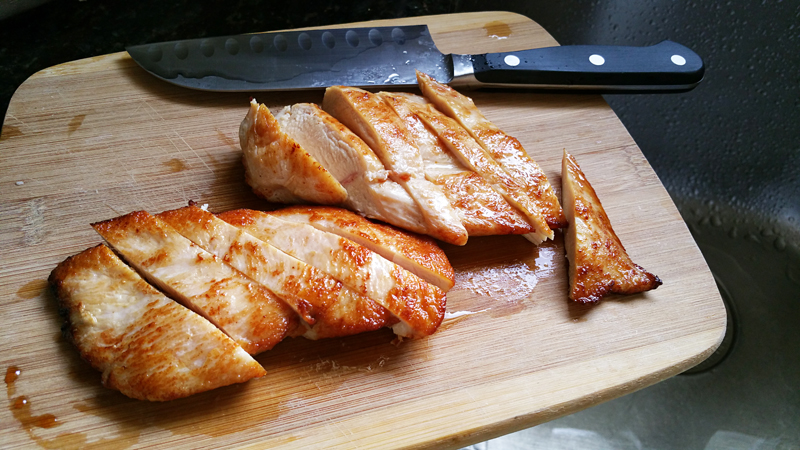 I'd like to thank Chef Akrapol for chatting with me and sharing his childhood favorite recipe with my readers. Those in Thailand or anywhere in the world where you have access to Thai TV, you can watch him make delicious classic French pâtisseries, Thai-inspired desserts, and all kinds of delectable things on his new show, Sweet It My Way, on GMM25 every Saturday at 2:30pm local Thai time (or previously-aired episodes on YouTube). You can also follow him on Instagram (Kong posts amazing food photos and occasionally those of a handsome French bulldog called Zany whom I have a crush on), and Twitter.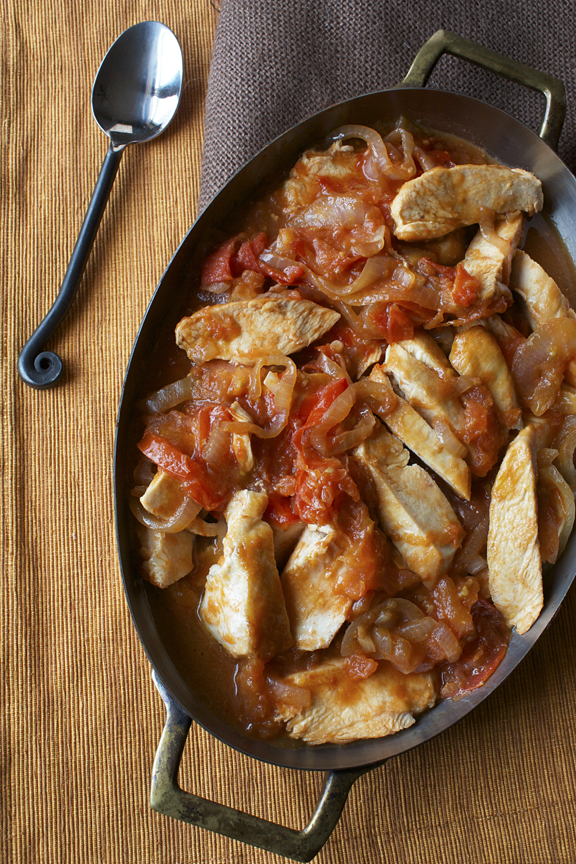 Now, to pull this dish off successfully, you shouldn't do what I did the first 2 times I tested this recipe. The success of this stir-fry rests on caramelization. This means you can't just sear the chicken breasts, thinking you don't need a hot pan full of oil when a lightly-greased nonstick skillet will do the job just fine. No, not this dish. You need to shallow-fry the chicken as instructed. You really need the fond, the browned meat juices (and, in this case, fish sauce) that stick to the bottom of the skillet, in order to end up with a sticky, glossy,deeply flavorful stir-fry.
Unfortunately, I did exactly what I just told you not to do when I first tested this recipe, thinking—smugly—that I couldn't have messed up this easy 7-ingredient recipe. I still think it's easy. But you just have to follow the instructions—which I didn't. Twice in a row, I ended up with chicken stew (see photo above). It was delicious, mind you, but definitely not the mistake stir-fry of Kong's childhood.
Heat control is the key. An ability to read and follow simple instructions is also important. I made a mistake and I've learned from it. (Talk about a mistake stir-fry. No kidding.)
Akrapol Suetrong and Chicken 'Mistake' Stir-Fry
Ingredients
¾ pound boneless, skinless chicken breasts, halved horizontally
2 tablespoons fish sauce
½ teaspoon ground white or black pepper
½ cup vegetable oil
2 small white or yellow onions, peeled, halved lengthwise, and cut into ½-inch wedges (Kong says to cut the onions crosswise into ½-inch rings; I forgot; you should follow his instructions.)
2 firm Roma tomatoes or tomatoes on the vine, quartered (Kong says to cut the tomatoes crosswise into ½-inch rings; I forgot again; what's wrong with me?)
2 tablespoons dark soy sauce (Kong uses Healthy Boy dark soy sauce; but my Thai market ran out of it, so I used light/thin soy sauce.)
Instructions
Put the chicken breasts in a small bowl. Prick them a few times with the tines of a fork. Add the fish sauce and ground pepper to them and mix them with your hand just until they're coated with the fish sauce. Cover and refrigerate for about 30 minutes.
Put the vegetable oil in a stainless steel skillet (nonstick doesn't work well here) and put on medium-high heat.
Place a plate near the stove. When the oil is hot, gently lower the chicken breasts into the pan. Make sure the chicken is thoroughly browned on one side before flipping it. We want good caramelization, so don't crowd the pan or flip the chicken back and forth before you get a good sear on one side. Crank up the heat high, if necessary, to achieve this.
Once the chicken is cooked through and thoroughly browned on both sides, transfer to the prepared plate.
At this point, there should be some oil left in the pain along with the brown bits that stick to the bottom of the pan. You want to discard the oil in the pan so that only a couple of tablespoons are left. Take the pan off the heat for now.
Slice the chicken against the grain into ½-inch strips.
Put the pan back on the stove, this time on high heat. Put the onion slices into it and fry them until browned (the trick is to let them sit undisturbed to develop the caramelization and not to stir them around too much). Once that's done, add the tomatoes and soy sauce to the skillet. Stir to coat the onions and tomatoes with the pan glaze. Let the onions and tomatoes cook until soft but still holding their shape.
Add the chicken back to the pan. Stir quickly to mix and heat everything through. Transfer to a serving plate. Serve with rice.