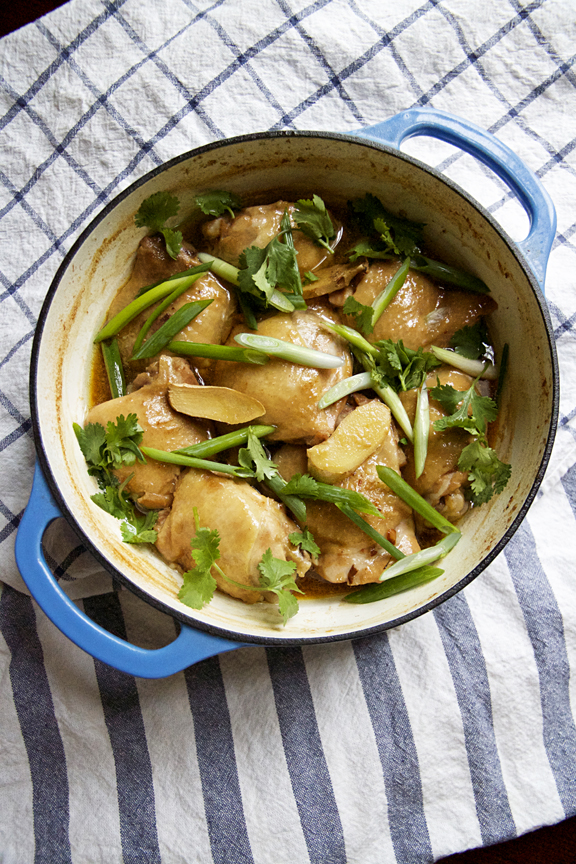 You know what's really great about being older? You become much better at seeing right through nonsense. You've got good not only at seeing that the emperor has no clothes on but also at being confident enough to say out loud that the dude's naked. I don't like the physical part of getting older. But, man, this part, I love.
Years ago when my nonsense detector wasn't working as well as it is now, I used to think that anything worth your while must be difficult to obtain/attain, difficult to understand, difficult to emulate, long, fussy, complicated, convoluted, mysterious, or out of reach in some way. I'm so through with that kind of thinking; it's childish and rooted in a lack of self-trust, and it had never served me well.
This change has affected all aspects of my life these days, including how I eat, how I cook, and which cookbooks I buy. I've noticed that the older I get, the easier it is for me to part with certain types of book and the more tightly I cling to certain types. I've come to treasure cookbooks that are simple, humble, approachable, and highly usable. It's these cookbooks that have survived the annual pruning of my book collection year after year after year.
The Asian Grandmothers Cookbook: Home Cooking from Asian-American Kitchens, by Pat Tanumihardja, is one of those books that I have no plan of parting with. As you might have guessed from the title, it's a collection of simple, home-style, 'authentic' Asian dishes—those you're more likely to find in a home than on a restaurant menu or on the streets. These are the dishes your grandmother has made so often she could whip it up blindfolded. I love this book, and have been cooking my way through it.
One of the recipes I've made many, many, many, many times is Gingered Oxtail Stew. It's a deeply flavorful, meaty, succulent stew that's comforting and filling. It's easy to make too—throw everything in a pot and let it simmer away. All the ingredients are easy to find as well. The only thing out of the ordinary is the salted soybean sauce; if you're not familiar with it, please read this post.
Unfortunately, oxtail and I have had a difficult relationship—one of those that are too good to end but too bad to continue, if you know what I mean. This cut of meat used to be affordable. I don't know what happened. If the price of oxtail keeps going up like this, I'm going to have to break up with it eventually. So, to get myself used to the idea of having to live without oxtail one day, I've decided to try making this recipe with chicken thighs instead. It's delicious! Of course, chicken thighs are no oxtail; I'm not gonna lie. But instead of 4 hours of stewing (oxtail is a very tough piece of meat), this adaptation requires only an hour. I'd say it's a good compromise time-wise and money-wise.
You need to try this recipe. So easy. So reliable. So delicious. I can spoon just the sauce—sans chicken—over warm rice and call it a good meal. It's that good.

Gingered Chicken Stew
Author:
SheSimmers.com - Adapted from The Asian Grandmothers Cookbook by Patricia Tanumihardja
Ingredients
3 pounds (about 8 large) bone-in, skin-on chicken thighs
2-inch piece of ginger, cut crosswise, diagonally, into slices, about ⅛ inch thick
2 tablespoons dark soy sauce
2 tablespoons oyster sauce
2 tablespoons salted soybean sauce
2 tablespoons Shaoxing wine (or dry sherry)
1 tablespoon granulated sugar (I like to use 2 teaspoons, packed, dark or light brown sugar.)
½ teaspoon freshly ground black pepper
2 green onions, cut into 1-inch pieces (Split the white parts lengthwise into quarters, if they're thick.)
¼ cup, loosely packed, cilantro leaves
Instructions
Put the chicken, skin-side up, in a wide saucepan or a braisier. The recipe works better when the chicken pieces are arranged in one layer as opposed to being stacked on top of each other.
Add the ginger, soy sauce, oyster sauce, salted soybean sauce, wine, sugar, and black pepper to the pan, followed by enough water to cover the chicken. Stir, cover, and bring to a boil over high heat.
When the liquid boils, immediately turn the heat down so the liquid is bubbling gently. Simmer, covered and undisturbed, 30 minutes.
Remove the cover and turn up the heat to medium-high. Cook, uncovered and undisturbed, until the chicken is tender and the liquid is reduced to half its original amount, about 25-30 minutes. Remove from heat. Sprinkle the green onions and cilantro leaves on top while the stew is still hot. Let the stew cool down a tad and serve over warm jasmine rice or cooked egg noodles.