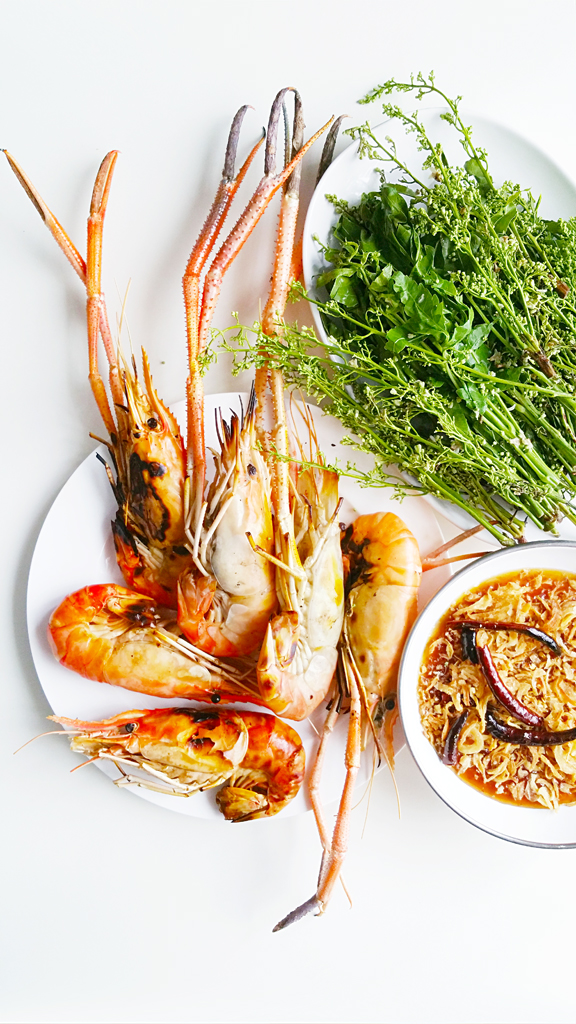 I was at my condo in Bangkok eating grilled giant prawns dipped in palm sugar-tamarind sauce with blanched neem buds when, suddenly and inexplicably, my mind went, "This is my next book." And next thing I knew I was exuberantly jotting things down on a piece of paper—mid-meal. I still have that piece of paper; it looks really gross with caked-on prawn juices and sticky sauce.
My first book, Simple Thai Food, came out in the spring of 2014, and it was warmly received. What a humbling experience. The process of making the first book has taught me so much; feedback from journalists, critics, fellow writers, and my readers has taught me even more. I was proud of and grateful for what Ten Speed Press and I had created together, and I'm happy to announce that we are teaming up again to bring you another book.
Simple Thai Food seeks to establish a firm foundation. It's a collection of classic Thai recipes that are either naturally easy or simplified and streamlined for home cooks. In it I've covered several things which help you understand how and why Thai food is made and served the way it is as well as how you can cook and appreciate it the way the Thai people do. The second chapter of the book, in particular, goes all out in explaining these things. In addition, there are also many explanations and tips in the glossary that I've never published on the blog.
The next book will bring you more recipes, new recipes—even unfamiliar recipes—that take you to new places and times. It is a curated collection of essential Thai dishes, bound together by a common theme. They're close to my heart, and—heaven knows—I've wanted to share them with you long before I started writing Simple Thai Food. This time the theme has nothing to do with the level of difficulty; it will be a mix of different things for every skill level. That said, the new book will be considerably more extensive in both the amount of information it contains and the depth it goes into.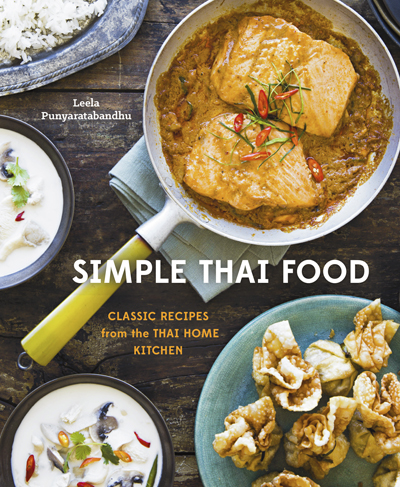 Even though the next book is not, and should not be seen as, a sequel to the first book, familiarity with the contents of Simple Thai Food will be tremendously helpful in handling the things to come. Unlike a blog, a book is a static and limited entity; it can only contain so much information. It's my wish, therefore, that the people who buy the next book get as much as possible out of their investment. This means the less the new book contains of what has already been covered in Simple Thai Food, the better.
My family's recipe for the dish shown here (grilled prawns, palm sugar-tamarind sauce, and blanched neem buds) will, of course, be in the next book along with many other things that would have been out of place in my first book but certainly not in this one.
Those who have read and cooked through Simple Thai Food since last year, you're more than equipped to delve right into our next project. I have complete confidence in this, and, oh, I can't wait to show you what else you can make.
If you don't have the book or know people who don't and may need it, would you consider gifting yourself (or someone you love) with a copy of Simple Thai Food this holiday season? (Free delivery worldwide here for those who can't find it locally.) Would you spend 2016 cooking through it so that when the new book comes out in 2017, we're all ready to travel into a different territory together?
I promise it will be a fun adventure.