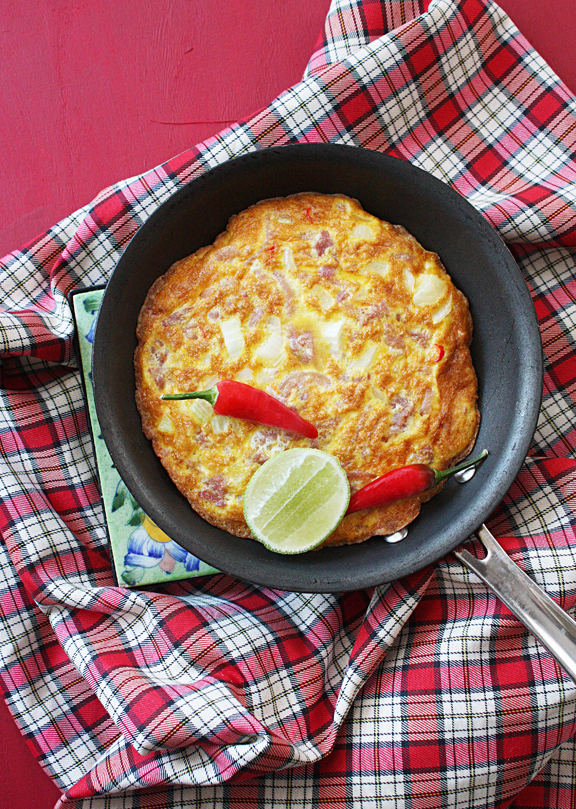 You remember soured pork sausage, naem (แหนม), right?
I mentioned this flavorful, fermented sausage of minced pork and strips of pork rind here for the first time 3 years ago when I wrote about naem fried rice. Not too long after that post, I told you about how you can ferment pork ribs and serve them baked or deep-fried. A few months later, I gave you another dose of naem — this time in the form of fermented, braised, and pan-seared beef short ribs. Five weeks after that, I took you to one of Chicagoan Thai food lovers' favorite restaurants, Spoon Thai, where they made a very good version of crispy rice salad with naem. And as if naem hadn't permeated this site enough, I dragged you all the way to Bangkok with me — through a crude, homespun video which wasn't meant for public consumption initially — for a taste of another version of crispy rice salad with naem from one of Bangkok's most loved vendors, Pa Yai.
Yet, I've never written about how to make the most prevalent version of naem: the type that looks like pressed ham. That's about to change soon.
In the meantime, I recommend that those who have never heard of this fermented sausage or tasted it pay a visit to the nearest Asian grocery store, preferably one that carries Southeast Asian ingredients, and look for a sausage like this in the refrigerator (it also goes by the Laotian name, som mu, and Vietnamese name, nem chua).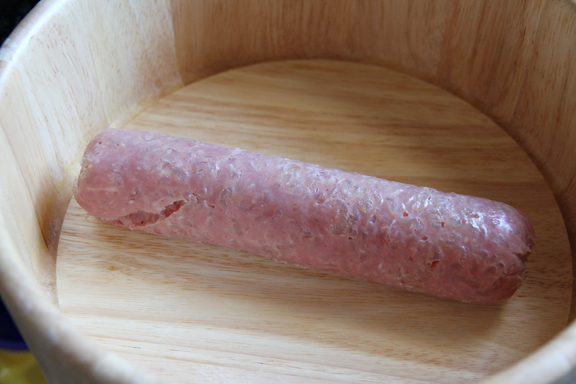 One of the easiest ways to enjoy naem is to put it in an omelet — this one is a simple, home-style version which doesn't require as much oil as the crispy, deep-fried one.
Note that since naem is already salty, you won't need as much fish sauce as you do when making a plain omelet. It would be tricky to gauge how much fish sauce is needed anyway given how different brands have different levels of salinity. Therefore, to avoid the problem of inadvertent over-salting, I just skip the fish sauce altogether. If I discover that the finished omelet isn't salty enough, I can always serve it with a little bowl of chili fish sauce (nam pla prik) on the side.

Soured Pork Sausage Omelet - Khai Jiao Naem (ไข่เจียวแหนม)
Recipe type:
Main Dish, Rice Accompaniments
Ingredients
2 tablespoons vegetable oil
4 large eggs
4 ounces of naem, crumbled
½ medium yellow or white onion, thinly sliced (or 2 green onions, thinly sliced)
2 fresh bird's eye chilies, thinly sliced (optional)
Fish sauce
Instructions
Put the vegetable oil in a 10- or 12-inch skillet (preferably nonstick) and place it on medium-high heat.
In a bowl large enough to hold twice the eggs' volume, beat the eggs with a fork just until frothy.
Add the crumbled naem, onion, and chilies to the beaten eggs; stir just until combined.
Add the egg mixture to the hot skillet. Cook the omelet on one side until set and golden, about 2-3 minutes. Flip and cook the other side for another 1-2 minutes.
Serve the omelet with rice. Fish sauce can be served on the side if the omelet isn't salty enough (see note in the post).